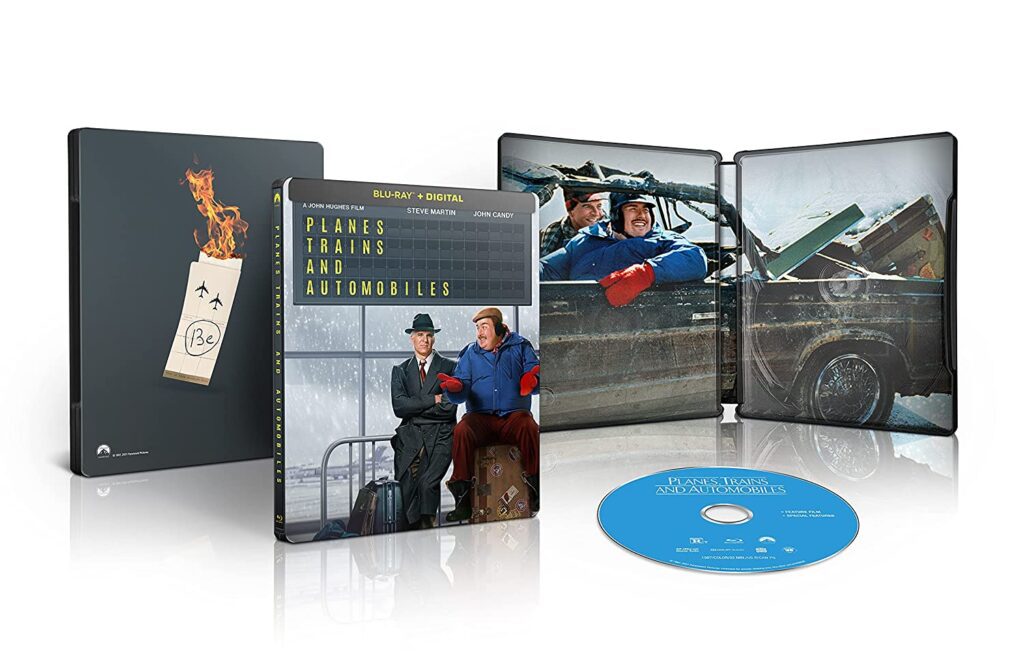 Its premise is simple. And yet, Planes, Trains and Automobiles (1987; dir. John Hughes) is cast to perfection, balancing moments of slapstick with spare, earned touches of tenderness. It's a minor holiday classic, and it's one of the better comedies of the '80s.
Thanksgiving in t-minus two days: Neal Page (Steve Martin), a strait-laced marketing consultant, sprints through rush-hour in New York to catch a plane home to Chicago. He makes it to the airport, but snow diverts his flight to Kansas. Now, with flights grounded for hours if not days, he finds himself the lucky or unlucky beneficiary of one Del Griffith (John Candy), a shower-curtain-ring salesman he sat next to on the plane. Del, an incorrigible slob who'll chew your ear off and make weird, disgusting panda-throat-clearing sounds, offers to share his motel room with Neal before they catch a train. This odd couple just wants to get back to the Windy City; but life—chapped by inclement weather, and the vagaries of the road and the transportation industry—has other plans. And Neal can't shake Del. No matter how hard Del tries to be friendly to him, Neal keeps finding himself stuck to his side, and resenting it.
Hughes, here, avoids broadness. Since his leads complement each other, he can just let them react to each other and the terrible turn of events his script throws at them. It's comedy gold. To an extent, the plot turns a tad predictably (things get shittier and shittier until both men are exposed nerve-ends, at which point they forge an unlikely bond). And while some of the gross-out gags fall flat (mostly the bits that involve Del's hygiene), Hughes doesn't labor long on them. (A scene of gay panic, which includes the line "Those aren't pillows," remains a gem.) The movie works because the protagonists are well-rounded. They aren't caricatures.
This could be Candy's finest hour. After Neal rips him a new one early on, Candy nails the look of a wounded but proud guy who's learned to hide his grief. Del may overbear, but he stands up for himself without sinking to Neal's bitterness. He is who he is, and he accepts that. Neal, in some ways, is as lost as Del; but Neal seems less evolved (or needs a reminder in humility), only because he appears to lack Del's openness, his good-hearted faith in the kindness of strangers.
As for Martin, he plays straight to Candy. Boiling over with frustration, Neal's verbal flip-out at the rental car counter (a scene whose generous use of the f-word single-handedly secured the film its 'R' rating) is, in Martin's hands, a well-deserved catharsis. He keeps Neal on edge. Part of what makes the performance so wonderful is his ability (through body language and tone) to stay just this side of visibly, royally agitated before events throttle him too far.
To pepper this journey, Hughes treats us to a crackerjack troupe of supporting players: Kevin Bacon as a taxi chaser, Edie McClurg as a car rental clerk, Michael McKean as a police officer, and former presidential speech-writer Ben Stein as an airport announcer. They shine.
One last thing. As I watched the movie the other night, the nostalgia got to me. I teared up. I'm an '80s kid who grew up watching Hughes films. Beyond that, though, a tinge of melancholy helps explains why Planes, Trains and Automobiles sticks with you. Neal is too blind to see that Del is essentially homeless. Through spending time with him, Neal grows into a more empathetic guy. Once the film ends, we recognize this clearly. And yet, since the movie doesn't feel as sentimental as what I just said might suggest… We can be thankful.
The Paramount Pictures Limited-Edition Blu-ray Steel Book has an in-depth retrospective on John Hughes' career that consists of interviews with folks who worked with him. Also included are previously released features: "Getting There is Half the Fun: The Story of Planes, Trains and Automobiles," "John Hughes for Adults," a tribute to John Candy, and a deleted scene.