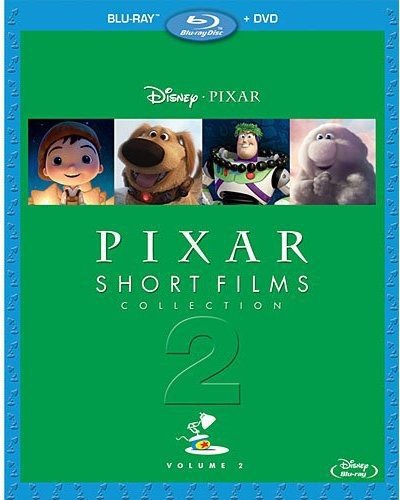 Originating as a division of Lucasfilm in 1979, Pixar Animation Studios has gone onto the become one of the industry's most successful movie studios with its 13 feature-length films earning numerous awards and over $7 billion in worldwide box office receipts. Aside from the features, short films have been an integral part of the company's history. Over the years, they have been used to showcase technological innovations and the talents of up-and-coming filmmakers. Picking up where Pixar Short Films Collection Volume 1 left off, Volume 2 presents 12 films that premiered between 2007 and 2012.
The disc opens with "Your Friend the Rat," a history of the rodent as told by Remy and Emile. First seen on the Ratatouille home release, it makes for an odd choice to begin the set as it is surprisingly boring and runs too long. "Presto," which debuted with Ratatouille in theaters and chronologically came before "Your Friend," is a very funny short about a magician and a rabbit that brings to mind the anything-goes zaniness of Tex Avery. "BURN·E" came with the WALL·E home release and offers an amusing look at what the repair robot was up to while the film focused the audience's attention elsewhere.
The next three shorts have an Up connection. "Partly Cloudly" screened before the film in theaters. The story has an intriguing premise about babies of all species being created by clouds, with a black storm cloud making ones dangerous to storks, such as alligators and porcupines. The rendering of the soft, fluffy clouds looks impressive. "Dug's Special Mission" was a home-video extra and presented another concurrent adventure as the other dogs tried to keep Dug [Squirrel!] out of the way. "George and A.J." are minor characters from Up and this short premiered on the web. The two men keep showing up as seniors follow Carl's lead and avoid going to the Shady Oaks retirement village. Rather than an animated short, it comes across like a collection of storyboards. The gags might have worked better if there had been movement.
Showing before Toy Story 3, "Day & Night" is one of Pixar's most imaginative shorts, which is saying something. Day and Night are personified, and they meet for the first time, discovering things through each other they've not experienced before. Smart, funny visuals show different places and things at different times of day, and similarly described sound effects help reveal what is going on. There is also a great message about accepting what's new and different.
Two Toy Story Toons are presented and the entire vocal cast appears to be involved. "Hawaiian Vacation," from the Cars 2 theatrical release, finds the gang getting creative as they help Ken and Barbie enjoy some time in the tropics. If you saw The Muppets on the silver screen, you should also have seen "Small Fry," a funny short that takes viewers into the world of discarded kids' meal toys. I'm glad to see the Toy Story franchise still performing at a high quality.
There are two Mater's Tall Tales and Keith Ferguson has taken over the role of Lightning McQueen. You will believe a tow truck can fly in the Cars 2 extra "Air Mater" and "Time Travel Mater," first seen on the Disney Channel, provides some history about the town of Radiator Springs. I haven't see either Cars movie but the world in which it takes place seems like it has great potential and brings to mind the work of Sid & Marty Krofft. The set concludes with "La Luna," discussed in my review of Brave.
The video has been given a 1080p/MPEG-4 AVC encoded transfer, displayed at different aspect ratios, and the shorts look spectacular. Bold, vibrant colors and rich blacks are seen throughout. The finely detailed drawings create a sense of textures and depth. The audio for the first six shorts comes in Dolby Digital 5.1, "Day & Night" is DTS-HD HR 7.1, "Hawaiian Vacation" is DTS-HD Master Audio 7.1, Mater's Tall Tales are Dolby TrueHD 5.1, and the remaining two films have Dolby TrueHD 7.1. Though different formats, the audio is satisfying throughout and the elements during each short are well balanced in the mix. Dialogue is always clear and understandable. Both the music and the effects evoke the mood and atmosphere of scenes throughout the channels.
The DVD comes with a few extras. All 12 Pixar short come with optional commentaries by the director and possibly more folks. "Director's Student Films" features shorts, two by John Lasseter and Andrew Stanton and three by Pete Docter, before they joined Pixar. They all have optional introductions. Lasseter's are naturally the oldest and look more like pencil tests than completed films.
Pixar Short Films Collection Volume 2 is as delightful as the first volume, although most of them, except for "George & A.J," "Small Fry," and "Time Travel Mater," have previously been released in HD. Fans should double-check their collection before buying. The one complaint I have with the disc is there's no Play-All option, requiring each title to be selected. This is a time-waster as I could easily have sat through the entire roster because it's a very entertaining line-up.