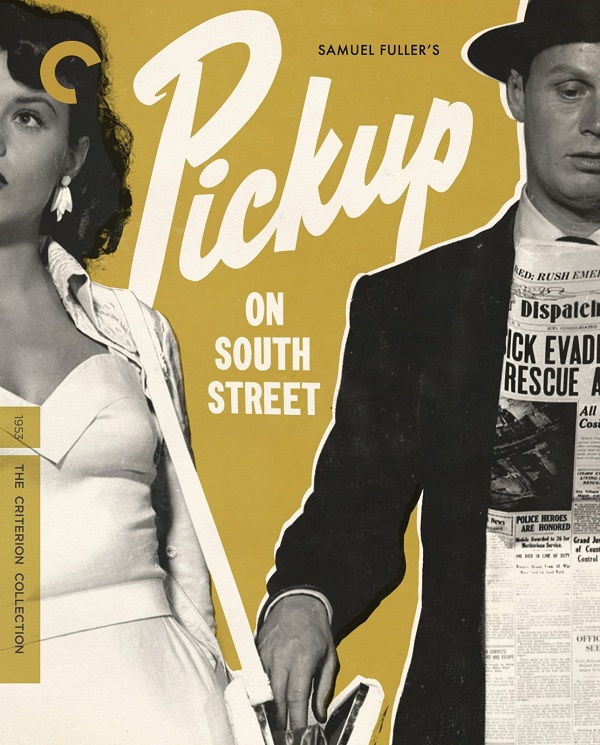 Samuel Fuller directed and wrote the screenplay for Pickup on South Street, a movie that blends film noir with a Cold War spy thriller to create an intriguing story. It had already been a title in the Criterion Collection and has gotten a high-definition upgrade for this Blu-ray release.
Although fresh out of jail for the third time, pickpocket Skip McCoy (Richard Widmark) gets right back to what he knows. He steals the wallet of Candy (Jean Peters) on a New York City subway. Unbeknownst to both of them, the wallet contained a microfilm with military information. Candy's ex-boyfriend Joey (Richard Kiley) asked her to make the delivery, but kept from her that he and the people she would be handing it over to are Communists. However, not everyone was in the dark about this espionage, which is why two G-men are following Candy in hopes of catching the Mr. Big of the operation.
Agent Zara (Willis Bouchey) goes to Police Captain Dan Tige (Murvyn Vye) for help. Tige, who has had run-ins with Skip, brings in local snitch, Moe (Thelma Ritter). She sells ties and information to save up for a proper burial so she doesn't end up in a potter's field. She identifies Skip, who is brought in for questioning. They appeal to his patriotism, but he is unaffected. Through Moe, Candy finds also Skip, and she oddly enjoys the rough way he treats her.
Realizing how important the microfilm must be, Skip blows off the $500 Joey sends and demands $25,000. Joey's superiors aren't happy and demand the microfilm the next day. Joey follows the trail to Skip and is willing to take anyone's life to save his own, setting up a showdown.
Presented in its original aspect of 1.33:1, the liner notes reveal "this new digital transfer was created in 4K resolution on an Oxberry film scanner from a 35 mm negative at Cineric in New York. Thousands of instances of dirt, debris, scratches, splices, and warps were manually removed using MTI Film's DRS, while Digital Visions Phoenix was used for jitter, flicker, small dirt, grain, and noise management."
The image delivers an array of grays between the inky blacks and bright whites. Fine texture detail is clearly seen in items like the men's suit jackets and the embroidery on Candy's purse. Film grain is apparent without being overbearing and focus is sharp except when intentionally soft in close-ups of Peters. No signs of wear of damage.
"The original monaural soundtrack was remastered from the 35 mm optical soundtrack negative by Audio Mechanics in Burbank, California." Dialogue is clear. Effects are straightforward, from soft sound of the striking of a match to the loud screech of subway brakes. Leigh Harline's score comes through with good clarity that evokes life in the big city. All the elements are balanced well in the mix.
The Special Features are:
Sam Fuller (19 min) – The director is interviewed in Paris, 1989 by author/critic Richard Schickel. Fuller speaks about directing in general and also the film.
Imogen Sara Smith (36 min) – The film critic discusses the cast and the making of the film.
Cinema Cinemas: Fuller (11 min) – From 1982, this a short French film shows Fuller is interviewed about Pickup.
Hollywood Radio Theater (audio, 52 min) – The Armed Forces version of Lux Radio Theater aired this broadcast on 6/21/54. Thelma Ritter is the only cast member to reprise her role.
Trailers for 16 Fuller films: Fixed Bayonets! Park Row, Pickup on South Street, Hell and High Water, House of Bamboo, China Gate, Run of the Arrow, Forty Guns, Verboten! The Crimson Kimono, Underworld U.S.A., Merrill's Marauders, Shock Corridor, The Naked Kiss, The Big Red One, and White Dog.
Pickup on South Street engages viewers by making them care about the seedy characters of New York City's underworld. Even though the film is only 80 minutes, the pacing never feels rushed and the viewer gets all they need in this story of crime and international intrigue. The new HD transfer delivers pleasing video and satisfying audio. Fuller fans will appreciate seeing the director talk about his craft.