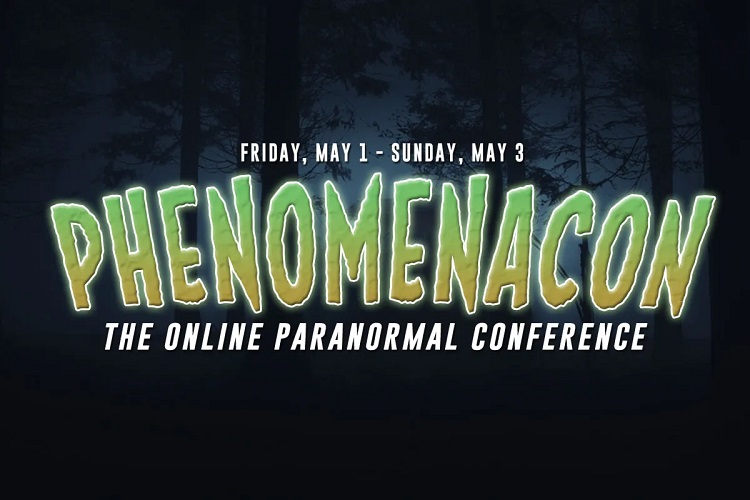 As spring moves towards summer, for many of us these seasons are usually full of conventions. Conventions that celebrate our love of comics, the paranormal, and horror to name a few. But in the face of the COVID-19 precautions, many conventions have been cancelled. So what is one left to do? Attend an online convention, that's what! And this past weekend I had the privilege to attend Phenomenacon, the first online paracon. From haunted places and psychic witches to UFO's and conspiracy theories, this convention had a little bit of the paranormal and occult for everyone.
Phenomenacon is the creation of Greg and Dana Newkirk, the amazing investigators and folks behind the Traveling Museum of the Paranormal and Occult as well as the paranormal series, Hellier. They created this online convention as a way to help speakers who have been impacted by the cancellations of so many conventions and speaking engagements. But Phenomenacon was also a way to unite the "weirdo" community of the paranormal during this time of physical distancing. I am here to say that any other group planning an online convention needs to take notes from the Newkirk's as Phenomenacon was done right.
The cost to attend was $15, which made it incredibly affordable during this time. This money not only granted attendees access to the three-day convention, but it also grants attendees access to the Patreon archives of the Traveling Museum of the Paranormal and Occult as well as to the upcoming museum programming for the rest of May. From the previews of that programming this weekend, May is going to be a good time.
In a matter of only two weeks, Greg and Dana lined up a total of 14 speakers (including themselves) for the weekend and delivered a well-organized schedule. This complete online schedule was made available before the actual convention so attendees could plan out their days, unlike many in-person conventions. In the schedule the Newkirk's also included links to the social media handles, websites, product links, and Patreon information of all the speakers for the weekend in a way that was easy to find and easy to navigate. This high level of organization and forethought not only set up the attendees for an easy connection experience with the speakers, but it also served as the virtual convention booths for each speaker.
Day 1 featured an opening address by Greg and Dana along with a little preview of what the weekend was to hold. Then the first speaker was Tyler Strand from Hellier. Tyler gave a great presentation on how folks can preserve paranormal history through special makeup and effects. He focused on how having an artistic eye can be a real key in solving paranormal cases. Next up was Timothy Renner, author of Beyond the Seventh Gate and host of the podcast Strange Familiars. He discussed strange encounters in South Central Pensylvania with Bigfoot and other paranormal activity. Michelle Belanger from the Travel Channel's Portals to Hell, took attendees on a journey through our beliefs in demons and demonology. The day finished up with a stunning, live, crystal singing bowl guided meditation led by Dana Newkirk.
Day 2 began with some news and announcements from Greg and Dana and then the first speaker Calvin Von Crush, host of The Occult Collector, took us on a tour of his spirit communication devices. He showed us all kinds of cool items from antique talking boards to a book supposedly written by Mark Twain from the other side. Connor J. Randall from Hellier took attendees on an audio history tour of ITC (Instrumental Trans-Dimensional Communication) which featured numerous sound bites from beyond as well as a lot of fantastic information. Next up, Aaron Gulyas host of The Saucer Life, examined how American hopes and fears about UFO's and alien visitation have shaped our culture and our everyday lives. And in continuing the theme of alien visitation, Joshua Cutchin from Ancient Aliens pulled apart the claims of modern-day alien-human hybrids. Allen H. Greenfield, author of Secret Cipher of the Ufonauts, finished out the day with his presentation on ufology, magic, trickster phenomena, and the future of paranormal and anomalistic research.
Day 3 began with Greg and Dana not only presenting news and announcements but talking us right into their presentation on the ethics and importance of understanding how to care for haunted objects. Mat Auryn, author of Psychic Witch, talked to us about how to harness your sixth sense and develop your own psychic abilities. Once we spent some time developing our gifts, Amy Bruni from Travel Channel's Kindred Spirits and owner of the travel company Strange Escapes gave attendees some fantastic tips and guidelines on how to research the history of haunted places. Next up was John E.L. Tenney, host of Realm of the Weird as well as a well-known author, speaker, and paranormal investigator. John took us all on a fun and mind-blowing journey into the realm of conspiracy theories. Day 3 and Phenomenacon wrapped up with a Hellier roundtable moderated by Tenney and featuring Greg and Dana Newkirk, Tyler Strand, Connor J. Randall, and Karl Pfieffer. Attendees got a chance to ask questions about the series and hear the Hellier crew discuss the strange and amazing journey they have been on.
In addition to helping their speakers through promotion, Greg and Dana took a suggestion from one of their museum members and set up a virtual tip jar for the speakers (not including themselves). This tip jar collected money all weekend and the pooled tips were split between the 12 speakers. While people donated, there was never any pressure to put money in the jar as the Newkirk's continually thanked people for their initial fee for the convention. By late Sunday night, it was evident that the attendees were a generous bunch as the tip jar was overflowing.
Greg and Dana streamed Phenomenacon through Facebook Live in the private museum group. Like an in-person convention, if you missed the speaker, you missed it, as nothing was recorded to preserve the integrity of each presentation. But this also allowed for extra security and prevented the convention from getting interrupted by any internet raiders. The Newkirk's were also able to deliver very clear instructions to attendees about requesting access to the Facebook group before the convention began.
At the beginning of each day and between speakers, Greg and Dana would also come back on to talk to folks and keep the momentum going. It is touches like that that helped this convention truly feel like a real break form the everyday in this zany time.
While each speaker was presenting, the chat was available for attendees to ask questions and interact with one another as well as with the speakers. While the presentations were running, chat moderators would also post links to the work of each speaker in the chat for another way for the attendees to connect with their work.
Away from the speakers, attendees were interacting with one another in formal and in-formal post-convention threads. It was like milling about in the virtual halls of a convention center or hotel. The group that attended this weekend, was truly a joy to engage with.
One of the things I am really thankful for is that Phenomenacon did not have overlapping speakers so attendees did not have a worry about having to choose one speaker over another. In addition, Greg and Dana kept the convention running on time and allowed for a 15-minute break in between speakers so that folks would have a chance to get a drink, get some food, or use the facilities.
I left this weekend feeling that "convention high" like I had actually gotten out of my living room and really gotten to physically attend a convention. That convention high is part of why we go to conventions. We come home feeling full, and feeling our identities acknowledged. They are a space to revel in the topics we are interested in and a place to connect with the community that is so important to us. Thank you to Greg and Dana for creating that space for us weirdos to unite. I am truly looking forward to the next one.