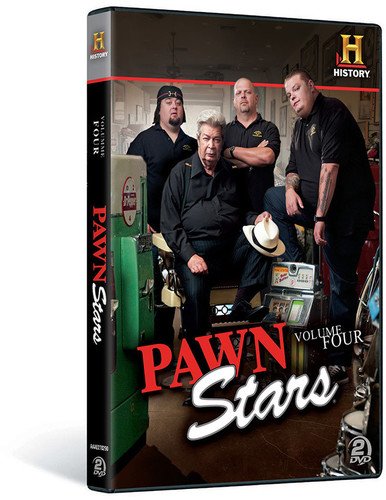 Written by Greg Barbrick
Remember when pawnshops used to be scary? Maybe it was the area I grew up in, but there was always this really sleazy vibe in them when I was younger. But back then, I never really understood the appeal of "junk" anyway. Things have changed a lot over the years, and with the advent of chains such as "Yuppie Pawn," pawn shops have become respectable. Well, some of 'em anyway.
The gentrification of pawn has been a recent development, and part of it has to do with the economy. People need money, and are willing to sell things at a substantial discount to get it. In other words, there are bucks to be made, so why scare the suckers off? In Vegas, the business is gambling, and it is a very big business. The Mob are long gone, and all the hotels tout how "family-friendly" they are. Why not do the same thing with pawnshops?
With so many people in dire need of instant cash to parlay at the slot machines, it makes perfect sense that the pawn business in Las Vegas would be a thriving one. Enter Rick Harrison. The History Channel program Pawn Stars takes place in his "World Famous Gold and Silver Pawn Shop, which he has run for the past 21 years. Besides Rick, the show features his father, who they call the "Old Man," son Corey, and Corey's pal "Chumlee."
As Rick puts it in the opening credits, "You never know what is gonna come through that door." And for once, he is telling the truth. Everything from old toys to the videotape collection of Sammy Davis Jr. is offered up for sale in this, the two-DVD Pawn Stars: Volume Four collection. The very first item in the very first episode just happens to be a Beatles "Butcher Cover" album. For those who are unfamiliar with this one, the original cover art for their Yesterday and Today album was banned by Capitol Records. It featured the Fabs dressed as butchers, with bloody, chopped-up meat and baby parts spread around. The few that survived destruction became instant collector's items. The album has sold for as high as $10,000, but Rick got this one for $1,250.
Other items include a letter signed by Franklin Delano Roosevelt, another signed by Winston Churchill, the suit worn by Kentucky Fried Chicken's Colonel Sanders, and some bowls and plates which supposedly belonged to Adolph Hitler. This being Las Vegas, there are some cool casino-related items as well, including a blackjack table from the legendary (and now demolished) Stardust. Some things are too big to bring in, so Rick goes out to appraise them. My favorite was the DeLorean that was offered for sale. I think Rick might have bought it if the guy had thrown a Huey Lewis tape into the offer.
Then there is the negotiating, which can get pretty intense. As viewers, we have the inside track. In many cases the potential seller will confide to the camera (out of range of Rick) what he or she paid (if anything at all) for the item, and what they hope to get. We also get Rick's confidential thoughts on what he thinks it is worth, and what he is willing to pay. And then we watch the dance.
For the Churchill letter, the guy wants $5,000, but even though it is confirmed to be legitimate, he walks away with $800. As he tells us afterwards, he got it for free when cleaning out a house, so it is all gravy as far as he is concerned. In another case, a guy brings in a 50-year old Teddy Bear, hoping to get $200 out of it. He leaves with $1,500. On some deals the two are just too far apart though. The guy with the DeLorean wants to sell for $30K, but Rick is only willing to go 15. No sale.
One of the funnier vignettes comes during the episode titled "Like A Rolling Chum." Rick buys a Bob Dylan album from a guy, and since Dylan is actually playing in Vegas that weekend, he sends Chumlee out to get the record autographed. Although it may have been scripted, Dylan seems genuinely surprised when Chumlee approaches him in the parking lot of the hotel he is performing/staying at – and gives the autograph. The only problem is, Dylan makes it out "To Chumlee," which renders it useless to anyone besides those named Chumlee. Rick just laughs, and gives him the album.
The show is balanced between such humorous moments, and a real sense of drama as to whether some of these crazy items are legit or not, and if they are, what they will sell for. Available on June 5. the new Pawn Stars: Volume Four set contains 16 half-hour episodes, and all are highly entertaining.