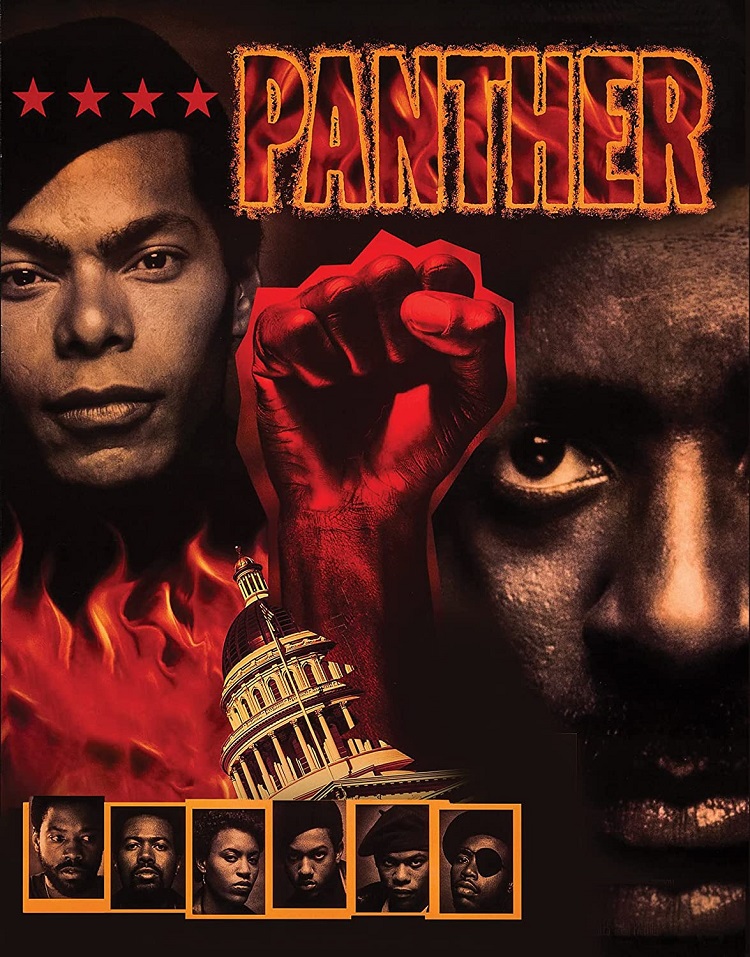 From director Mario Van Peebles comes Panther (1995), the highly fictionalized story of the rise and fall of the Black Panther Party. Written and based on a novel by his father, Melvin Van Peebles, Panther starts as a biopic and spins into an action/political thriller that falls a little short despite its talented ensemble cast.
A Vietnam vet named Judge (Kadeem Hardison) tells the tale of the Black Panther Party for Self Defense as they move past local issues like street lights to national issues of self defense and the right to bear arms. Chronicling the activities of party founders Huey Newton (Marcus Chong) and Bobby Seale (Courtney B. Vance), we watch through Judge's eyes as the duo rise to national attention and onto the radar of J. Edgar Hoover's FBI. Through community organization, armed self defense, and eventually taking direct steps towards the governor and state capital, the Panthers grabbed the national spotlight and had the eyes of the world on them during a time of national turmoil.
Van Peebles starts this one off rather well but begins to stray as they add more political thriller elements like FBI informants, mafia drug kingpins, and crooked local politicians. All these factors may have played a real hand in the Panthers' story but I'm sure it didn't happen quite as the Van Peebles imagined. As they see it, the FBI partners with corrupt local government officials and the police to flood the streets of the black community with heroin, which of course the Panthers are against. They actually manage to blow up a warehouse filled with drugs before it hits the streets. Far-fetched and improbable, kind of cringey and dated, but fun.
My interest wanes, though, as the movie slips further away from any sense of reality or truth and into the realm of conspiracy and pure Hollywood bullshit. I hadn't seen Panther since around the time of its release and remember it being better than this; then again, I was a young teenager at the time and can really only recall the movie to about its halfway point. Probably lost interest then too as the biopic morphed into a nonsense political thriller. Mario manages some creative and rather surreal transitions that are interesting to watch and incorporates music well but so did In Living Color, which is what Panther's ending brought to mind due to its over-the-top nature. The star-studded cast which includes Angela Bassett, Bokeem Woodbine, Joe Don Baker, James Russo, Michael Wincott, Chris Rock, Bobby Brown, Dick Gregory and Kool Moe Dee all play their parts well but also manage to keep Panther more a product of its time than a chronicle of 1960s counterculture revolution.
I'm thankful MVD and MGM decided to release Panther on Blu-ray but some extras would have been very much appreciated and needed. Anything at all: a vintage behind-the-scenes featurette, any commentary or current retrospective interviews with cast, crew or any sort of historian. Hell, even someone with strong opinions would have been phenomenal. Any insight that shed further light on Panther would have been enlightening and made the movie itself that much more interesting. Yet we get nothing but the Panther trailer along with a few others, the usual high definition (1080p) presentation, clear 2.0 stereo audio, and reversible cover art.
There's probably more than one good reason Panther hasn't been released for so long. Perhaps due to some scenes that too closely resemble current events, its controversial theory about the end of the Panther Party or just that it's dated and nearly complete nonsense (Bobby Seale himself agrees with this). No one can say for sure. Panther, being part biopic, part political/action thriller, and only partly true, is a good place to start one's look into the real story of Huey, Bobby, the Black Panther Party, and the things that they actually did do. Good or bad, the truth is out there, in book and documentary film form. Peace.