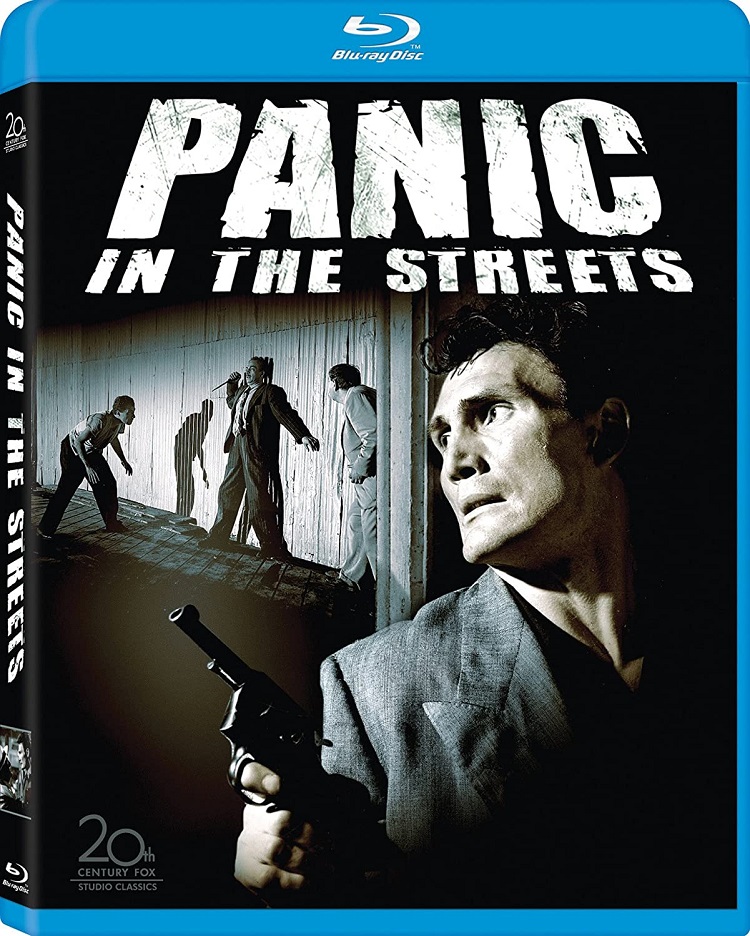 Written by Mike Bruno
It has been 63 years since Panic in the Streets first opened and it wasn't a box-office hit. Yet one can learn even from bad film, and though this isn't a typical "bad film", for it has its moments, it opens up a viewer's eyes to aspects of life occurring in the '50s, some of which can be revived for today's world. Elia Kazan was one of the world's finest directors but even he couldn't help a script which read more like a drunken David Mamet play that couldn't find its soul, so bringing it out on Blu-ray leaves me to ask the question. No, not "why?," more like WTF.
The story is centers itself in the blues-infested port town of New Orleans, which looks so run down and dirty it makes the aftermath of Katrina look manageable. As a back alley card game plays into the night, one of the players feels sick and decides to leave. Apparently one can't leave a card game when ahead or as a winner; you must give the fools who you have taken money from for the last few hours, more time to try and win their money back. Hey, man, if I'm winning and have been kicking your ass for the last ten to twelve hands, give it up, you're losing, and if this keeps up I will walk away with all your cash, but I digress.
So the guy (Lewis Charles) who's winning gets sick and leaves the game. This angers the other players or just one of them, Blackie (Jack Palance in his film debut). Blackie's two buddies, Fitch (Zero Mostel) and Poldi (Guy Thomajan), are ordered to get the man back so Blackie can get his money. They end up killing the man, taking the money, and dumping the body in the harbor. Remember, back in the '50s, mug shots and fingerprints were still the new science of the day, no CSI or forensics or any DNA results, so knocking someone off and getting away with it was common.
Here enters star actor Richard Widmark as Lt. Cmdr. Clinton Reed, U.S. Public Health Service officer, enjoying his only day off ever, so the film makes it out to be, when he gets a call from the coroner at the city morgue. The coroner figured out that the dead man found in the harbor died of gunshot wounds but his blood had a virus in it, pneumonic plague. Reed knows that if anyone has come in contact with this body can and will probably get sick in the next 48 hours, and if not contained, an epidemic will break out and the whole country will suffer. Police captain Tom Warren (Paul Douglas) doesn't understand why the press can't be notified. This way any witnesses can come forward, but little does he know that if a report of a plague-ridden body was found, it might start a widespread panic, and not that awesome band from Georgia mind you, a panic that would freak out a country already worried about the spread of communism and jazz music. This, Reed explains, would not be good.
It's a frantic search for the killer or killers with barely any evidence and no eyewitnesses, but Reed and Warren rip through New Orleans like Sherman's march to the sea, running over laws and civil rights with cops intimidating anyone they want. At one point, when news reporter Neff (Dan Riss) figures out people connected with this murder could become ill, he wants to put out his story, but Capt. Warren has him arrested, obviously not familiar with the 1st Amendment, or the 4th or 5th for that matter.
Now, will Reed and Warren find Blackie and his cohorts in time to stop an epidemic that could take out half the nation before it's too late? Sounds like cliffhanger sound bite from an old Batman episode but here is where the question lays; you can't yell "fire" in a crowded theater, but what if there is a fire and no one knows but you, what do you do? Kazan doesn't even try to answer this question, and this is one of the reasons I didn't like this movie.
Widmark's character admits to being an alarmist who's overly pushy, while Douglas' character considers everybody a suspect while he tramples over the Constitution. Together they yell, threaten, rough up, and arrest anyone who won't listen to what they feel could be a disastrous situation, and they will stop at nothing to get killer, if not to bring him to justice, but to stop an epidemic. Justice is lost in this story along with about an hour of my time.
There is nothing wrong with the acting or how the plot follows along; it's just the story itself. Kazan could have brought up a lot that was wrong in the society of his time, but he chose not to. Kazan chose to go with a weak script and high caliber actors but not talk about what was really happening in America. The subtext I got from the film had the stink of "Red Scare" to it as well, but as for entertaining, I was more enthralled with the previews for other films than the one I watched.
The video has been given a 1080p/MPEG-4 AVC encoded transfer displayed at an aspect ratio of 1.40:1. The audio is is available in DTS-HD Master 2.0 Stereo. Extras include an Audio Commentary by film historians Alain Silver and James Ursini from 2005. From Biography, two episodes about the film's stars: "Jack Palance: From Grit to Grace" (SD, 44 min) and "Richard Widmark: Strength of Characters" (SD, 44 min) There is also a Theatrical Trailer (HD, 2 min).