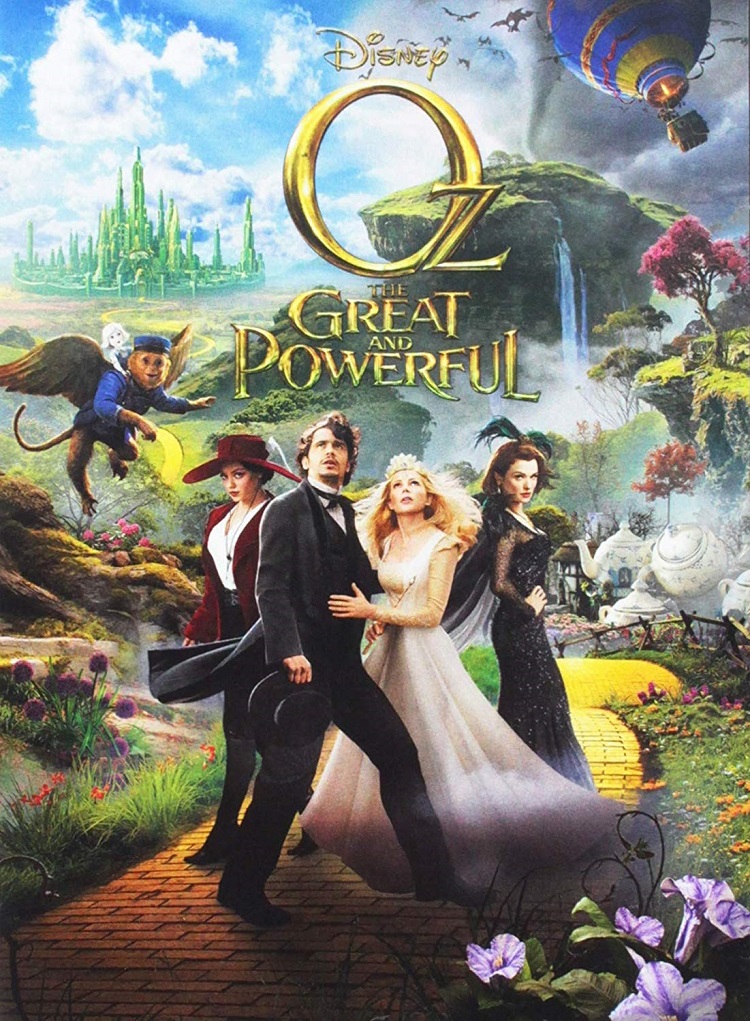 So why would Disney release Oz the Great and Powerful, a prequel to one of the most beloved films of all time, which has Summer or Christmas blockbuster written all over it, in March? Could it be because the film is so dark and heavy that after investing 130 minutes you'll feel like a house fell on you? Sigh; yeah, pretty much.
As with The Wizard of Oz, Great and Powerful opens in black and white, which is pleasant and leads us to believe that the film will be filled with more memories. Whereas the story does contain fun references to the original journey to Oz, it does not contain the fun characters or music found along the yellow brick road.
In the opening segment, we are introduced to Oscar (James Franco), the sideshow magician, hustler, and womanizer. Oscar will eventually fly off in his balloon in an effort to escape the wrath of an angry husband. A brief encounter with a tornado lands Oscar in the spectacularly colorful Oz where he encounters some witches both good and bad. Said witches provide all the energy in this film as Franco lacks the flair and cachet needed to pull off this role.
The witches, Theodora (Mila Kunis), Evanora (Rachel Weisz), Glinda (Michelle Williams), provide all the excitement in the film with wonderful characters fueled by superior performances. Ultimately, it is Kunis that steals the film thanks to a script that allows her character, and only her character, to truly evolve.
As Oscar finds that he must take on the role of the great and powerful Oz in this strange land, the audience can't help but begin to anticipate assistance coming in the form of enjoyable characters such as a scarecrow, tin man, or lion. Alas, all Oscar finds is a China Doll (Joey King), who left me waiting for the obvious song connection that never came, and a friendly flying monkey (Tony Cox), both of whom failed miserably in the inevitable comparison to the iconic clan from the original Oz outing.
Oz the Great and Powerful looks wonderful at times, but the extra admission cost on this three-dimensional effort is wasted here as the film often suffers from computer-effect overload. The talented individuals behind the scenes should have spent more time developing the story and characters and kept the production more similar to the time being reflected in the film. Luckily, we won't lose much when it turns up on TBS this summer.
Recommendation: The youngest of audience members may enjoy this, but the young at heart looking for another classic trip to Oz will be saying there's no place like home before the closing credits role.