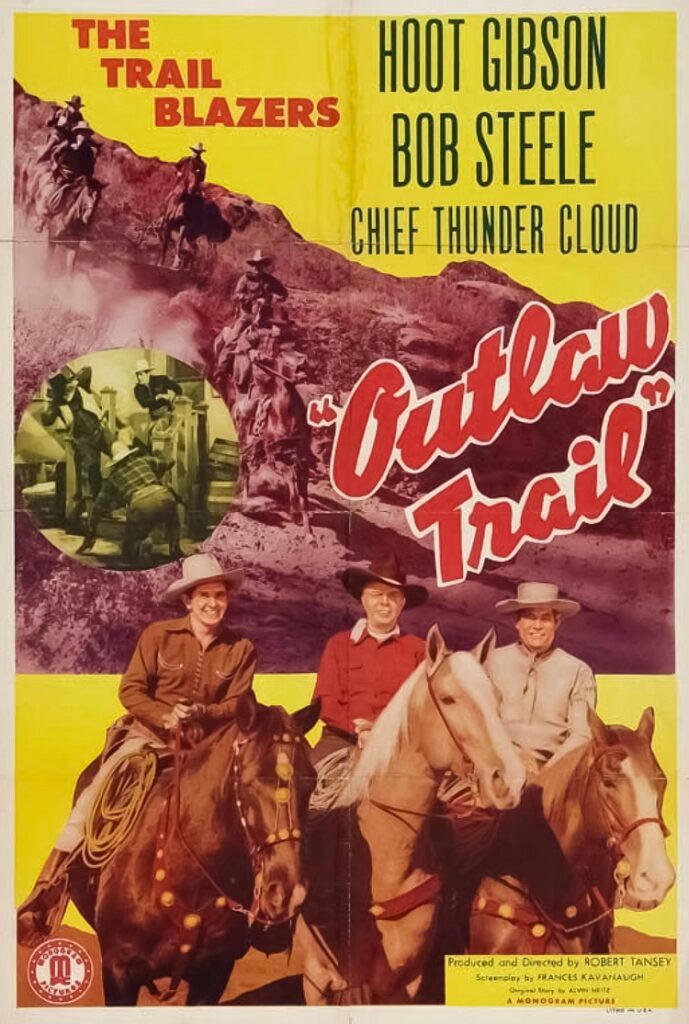 From the very first time the moving picture industry first started showing double features at the bijou every Saturday to an entire generation of bored children, the b-western became a hot commodity with no-budget filmmakers. The poorly-dressed suits at Monogram Studios — one of the most (in)famous Poverty Row film companies ever to grace the silver screen — were certainly no exception to cranking out run-of-the-mill cowboy movies for the masses, creating short-lived franchise heroes (often with has-been silent stars) after another in order to give the same recycled stories Monogram's writers used time and time again some unlikely inkling of credibility.
In the case of former silent/early talkie stars Hoot Gibson and Bob Steele, they found themselves cast with the lesser-known Victor "Chief Thundercloud" Daniels — one of the few Native American bit-players that was actually Native American by birth. Known as the Trail Blazers, the trio made several films for Monogram, with 1944's Outlaw Trail being no more of a standout than any of the other flicks they completed together. The story here finds the Blazers — who are all U.S. Marshals — being sent into Johnstown (not Jonestown) to find out what happened to a cattle buyer and the tens of thousands of dollars he had with him.
Most of the mess is attributable to the town's pioneer, a feller who calls himself "Honest John" (Cy Kendall). Needless to say, he does not live up to his name, and his many henchmen (Jim Thorpe, Charles Murray, Jr., future Ed Wood actor Bud Osborne, et al) have it out for our heroes. If you've seen one b-western, you've probably seen this one as well, but it's the cheapo Monogram production values — barely audible sound, awful camerawork, paint-by-numbers script — make it enjoyable in a "so bad, it's kinda-sorta good" way. The very fact that MGM's Limited Edition Collection has issued another Monogram Picture to DVD-R makes this one worth checking out on its own.
For b-movie lovers only.