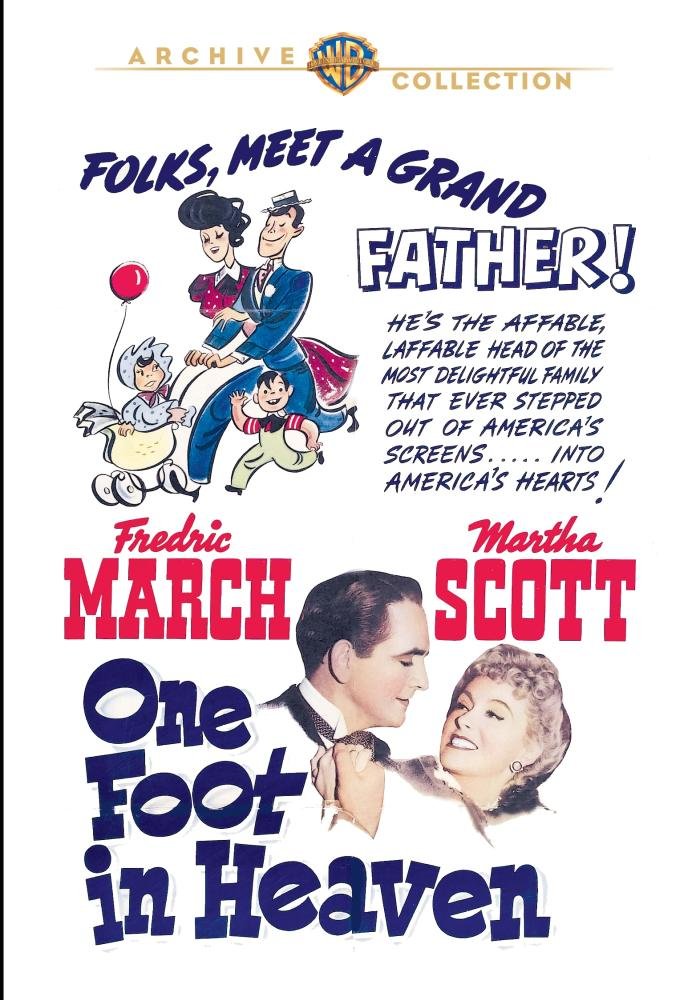 Sometimes, the whole "forgive and forget" thing just doesn't cut it. One of the more novel aspects of the seven-kajillion European westerns made during the '60s and '70s involved men of the cloth – those who had devoted their lives to preaching the word of God – flat out seeking revenge vengeance after having been wronged by their fellow man. It's plausible – even possible – given the right set of circumstances. Likewise, in the classic 1974 Mel Brooks comedy Blazing Saddles – the film that admirably spoofed the classic style of western film that would eventually (unknowingly) give birth to the Euro western, Harvey Korman's character adds an unusual request in his list of men to extract revenge: Methodists.
It is within the confines of One Foot in Heaven, the 1941 Warner Bros. biographical film of Methodist minister William Spence, that you may finally discover perhaps just a bit of method in the madness behind that otherwise harmless joke. Here, the great Fredric March plays the late minister who ruled his parish with an iron fist – earning respect from the devout, and fear from those who sought to exploit the church for their own means. Starting out as a medical student nearing graduation in Ontario, Canada, the good Mr. Spence (March) suddenly gets the calling to serve that great big surgeon in the sky instead, whisking his (literally) blushing bride-to-be, Hope (Martha Scott), off to become a circuit minister.
As the years pass for both Mr. and Mrs. Spence, they travel from one dingy parsonage in one rural hellhole after another, barely managing to survive as they manage to start up a family of five. World wars come and go, as do the family's financial burdens, but the one constant in life seems to be putting up with the various "elitists" each small community comes with. In a highly memorable third act, Mr. Spence engages a war of his own with the local well-to-dos, one of whom refuses to shell out for a new church if it means the location of the choir will not be visible for all who sit in the pews, as that is where his upper-crust wife can be seen – though everyone wishes her awful voice couldn't be heard, mainly the suffering Mr. Spence.
Though it isn't exactly the kind of movie I normally go out of my way to see, I have to recommend One Foot in Heaven just the same. While March doesn't seem as if he's 100% comfortable in the part, he certainly brings the late minister to life – especially when he tracks down and subsequently tells certain members of his own parish that they don't deserve to live when they attempt to discredit his family by starting rumors. I can't imagine many other men of the cloth behaving like that, and it definitely makes One Foot in Heaven more enjoyable. A slew of great older character actors from the period – Beulah Bondi, Gene Lockhart, Harry Davenport, Grant Mitchell, Jerome Cowan, and more – co-star, along with the then-fresh faces of Elizabeth Fraser, Frankie Thomas, and even a brief walk-on role by Gig Young.
Based on the biographical best-selling book by Hartzell Spence (the real William's son, who would not only go on to develop the hearlded publication Yank, the Army Magazine during World War II, but managed to coin the term "pinup" in the process), One Foot in Heaven was directed by Irving Rapper, and credits Norman Vincent Peale (Tom Lehrer's favorite "deep philosopher", and who would later get his own biopic in 1964) as technical advisor. One of those countless movies that has managed to elude most motion picture parishioners since the advent of home video (even its TV airings were few and far in-between), the feel-good/spiritual charms of One Foot in Heaven are now available on DVD for all to seek comfort in thanks to the ongoing efforts of the Warner Archive Collection.
Presented in its original 1.37:1 Academy aspect ratio, the feature film looks and sounds quite lovely overall, with its mono soundtrack delightfully delivering every bit of March madness through and through. No subtitles are offered with this release, and the only supplemental item to be found here is the movie's original theatrical trailer.