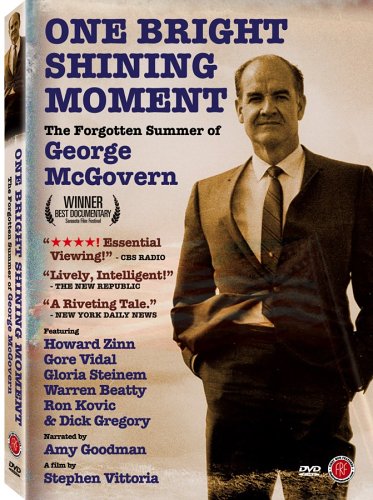 For political junkies, there is no greater spectacle than the election of the President of the United States. The appeal of this long, torrid quadrennial affair stems from its ability to simultaneously showcase the best and worst aspects that democracy and mankind has to offer. For about a year, this soap opera with global implications engulfs the nation's media as they cover all the victories and missteps by the field of candidates who are pursuing the office of the President, a position awarded to only 43 men in 223 years.
One Bright Shining Moment is an insightful documentary that examines the life and candidacy of one of the men who failed, South Dakota Senator George McGovern. He ran as the Democratic nominee in 1972 and lost to President Richard Nixon, who was running for re-election, in one of the worst defeats in Presidential politics.
Amy Goodman, host of Pacifica Network's Democracy Now!, narrates the film, which opens with a brief introduction about McGovern detailing his rise to national prominence during the 1968 Presidential primaries when, while running for re-election to the U.S. Senate, he stepped in after Robert Kennedy's assassination to act as a voice at the convention for Kennedy's supporters. McGovern came in third behind Vice President Hubert Humphrey, who won the nomination (although he won no primary), and Senator Eugene McCarthy. McGovern ended up having a great impact on future conventions. He, along with Congressman Donald Fraser, chaired a commission that took the power of selecting Presidential candidates out of the smoke-filled, dimly lit back halls and put the emphasis on the primaries and caucuses.
The film jumps back to present his biography, growing up in South Dakota during the Great Depression, meeting his wife Eleanor, serving in WWII and in the Democratic party at both the state and national level. He served in the Kennedy Administration as director of the Food for Peace program until he became a Senator in '62.
In 1968, Nixon had run on a platform with a secret plan to get the country out of Vietnam. It hadn't been enacted as the 1972 Presidential primaries started up. McGovern was a very vocal critic of the war and he ran on a platform with a public plan that would immediately bring the soldiers home. As the campaign began, he did poorly in the polls and almost ran out of money. Then, he did well in Iowa and began to compete. The film shows the party leaders campaign against him as he grew in popularity because they had no control over him, much in the same way their counterparts went after Howard Dean and John McCain in previous elections.
The '72 Democratic convention in Miami was not executed well. It was back at a time when the conventions illustrated the beauty and chaos that is democracy before the people in charge realized they would look better by creating polished, controlled infomercials. When McGovern won the nomination, his people didn't know what to do. They were so focused and fought so hard in California that they didn't plan on what to do if they actually won. McGovern gave his acceptance speech at 2 a.m., so most of the country didn't see it.
Then the wheels began to come off the campaign when it was learned that VP candidate Senator Thomas Eagleton had been hospitalized for depression and received electroshock treatment. McGovern agreed to stand by him "1000 percent" and then changed his mind three days later, selecting Sargent Shriver.
One Bright Shining Moment does a great job providing an inside look at the campaign using archival footage and recent interviews from principal participants like McGovern, campaign director Frank Mankiewicz, and campaign manager Gary Hart. Supporters of McGovern also appear: Warren Beatty, Gloria Steinham, Gore Vidal, Dick Gregory, Ron Kovic, and Howard Zinn.
My only complaints are that the interviews of some subjects were framed very poorly, getting so tight on their faces that they would occasionally slip out of frame. It was very annoying and distracting from what the subject was saying. Also, I would have liked to hear from McGovern's detractors to see how others viewed him.
The film is sure to be enjoyed by fans of history or politics because it illustrates the axiom that knowledge can be attained from a contest's loser as well as its winner. It is a great companion piece to Hunter S. Thompson's Fear and Loathing: On the Campaign Trail '72.