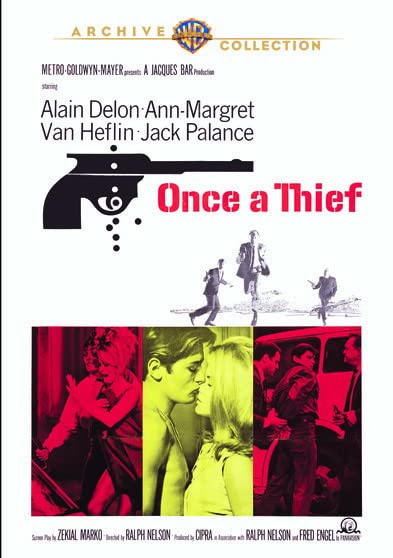 Filmmaker Ralph Nelson was always up for something different. While the late director is best known today for bringing the world acclaimed (and often groundbreaking) classics such as Requiem for a Heavyweight, Charly, tick… tick… tick…, and Lilies of the Field, it's some of the movies he's not known for today that perhaps deserve the most attention. And one such motion picture outing is his 1965 masterpiece Once a Thief: a spectacularly gritty black-and-white crime drama written by an actual ex-convict set in San Francisco during that precariously precocious period that bridged the gap between the beatnik era and the subsequent "groovy" part of the '60s many associate the decade with now.
But that's not the only crosswalk Once a Thief constructs. The film also spans the distance between the stuffy American movie scene and the more innovative French New Wave. To do so, Mr. Nelson not only gives the great Alain Delon his first American starring role, but also utilizes some innovative camera techniques that primarily only appeared in far more "artsy" Euro (or NYC) features. Here, Delon plays Eddie Pedak, an ex-con who is trying his damndest to make an honest dollar in the world with his wife (Ann-Margret) and their young daughter. Alas, multiple parties are out to ensure Eddie stays true to the latter half of the titular expression, including his elder brother Walter (Jack Palance, in one of his least hammy performances, though his faux Italian accent does clash against Delon's Francophile Italian cadence).
Out of the blue, Walter appears with his incredibly sleazy henchmen – Sargatanas (John Davis Chandler, who I'm certain is the illegitimate offspring of Christopher Walken and Steve Buscemi, and just as creepy at that!) and Shoenstein (Tony Musante, just a few years away from helping launch Dario Argento's giallo career in The Bird with the Crystal Plumage) – trying to coerce his talented baby brother into the proverbial "one last big job." But Eddie has bigger fish to fry: not only is he trying to keep his nose clean, but he's also trying his best not to get put away by vindictive SFPD Detective Vito (Van Heflin, in a fine supporting role as a man obsessed) who has been stalking the younger Pedak brother for six years since being shot in the gut by a man he believes to have been Eddie himself.
To make matters even worse, the seemingly senseless killing of a Chinese store owner by a man dressed in Eddie's trademark sheepskin coat and driving the same make and model of his car has Vito even more consumed with hate and revenge than usual, which makes things so bad at the Pedak household, Eddie's loving wife has to go out and get a job – at a swingin' percussion happy nightclub at that! The recently discovered talents of an Argentinean composer named Lalo Schifrin only add to the atmospheric, criminally underrated, and very hard-hitting drama that also features the wonderful Jeff Corey and Steve Mitchell as cops. Screenwriter/author Zekial Marko, who bears more than a passing resemblance to Val Avery (and who actually wound up in jail during the film's shoot!), has a small but memorable part as a hood, his voice dubbed by the uncredited talents of Paul Frees.
Long missing from the forum of home video in the United States, Once a Thief has finally found its way to DVD via the Warner Archive Collection. One has to wonder is there were once plans to release this seldom-seen gem as a pressed disc, as it not only sports the original theatrical trailer, but also has a fun little promotional behind-the-scenes short included with director Ralph Nelson and Lalo Schifrin about the music of the film. While trailers aren't uncommon with these WAC releases, most other extras often are, which makes this one all the more special in my book. And with a beautiful (and sometimes perfectly grainy) anamorphic 2.35:1 transfer on-hand for this masterpiece, I can only squeeze in two more words for my newfound admiration of Once a Thief: highly recommended.