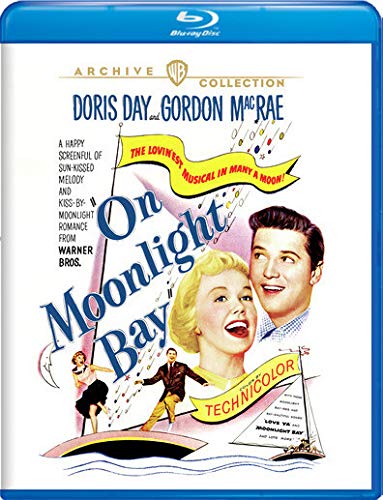 Booth Tarkington is most famously remembered as the author of the Pulitzer Prize winning novels The Magnificent Ambersons and Alice Adams, but he also wrote a popular trilogy of books about a mischievous boy named Penrod, a character similar to Tom Sawyer and Dennis the Menace. So what does that have to do with a romance movie starring Doris Day? Not much, which is a conundrum considering that On Moonlight Bay is supposed to be based on the Penrod books. Sure, Day's character has a naughty little brother who serves as occasional comic relief, but in typical Hollywood fashion, the principal story has been changed so much that even his name has been altered to the more conventional Wesley.
Instead of the misadventures of an early 20th century boy, the film focuses on Day's transformation from a baseball-playing tomboy named Marjorie into a fawning feminine love interest for a dreamy college boy named William (Gordon MacRae) destined for the front lines of World War I. It's not really a musical, but it does slip in a few songs performed by the leads, most notably the title track. It's kind of a romantic comedy, even though most of the comedy comes from Wesley/Penrod as well as the contentious relationship between Marjorie's dad and William. In the end, it's somewhat mystifying how the film got made in the first place, or how it was selected for Warner Archive release. There's no notable talent in the creative credits, leaving its distinction as one of five pairings of Day and MacRae as the likely deciding factor.
To their credit, Day and MacRae are excellent in their roles and have great chemistry. Day starts to exhibit some of her later comedic flair here that was totally absent just one year prior in Young Man with a Horn, while MacRae is in peak physical condition with charm for miles, much more so than before the vagaries of fame and alcoholism took their toll on him before his biggest starring roles in Oklahoma! and Carousel. While the movie as a whole just goes through the paces, Day and MacRae are mesmerizing and ultimately elevate the project into a pleasant diversion as we root for their characters to find happiness.
The Blu-ray features a new 1080p HD master from a 4K scan of the original Technicolor negatives, and it is glorious. No noticeable defects are present, the slightly muted colors hold consistency throughout all scenes, with only some soft focus issues around the image edges carrying over from the original camerawork. The DTS-HD Master Audio 2.0 soundtrack is crisp and clear, a fine match for the pristine picture quality. A couple of bonus shorts from the film's era are also included for good measure. The first is an amusing live action sing-along attempt where singers perform four songs about the moon (including the title track) before instructing the audience to sing along with the lyrics presented onscreen. The other is a Chuck Jones-directed Merrie Melodies cartoon, A Hound for Trouble, that leans heavily on Italian stereotypes for comedic effect. The shorts are fun additions that help to bring home the original theatrical experience, further enhancing the product value.