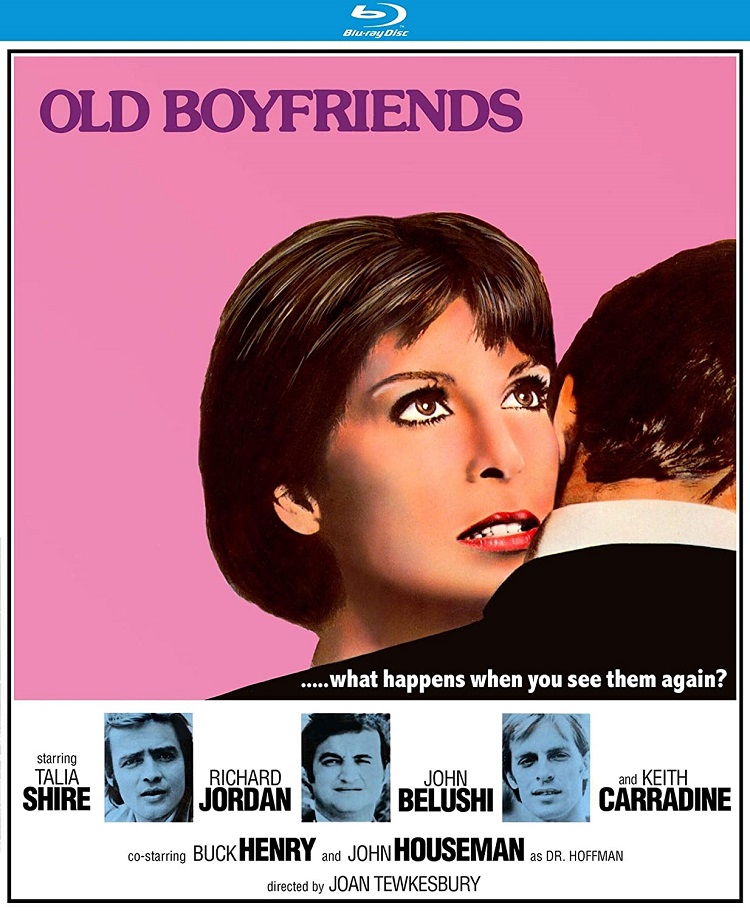 Diane Cruise (Talia Shire) is a psychiatrist who doesn't seem to have any sense of herself in Old Boyfriends (1979), presented with a new 4K master from Kino Lorber's KL Studio Classics. She suffers a personality crisis after splitting from her husband and decides to embark on a road trip of self-discovery. She decides to revisit three men from her past in order to better understand herself.
"I thought if I could find out who I was then, I might find out who I am now."
The first man is Jeff (Richard Jordan), her college love. She had repeatedly turned down his proposals of marriage and now finds him to be a single dad of a tween girl. The sparks are still there, but Diane is on a mission so no time for rekindling an old flame. The second man on her list is Eric (John Belushi), her high school boyfriend who, we learn from a voiceover excerpt from her teenage diary, lied about a sexual encounter with her and humiliated her in front of the whole school.
The third man, is an old boyfriend from elementary school (really?!) This time Diane is a little thwarted on her mission as she discovers that the man in question died, in Vietnam. She decides to work out her issues with his surviving, unstable younger brother Wayne (Keith Carradine) instead. Maybe not such a great idea…
Old Boyfriends was the directorial debut of Joan Tewkesbury, a long-time collaborator and screenwriter for Robert Altman (Nashville). It is also the only feature film she directed, although she continued to direct features and series for television (Cold Sassy Tree, Felicity), an all-too-common fate for female directors in Hollywood. Written by Paul Schrader (Taxi Driver) and his brother Leonard (Blue Collar), the story was originally intended to be a horror film told from a man's perspective (Old Girlfriends). Tewkesbury reworked the script into something more introspective and romantic, although there are times in the film when the viewer may feel that the story could veer into horror, or at least revenge territory, at any moment, especially during the sequence featuring Belushi.
Shire's character and her motivations seem inscrutable, even to her. Fortunately the men in her life, although they might not provide the clues or closure she needs to move on, are at least interesting to watch. Jordan is extremely appealing and genuinely warm. He is the true heart of the film. Carradine delivers an interesting, poignant and off-putting performance. There actually could have been an entire film centered around his character rather than Shire. In his thrid film, Belushi is funny and obnoxious and perfect as the callous ex. As a bonus he sings a few songs, still fronting his high school cover band, including a lively rendition of "Jailhouse Rock." There is also an amusing cameo from Buck Henry as a private investigator who tries to help Jeff track down the elusive Diane.
A bit of a curiosity, Old Boyfriends is still an interesting film to watch, especially for the boyfriends. Director Tewkesbury channels Alfred Hitchcock in some interesting camera set-ups involving mirrors and a Vertigo-inspired scene between Diane and the hapless Wayne. It would have been interesting to see where she would have gone next in features, if the funding and the support of the Hollywood film industry had been there for her.
Old Boyfriends is rated R. The dual-layered BD50 disc has a running time of 103 minutes with an aspect ratio of (1.85:1), 1920x1080p. English subtitles are available. Extras include an audio commentary by director Joan Tewkesbury with filmmaker Douglas Hosdale, audio commentary by film historian and critic Peter Tonguette, and theatrical trailers for Continental Divide, The Landlord and A Thousand Clowns.