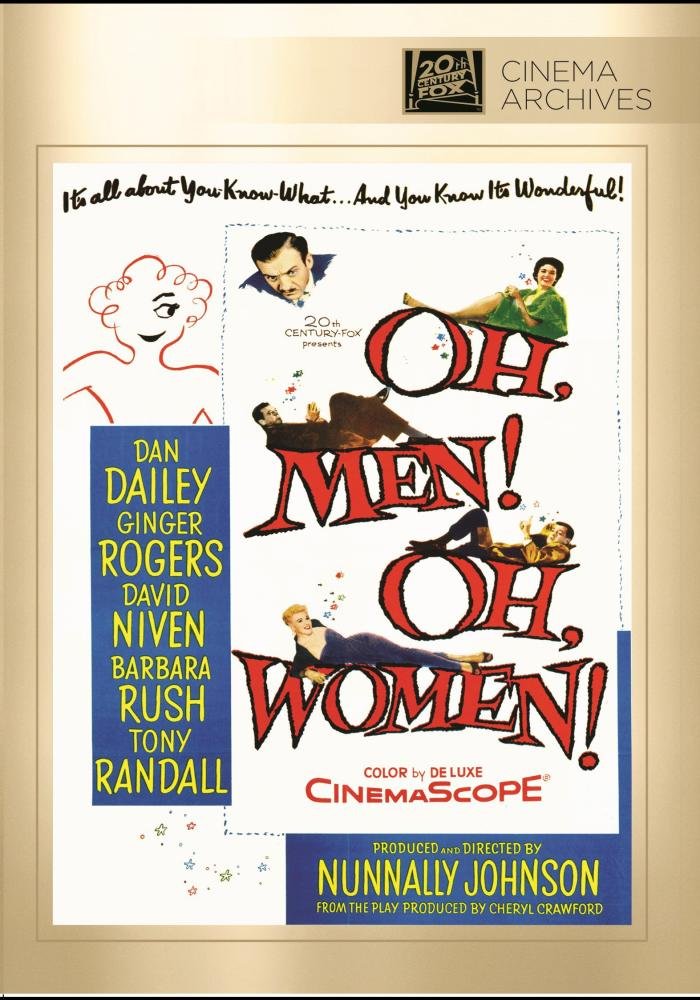 If someone were to voluntarily stroll up to me and willingly make it a point to talk to me about the classic War of the Sexes genre of romantic comedies that highlighted many a headliner at cinemas of yore, chances are they would invoke the holiness of those oh-so-dated-yet-timeless Doris Day/Rock Hudson vehicles. Were such a conversation with a complete stranger to occur, however, my first thought would not stray towards the appeal of either aforementioned lead performer. Instead, I would grin with delight over the very thought of the quintessential War of the Sexes co-star, Tony Randall – one of the few male comedic performers in history to be able to make me laugh without having to do anything – and who is preceded in my book of greatness only by Avery Schreiber.
The point? Well, the subject of this piece – Oh, Men! Oh, Women! – is indeed one of those War of the Sexes titles (this one hailing from 1957), and it just happens to be Tony Randall's very first big screen role, taking a backseat to top-billed performers Dan Dailey, Ginger Rogers, and David Niven. Strangely enough, the first two names are really supporting characters: this movie focuses on Niven's character (that of a psychoanalyst) more than anything – which is really weird, considering Niven was no greenhorn at this point in his career, and that both Dailey and Rogers' vocations had all but declined into nothingness (I guess they were trying to give 'em a boost?). And, as odd as all that is, it pretty much sets the stage for the entire film!
In far fewer words: Oh, Men! Oh, Women! isn't that good.
Sure, it has its moments – most of which involve the energetic spirit of Tony Randall, who steals every scene he is in as a lovesick maniac obsessed with Niven's young bride-to-be (Barbara Rush). But I'm getting ahead of myself here – and, though I have no idea why I should backtrack on this one, I will anyway. OK, so David Niven plays Dr. Alan Coles – a psychoanalyst in the Big Apple whose patients seem to primarily consist of bored housewives who develop crushes on the poor man (future Gilligan's Island co-star Natalie Schafer is one such individual), including Mildred Turner (Rogers), who has also developed a fondness for the drink as a way to escape the monotony of her husband, noted actor Arthur Turner (Dailey).
As it turns out, Myra's flightiness has attracted more than Dr. Coles' learned, aged self. The Doc agrees to examine a young nutter named Cobbler (Randall) as a favor to another industry specialist (who hates him), and discovers he is a part of his fiancée's past that she has neglected to ever mention to him. Likewise, Arthur has a (more professional) soft spot for the ditzy young lass – and, after what only seems like a good couple of long, occasionally funny hours, the triangle of competing males forms. But it doesn't, actually. Many great concepts are touched upon and abandoned before they can come to fruition: the erratic behavior of Myra (who just comes off as bipolar as the film concludes), the relationship between Rogers and the two men in her life (husband Dailey and analyst Niven), and the trio of our male leads.
One scene in the film finds all three men running into each other in a bar, shortly after a long, tedious Dan Dailey monologue and Niven walking out on she who he is betrothed to. This moment could – and by all rights should – have been something truly epic. Sadly, Randall's character just jumpingly waltzes out of the building as soon as he sees Niven after setting up the scene with Dailey (interestingly, enough, they both appeared in productions of The Odd Couple at one point in history: Randall as Felix in the popular television sitcom, and Dailey as Oscar in a road production of the stage play). Granted, Niven had gone completely out of character and punched him in the previous segment, but since all three fellows had been dejected (in one way or another) by their subject of fascination, they should be able to drown their miseries together, don't you think?
Oh, damn. I have now spent entirely too long poorly psychoanalyzing a poor film about a psychoanalyst. I hate when that happens.
Giving the setup many of Oh, Men! Oh, Women!'s scenes have, it is easy to see that this one was based on a play (by obscure writer Edward Chodorov, if it seems worth noting to anyone). Perhaps it worked on stage, but it just seems to falter and fizzle away here. The script could have used a lot more pumping up. And, when you stop to consider the fact that the film's screenplay was co-written by none other than Nunnally Johnson – the same man who created the very pumped-up suicide mission action classic, The Dirty Dozen, just ten years later makes it all the more disappointing.
Maybe they should have cast Avery Schreiber in this flick somewhere. I'm certain that would have improved it immensely. Oh, well, huh?
Previously unavailable (and probably for good reason) on home video at all, the title has made its way to disc courtesy the Fox Cinema Archives collection of Manufactured-on-Demand titles. Presented in its original CinemaScope ratio (which is 16×9 friendly, fortunately) and a Dolby Digital 2.0 mono soundtrack (it was originally issued to theaters with a 4-track audio mix). Both aspects are quite pleasing to behold, but, in the end, Oh, Men! Oh, Women! doesn't really have much to offer 56 years later, aside from having been the movie to introduce film-going audiences to the talents of Tony Randall – who would be playing supporting roles in other (better) War of the Sexes comedies in no time after appearing in this lamentable dud.