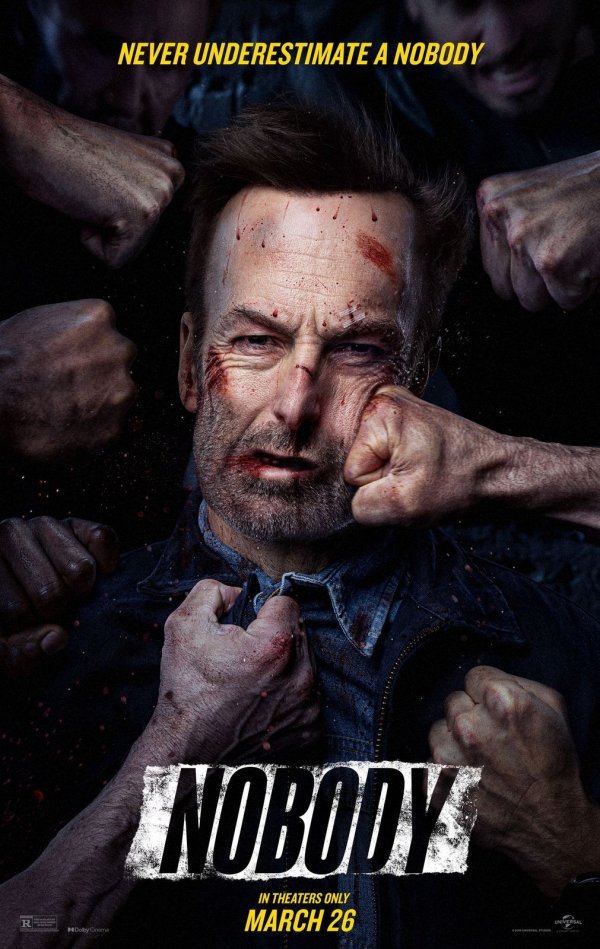 As the movie opens, Hutch Mansell (Bob Odenkirk) looks like he's been though something. Handcuffed by police, his face is bloodied and bruised. He pulls a kitty and can of tuna from inside his jacket. The police ask who he is. He says, "Nobody," which seems like a non-answer, but isn't. Those around him, and viewers, learn who Hutch is as the script by Derek Kolstad (screenwriter of the John Wick trilogy) doles out information.
Hutch lives a typical life. He is married but his wife (Connie Nielsen) is distant, as the pillows propped between them in bed suggest. They have two kids. Hutch works as an accountant for his father-in-law's (Michael Ironside) metal fabrication facility. During a break-in at their home, Hutch diffuses the situation. When it's revealed he could have gotten the upper hand, his actions are questioned. After Hutch learns his daughter's kitty bracelet was taken, he springs into action with a fierce intensity he had kept submerged.
The recovery doesn't go as plan and Hutch vents his frustration on a group of drunken, obnoxious men he encounters. Director Ilya Naishuller and his stunt team do a great job staging the fight sequence inside the bus. As happens in these stories, one victim is well connected. Yulian Kuznetsov (Aleksei Serebryakov), a devious Russian gangster and de facto criminal treasurer, almost loses his younger brother in the fight. Yulian goes after Hutch and his family, causing Hutch to return serve, leading to a thrilling climatic battle. While Nobody's plot covers familiar ground in the thriller genre, the unexpected, believable turns in the story keep the audience engaged.
The performances are also engaging, especially Odenkirk. The comedian had already demonstrated his talents at handling drama on the TV series Better Call Saul and is now an action star. With the financial success of Nobody, the next installment of the franchise will surely be announced soon. Serebryakov was over the top just enough for his character to be feared. Much more and audiences wouldn't have taken him seriously. Christopher Lloyd plays Hutch's father, a retired FBI agent, and appears to be having a ball once his character gets in on the action.
And when it comes to action, Nobody's stunt team sets a high bar. The fight scenes are intense and Odenkirk is in the middle of much of it. The action builds in scale and scope up to the final sequence while maintaining a realism throughout. While the action might be too graphic for some viewers, nobody who considers themselves an action fan should miss Nobody.