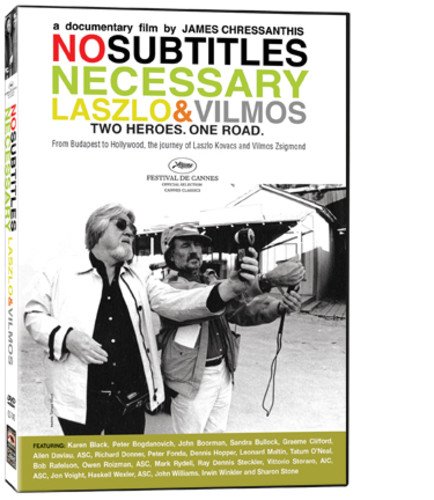 Cinematographers Laszlo Kovacs (1933-2007) and Vilmos Zsigmond (born 1930) filmed the Hungarian Uprising in Budapest during 1956. When the Soviets moved in to crush the rebellion, the two managed to escape to Austria with an incredible 30,000 feet of footage. Both had studied cinema at the Budapest Academy and had learned a great deal about the craft. As they discovered when they made their way to America however, they had not learned anything at all about how Hollywood actually works though.
Their first stop was New York City, where they quite naturally thought that the film they brought with them would be eagerly anticipated. After all, the two had literally risked their lives to get it, and to get it out of the country. To quote Zsigmond, "A camera was considered a weapon by the Russians." By the time the pair reached the United States however, the networks considered the story "cold." The footage went unused until 1961, when it was finally utilized as part of a CBS documentary about the uprising.
So, with basically no resume, they made their way to Los Angeles and were not exactly greeted with open arms. In fact, the only jobs the guys could get were bottom of the barrel biker and horror flicks. Although nobody realized it at the time, Hollywood was undergoing a sea change, from the bottom up. Also starting out during this period were actors and directors such as Jack Nicholson, Dennis Hopper, Peter Fonda, and producer Bob Rafelson.
As it came to pass it was Vilmos and Laszlo's good fortune to get to know these people, which led to Laszlo's being hired as cinematographer of the breakthough Easy Rider (1969). Vilmos was meeting people as well, and his big break came when he was hired by Robert Altman for McCabe And Mrs. Miller (1971), and then by John Voorman for Deliverance (1972). These films were groundbreaking in many ways, not least of which was the creative camera-work employed. For practically the first time since the pioneering days of Gregg Toland's work on Citizen Kane (1941), the position of cinematographer was being recognized as an art form in itself.
As critic Leonard Maltin puts it, "When it comes to Laszlo and Vilmos, it's clear that the American New Wave of the late 1960's and early '70's wouldn't have flowered as it did without them." Indeed, once the depths of their talents were discovered, each went on to shoot some of the most celebrated films of the past 40 years.
A few of the more notable films Laszlo Kovacs has filmed include Five Easy Pieces (1970), Paper Moon (1963), New York, New York (1977), and even Ghostbusters (1984). Besides those previously mentioned, Vilmos Zsigmond's films include The Deer Hunter (1978), The Witches of Eastwick (1987), and his Oscar-winning work on Spielberg's classic Close Encounters of the Third Kind (1977).
Those are just a few randomly chosen films from a total of over 140. The story of Laszlo Kovacs and Vilmos Zsigmond in No Subtitles Necessary is in many ways told by their colleagues. Among the over twenty people interviewed for the film are Peter Bogdanovich, Peter Fonda, Richard Donner, Jon Voight, Sharon Stone, and the late Dennis Hopper. These are not just "canned" tributes by any means. Everybody seems to have a vivid memory of an extraordinarily creative shot, or interaction with both of these men.
For this new Cinema Libre DVD release, the bonus features are quite impressive. The various pieces focus mainly on the early classics Easy Rider, Five Easy Pieces, and Head. Altogether the various segments run over 45 minutes, and certainly do not shy away from controversy. For example, one self-explanatory bit is titled "Drugs on the set of Easy Rider." Most of the pieces are basically more in-depth discussions with some of the people interviewed for the main body of the film. While all of this is quite illuminating, I found Peter Bogdanovich's thoughts on Laszlo particularly fascinating.
As No Subtitles Necessary director James Chressanthis puts it, "They left one revolution behind only to create another." Much has been made of the late sixties, early seventies American New Wave, but until this documentary, these two key players have not received the amount of praise they have long deserved. This was Chressanthis' main motivation in getting their story down, and he has down a magnificent job in telling it here.
No Subtitles Necessary is set for release on DVD and digital platforms on February 28, 2012.