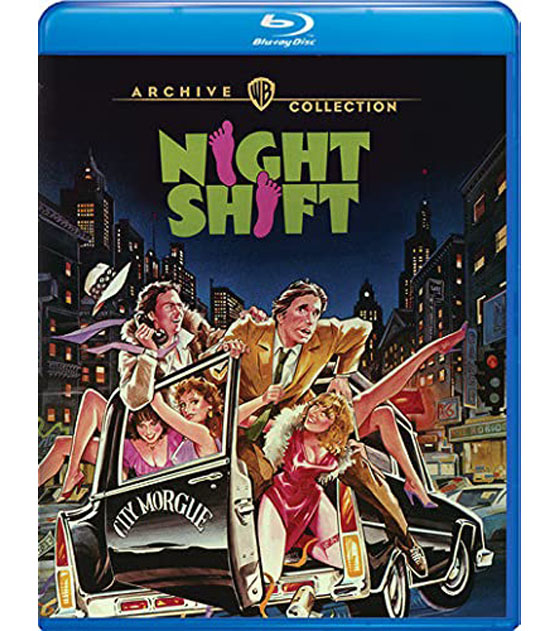 Night Shift is a notable comedy because of the folks involved. Owing a great deal to their meeting through Happy Days, Ron Howard directs, Henry Winkler stars as a character the complete opposite of Fonzie, and Lowell Ganz and Babaloo Mandel begin their feature-film screenwriting partnership. The film also marks the first time for Brian Grazer as a producer and it launched the career of Michael Keaton, who went on to dominate the decade starring in a string of comedy hits with Mr. Mom, Johnny Dangerously, Gung Ho, and Beetlejuice.
Chuck is a man who lives in a perpetual state of fear. He's in fear of upsetting his easily upset fiancee (Gina Hecht), in fear of the barking dog that chases him in his apartment building, and in of angering the people who gets his food orders wrong. He's a man who follows the rules yet he is finding no reward in that. He works for the New York City morgue and shortly after the movie opens, he is put on the graveyard shift to make way for his supervisor's nephew, a dimwitted young man who may have the movie's funniest line when in response to watching The Flintstones exclaims, "Barney Rubble. What an actor."
Chuck's life changes upon meeting two people. Bill Blazejowski (Keaton) works with Chuck at the morgue and is an idea man. He carries a tape recorder so when inspiration strikes, like edible clothes and pre-mayonaised tuna, he can capture. Surprisingly, the morgue in this version of NYC isn't very busy at night, so Bill uses the hearse to taxi folks around. Belinda (Shelley Long) is a prostitute whose pimp was recently killed and they cross paths at the morgue. It turns out she lives on the same floor as Chuck. After learning the Belinda and her co-workers aren't as safe without their pimp, Chuck and Bill step into the role and might be the nicest pimps of all time as they take a very low percentage and Chuck uses his financial skills to help the ladies make a return on their money.
While years later, rappers Ice-T and Big Daddy Kane would each tell listeners that "Pimpin' Ain't Easy" that was made clear in Night Shift. Chuck's fiancee, her parents, and his mother discovered his side job during their first dinner together when he is called to court to bail the ladies out, and a couple of gangsters are very angry that Chuck and Bill haven't given them a cut.
Although Night Shift presents a ridiculously lighthearted look at prostitution, the rest of the story works as Chuck transforms into a more confident and happier person. Winkler does a very fine job of showing the different aspects of Chuck through his metamorphosis, which reveal that he can do more than be uber-cool Fonzie. However, it is Keaton who standouts. Bill is a relentless goofball, all id in contrast to Chuck's superego. Bill is a funny character, through his dialogue and actions, which Keaton portrays effortlessly. However, he has a heart of gold, like the hookers that work for them, and has a best friend in Chuck, although it takes longer for Chuck to feel the same way. Every other character is a caricature, just there to help the jokes along.
The video has been given a 1080p/MPEG-4 AVC encoded transfer displayed at the original aspect ratio of 1.85:1. It looks better than expected for a small '80s comedy as my assumption was the cinematography would just by perfunctory but cinematographer James Crabe's work shines on this disc. Primary colors come through in strong hues and the browns, such as in their lawyer's office, appear rich. Blacks are inky but never crush. The image shows depth, sharp focus, and fine texture detail.
The audio is presented in DTS-HD Master Audio 2.0. While the dialogue is clear and clean throughout, the rest of the mix is out of balance. The music and effects sound much louder, too loud in fact, as if the levels, especially the score and songs, were set without comparing them. The track does have a wide dynamic range, from the loudness during the shootout to the soft ticking of the lawyer's clock. There is some sleight panning and positioning of effects in the front speakers. The subwoofer does an adequate job in support.
Night Shift, which likely wouldn't get an R rating nowadays, leans into its silliness thanks to Keaton's breakout performance. Even as the focus on Chuck and Belinda's romance increases, Bill's presence in a scene is always felt. The Warner Archive Collection delivers this memorable comedy with very good video, but with audio that could be improved and only a trailer for an extra. Even with what's lacking, it's worth checking into the Night Shift.