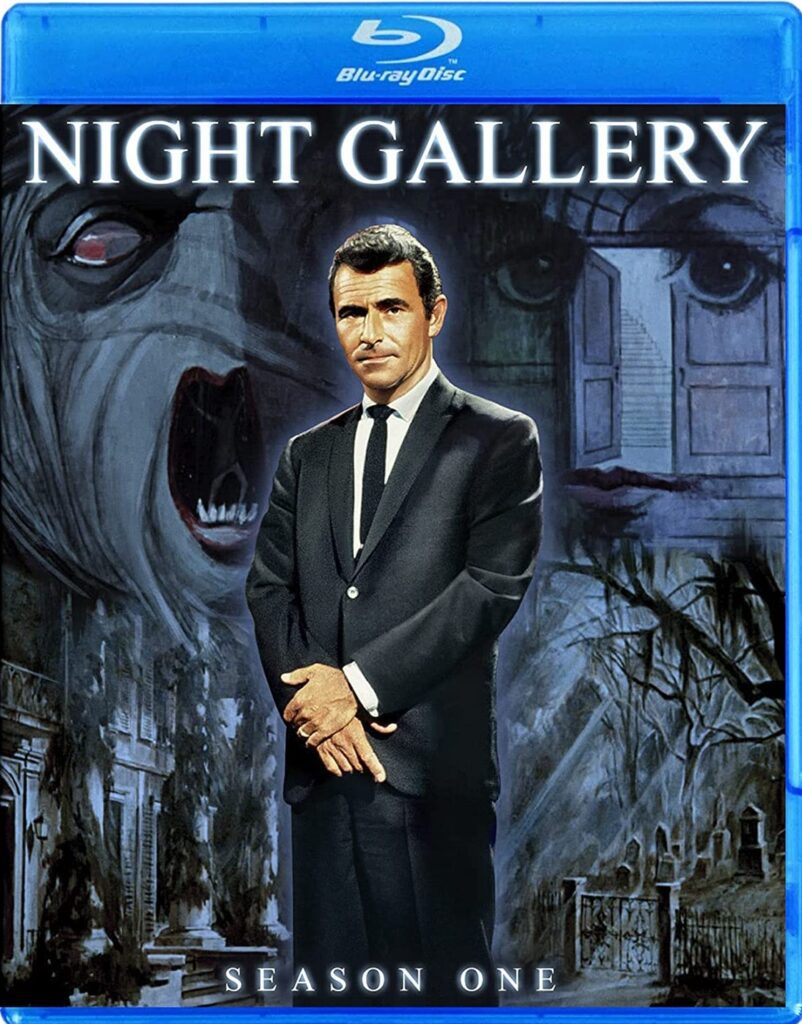 Rod Serling will always be most closely identified with The Twilight Zone, but his follow-up series is finally getting Blu-ray attention in this new two-disc set. Like its predecessor, Night Gallery featured anthology tales hosted by and frequently written by Serling, but centered more on supernatural elements rather than the sci-fi based stories featured in The Twilight Zone. In its early seasons, it also varied by offering multiple stories in each hour-long episode rather than focusing on just one tale.
The new set contains the feature-length pilot episode as well as all six hour-long episodes aired during its rotating broadcast arrangement with three other series during season one. The 1969 pilot firmly establishes the format that was used for the remainder of the series, with Serling introducing viewers to creepy paintings in a gallery that each represent an eerie story. That pilot is remarkable for a reason wholly unrelated to Serling's script: it features the professional directorial debut of young Steven Spielberg, immediately thrown in the deep end with the assignment to steer a lead turn by the imposing Joan Crawford in one of her final performances.
Spielberg's segment is a fun story with some of his visual pizazz and some scenery chewing by Crawford playing a wealthy blind lady, but it's not the best part of the pilot. That honor goes to the story The Cemetery starring Roddy McDowall at his smarmy best as a layabout hepcat who speeds up his rich uncle's demise in order to inherit his estate, running afoul of the loyal veteran butler played by Ossie Davis. As a bonus, it centers on a spooky painting too, making the story a bit of a Russian nesting doll of McDowall's painting inside Serling's gallery painting.
The remaining episodes feature performances from actors including Diane Keaton, Larry Hagman, Phyllis Diller, and Burgess Meredith in stories ranging from just a few minutes long up to over 40 minutes. That varying story length caused headaches when the show was syndicated in a half-hour format, leading to some butchery by the studio, as detailed in the informative bonus feature hosted by a film historian. The bonus feature also screens the entire 40-minute story side by side with the version edited for syndication, providing a fascinating look into exactly what syndication audiences have been missing for the past five decades. While there are no other bonus features in the set, there are optional audio commentary tracks by historians for all episodes.
Thankfully, the Blu-rays aren't just upscaled versions of previously available DVDs, they are sourced from 2K scans of the original interpositives, clearly making this set the best ever viewing experience of the series. The episodes don't appear to have gone through comprehensive restoration based on the occasional specks still visible, but colors and contrast levels remain steady throughout all scenes and the DTS soundtrack is devoid of any evident flaws. The colors are particularly lovely, not artificially oversaturated but clearly exhibiting a full spectrum unlike the brownish, washed-out mess you may have stumbled across in syndication (or the old promo spot below). If you're a fan of the series or just curious to learn about it, this new set is sure to satisfy and leave you longing for the release of the remaining seasons next year.