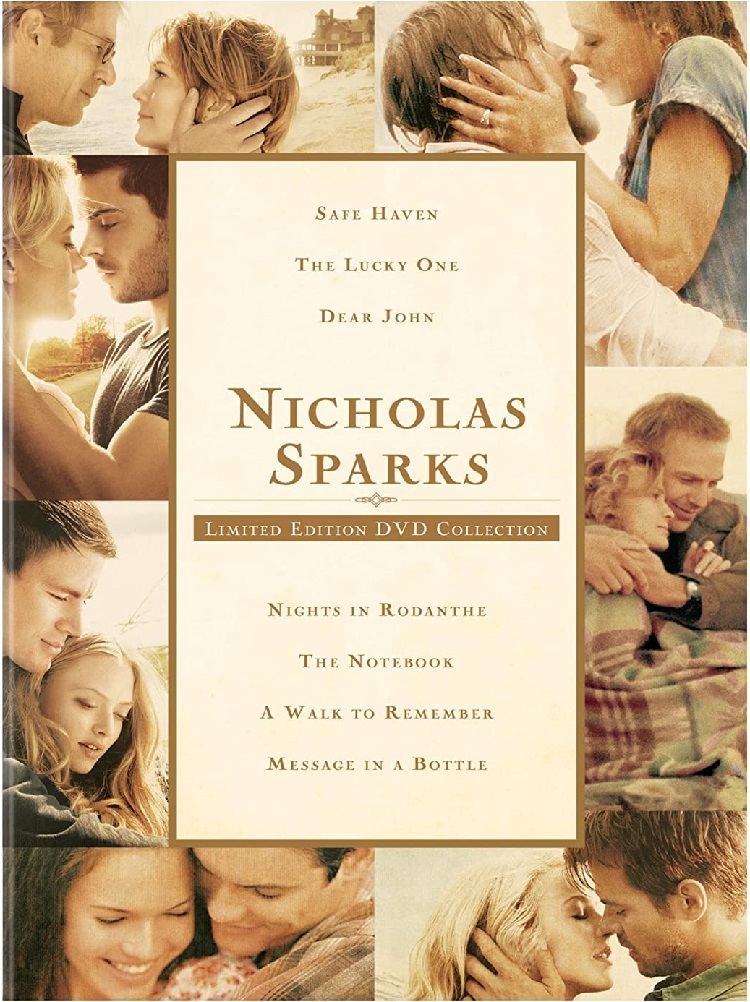 Author Nicholas Sparks writes tales of love and loss. The movies that have been generated out of his books can be summed up as a story where two people fall in love against all odds then somebody dies. Although his films are formulaic, I thought perhaps the Nicholas Sparks Limited Edition DVD Collection might take the formulaic feeling out of his films and become a sweeping collection of love and loss that keeps its audience emotionally involved at every turn. It does not.
This "Limited Edition" collection of movies is just a repackaging of seven films based on Sparks novels. The films included in this collection are: Safe Haven (2013), The Lucky One (2012), Dear John (2010), Nights in Rodanthe (2008), The Notebook (2004), A Walk To Remember (2002), and Message In A Bottle (1999)
The only Sparks-based film not included in this collection is The Last Song (2010), which was released by Touchstone Pictures and not by Warner Brothers, who has released this collection and the other seven Sparks films.
If you are a fan of his films and own any of the ones included in this collection, you should know the only new things available are a set of postcards that come with the DVDs. This collection of postcards features a message from Nicholas Sparks himself and then one postcard related to each film that features a still and a key quote from it.
For example, for Nights in Rodanthe, the postcard features a picture of Adrienne (Diane Lane) and Paul (Richard Gere) dancing on the pier during the Crab Crack. The quote comes from the end of the film when Adrienne is discussing Paul with her daughter, "There's another kind of love…One that gives you the courage to be better than you are. One that makes you feel that anything is possible."
Other than the postcards (and an advertisement for the books these film are based on), there is nothing new here. Each film contains the exact same amount of "special" material that it did when it was first released on DVD. And to be honest the material is not all that special. It is almost all PR material from the studio to help garner interest in the film. And Nights in Rodanthe doesn't even come with any special features.
Each film also contains the exact same previews that it did when it was originally released on DVD. And since the release dates span 14 years, that makes for a lot of very dated previews. All Warner Brothers did was pop the DVDs out of their old package and stick them in a DVD box that holds seven discs, They did not even go to the trouble of reprinting the discs so that the tops of the discs would all be consistent with one another. A few of the DVDs have pictures, some just have the title. Nights in Rodanthe is only titled in very small writing around the center of the DVD and other than that it has no identifying marks.
It seems like the effort Warner Brothers put into this "Limited Edition DVD Collection" was very minimal. Even the formatting for home viewing is not up to date. Most of the films are in widescreen letterbox which barely fills up half the screen on today's HDTVs and Nights in Rodanthe is formatted to fit older TVs and thus had the sides cut off. It was like watching a movie on my phone.
This DVD collection is a cheap repackaging to try and get Sparks fans to spend more of their money. They should save their cash until something truly special comes along. If I had bought this, I would feel more than the loss of characters in the films, but the loss of the money in my wallet.