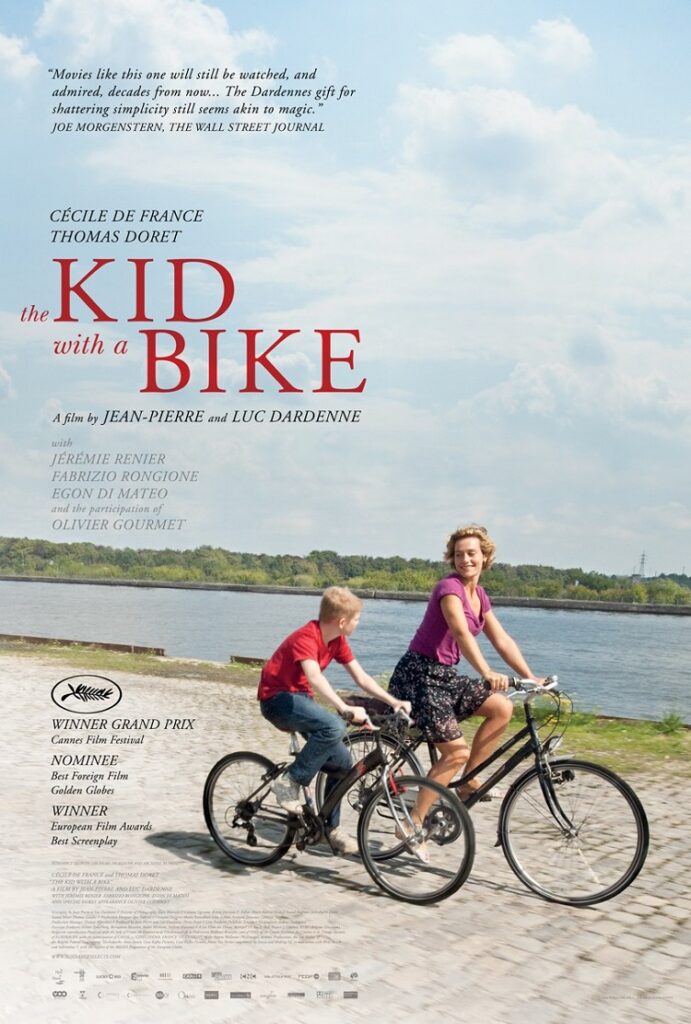 In the theatrical release poster for Jean-Pierre Dardenne and Luc Dardenne's The Kid with a Bike, which had its New York Film Festival premiere on Thursday night, a young boy and a smiling woman ride their bicycles along a picturesque, European-looking riverfront.
From the pastoral nature of the image, one might assume that this is a well-adjusted child and his doting mom, perhaps on their way to buy something delightful and cinematic, like a red balloon.
In fact, the titular kid in The Kid with a Bike is an uncontrollably violent orphan – more feral beast than human child. And the young woman is not his mother. She's a weekend foster guardian who inadvertently allows this troubled young man to infiltrate her heart and nearly ruin her life.
Perhaps the Dardenne brothers, the filmmaking duo known for darkly realistic portrayals of working-class life in their native Belgium, were attempting to be arch by selecting a benignly joyful image for what is one the most harrowing portrayals of 'tween-hood I have ever seen. Or maybe, as they told the capacity crowd at Lincoln Center's Alice Tully Hall, they are getting more optimistic as they age.
Either way, the poster frustrated me. Had I spotted it on the wall of my local art house, I would likely have dismissed the film without much thought. And that would have been unfortunate, because The Kid with a Bike is a fiercely engaging and profoundly moving film.
In a charmless industrial region of Belgium, 11-year-old Cyril (Thomas Doret, in his first film) sets out on a desperate search for the father who deserted him and the bike the boy kept at his now-vacant apartment. In the process, he meets Samantha (Cecile De France, seen recently by American audiences in Hereafter) a childless hairdresser who is touched by his plight and agrees first to help him find his dad, and then to foster him on weekends.
While Samantha works at her hair salon, Cyril falls in with a rough crowd of teenaged street toughs led by Wes (Egon Di Mateo), a slyly manipulative, Artful Dodger-esque survivor of the same orphanage. Desperate for a male role model, Cyril allows Wes to mentor him in thuggery as he makes one last effort to win back his father's affections.
As Cyril, newcomer Thomas Doret is a force of nature. He careens through every scene like a launched rocket, his anger and sadness belied by a freckle-faced Angelic visage. With a minimum of a dialogue and an unsmiling poker face, Doret reminds us of that difficult time in our lives where we much chose the man (or woman) we are to become, and how impossible that must be without loving guidance. It's a remarkable debut and hopefully the first of many great performances.
In a post-screening Q&A with Film Society of Lincoln Center's John Wildman, Jean-Pierre and Luc Dardenne told the NYFF audience that Doret was only the fifth actor they saw on the first day of an open casting call. Kudos to them for knowing they had a winner so early in the game.
As Samantha, Cecile De France is heartbreaking, taking a situation that is narratively absurd and making it seem completely believable and relatable. The dynamic between Doret and De France seems genuine from the start, as each feels out the other in a tentative effort to establish boundaries, trust and affection.
The supporting cast is also strong, with Dardenne veteran Jeremie Renier (2008's Lorna's Silence and 2005's The Child) as the deadbeat dad and Fabrizio Rongione as the first victim of Cyril's nascent criminal career. The incidental players all feel thoroughly real, as if the Dardenne brothers yanked them off the streets of the neighborhood and dropped them in front of the camera.
According to the Dardennes, The Kid with a Bike was completely scripted, but the dialogue was "adjusted during rehearsals and shooting." The result is almost documentary-like in its naturalism, particularly with Doret's unaffected delivery. Obviously this kid did not grow up watching Nickelodeon. And unlike a lot of hyper-realistic indies, the film is beautifully shot, with artful dolly shots tracking along with Cyril as he desperately pedals along his Hero's Journey, toward the Holy Grail of a loving home.
The Kid with a Bike won the Gran Prix at the 2011 Cannes Film Festival and will be distributed in the U.S. by Sundance Selects. Regardless of the poster, you should seek it out.