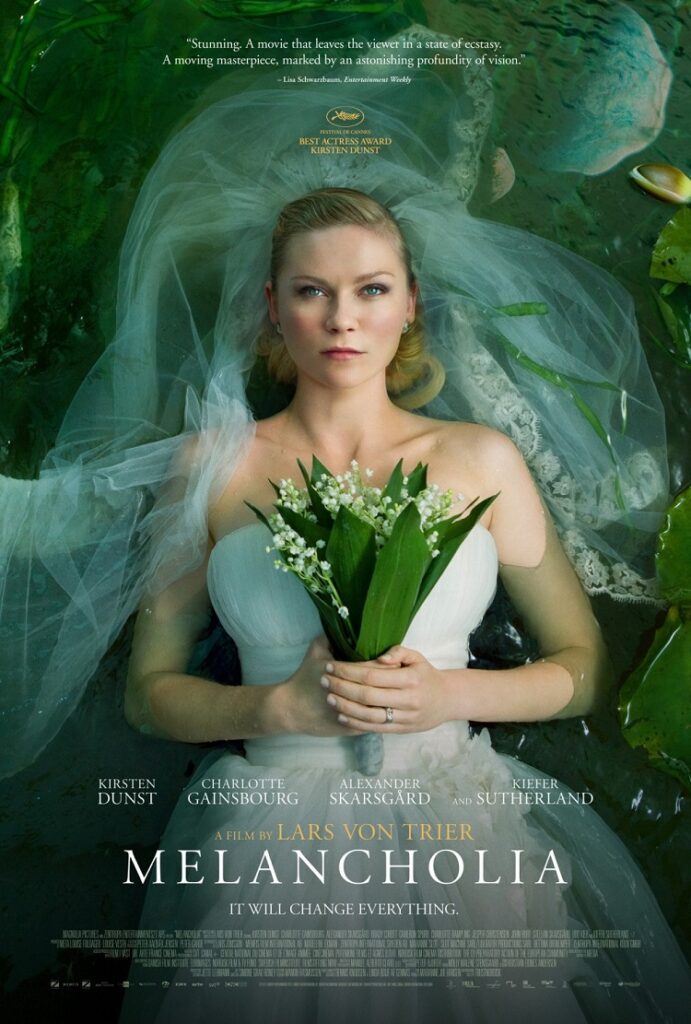 If, like me, you think of getting married as something akin to the fiery destruction of Earth, you'll love Melancholia, director Lars von Trier's meanderingly beautiful paean to depression, astronomy, and Kirsten Dunst's cleavage.
As with every Lars von Trier movie, haters gonna hate. And there's plenty to dislike in Melancholia, most particularly the characters. Every one of them, in fact. Never before has film seen a more unpleasant collection of self-centered depressives (other than at the press screening for Transformers 3).
But there's also plenty to love about Melancholia, particularly if you're smitten with von Trier's ragged, anti-establishment approach to filmmaking.
For the record, I am — even though I often find his films to too long and narratively all over the map. So I was particularly excited to listen to three stars of Melancholia speak on Monday night following the New York Film Festival premiere.
Before a sold-out audience at Alice Tully Hall, Kirsten Dunst, Charlotte Gainsbourg, and Alexander Skarsgård talked about working with the notorious Danish filmmaker last summer in Sweden, where the movie was shot. Sadly, von Trier was not present at the screening. He does not travel, and his headline-generating appearance at the Cannes Film festival earlier this year is not likely to change his mind about that.
Film Society of Lincoln Center program director Richard Pena asked the actors about the process of making a Lars von Trier film.
"We don't rehearse much," said Dunst, who plays the chemically imbalanced bride Justine. "We all come prepared (but) when we're with Lars it was kind of casual, almost."
Charlotte Gainsbourg, who plays Dunst's panic-stricken sister, described the director's improvisational approach to shooting the emotional final scene as "torture," but added that she enjoyed it.
"It's a bit like filming a nature documentary," said the Anglo-French actress, who starred in von Trier's controversial Antichrist. "Everything's written. I guess the pattern is there, but he makes us explore the scene in different ways."
"It was liberating," added Alexander Skarsgård, Dunst's on-screen bridegroom and the son of frequent von Trier collaborator Stellan Skarsgård. "He doesn't block the scenes, even if it's complicated. 98% of the first take will be a complete disaster. But I think that's kind of his process, because there will be these moments that you will never be able to recreate. Something happens and he's right there with a camera on it. It's a very different way of making a movie."
Does it work? Or is it a depressing, self-indulgent mess? You can decide for yourself when Melancholia catapults toward theaters on November 11.