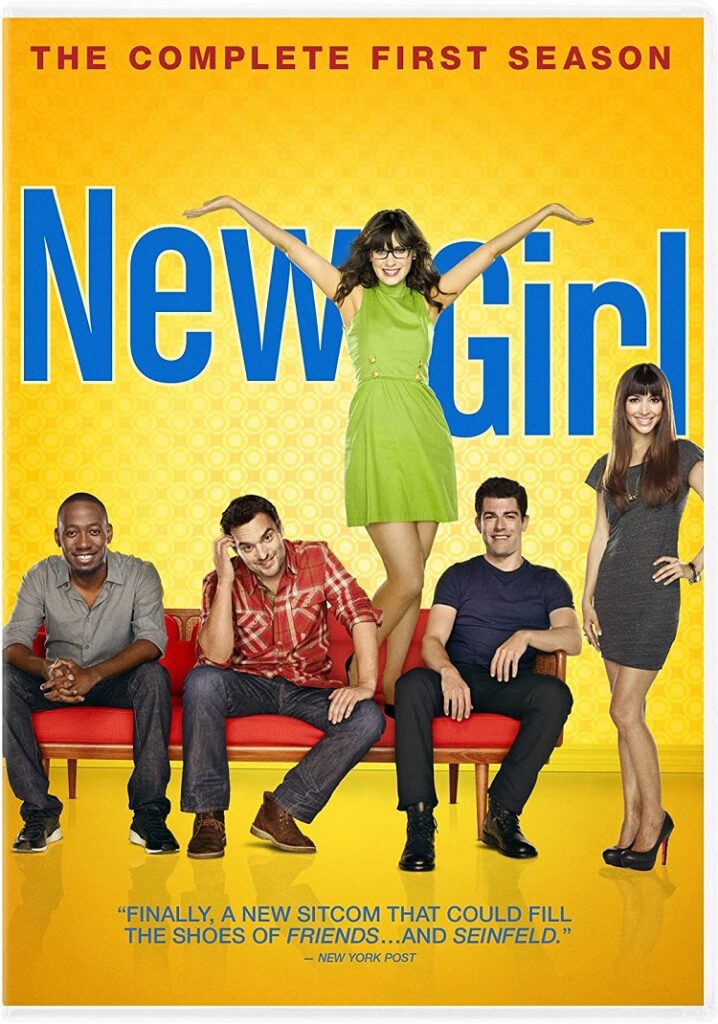 How much one enjoys New Girl is entirely contingent on how much one enjoys the geek chic of star Zooey Deschanel. Beyond her syrupy act, the sitcom is as unoriginal as they come.
Deschanel stars as Jess Day, a newly single teacher looking for a place to live after she catches her boyfriend cheating. She immediately lands with law-school dropout Nick (Jake Johnson), womanizer Schmidt (Max Greenfield), and sports dude Winston (Lamorne Morris). In the pilot, the character that becomes Winston is Coach (Damon Wayons, Jr.).
Jess ticks all the boxes on the "adorkable" chart, from so-called ignorance of her own good looks to development of a personal theme song. It is not unusual for her to try on a "funny" outfit to go out somewhere with the dudes only to emerge looking drop-dead gorgeous complete with half-frown illuminating her "aw shucks" nature.
There are the twee dance scenes ("Wedding") and the handbell team she runs for less fortunate kids ("Bells"). Each situation is tailored to endorse her unconventional lovability, a factor that show creator Elizabeth Meriwether is banking on.
Most of the show's humour is drawn from sitcom clichés, many of which orbit around out-dated gender differences or pseudo-awkward social foibles or problems at work ("The Landlord"). Other members of the cast emerge to the rescue and the lead quartet, together with Jess' model best friend CeCe (Hannah Simone), pulls it together with some sort of friendly pep talk.
For the most part, it's Jess who needs to be liberated from her awkwardness. She is set on the right path, usually in a hot dress, by her pals. When that fails, she's put in a hotter dress by CeCe and gets to stagger around like a deer in the horn-rimmed headlights. Sometimes she accidentally sees someone nude and can't name male genitalia with giggling ("Naked"), adding to her middle-school allure.
Among the guest stars in the first season of New Girl are Justin Long, Dermot Mulroney and Jeanne Tripplehorn. Mary Elizabeth Ellis, the waitress from It's Always Sunny in Philadelphia, is Nick's ex-flame.
New Girl has been getting good reviews from other critics, but there's really nothing new here. The show lacks freshness and genuine wit, relying totally on Deschanel's delightfulness and a chain of systematic situations that come together all-too-tidily in a little over 20 minutes.
The DVD release of New Girl features a couple of commentaries ("Pilot," "Bad in Bed" and "See Ya") and a "Dress Like Jess" feature that runs viewers through the costume department of the show. There's also a chance to check out Morris' audition process and a pretty basic behind-the-scenes feature.