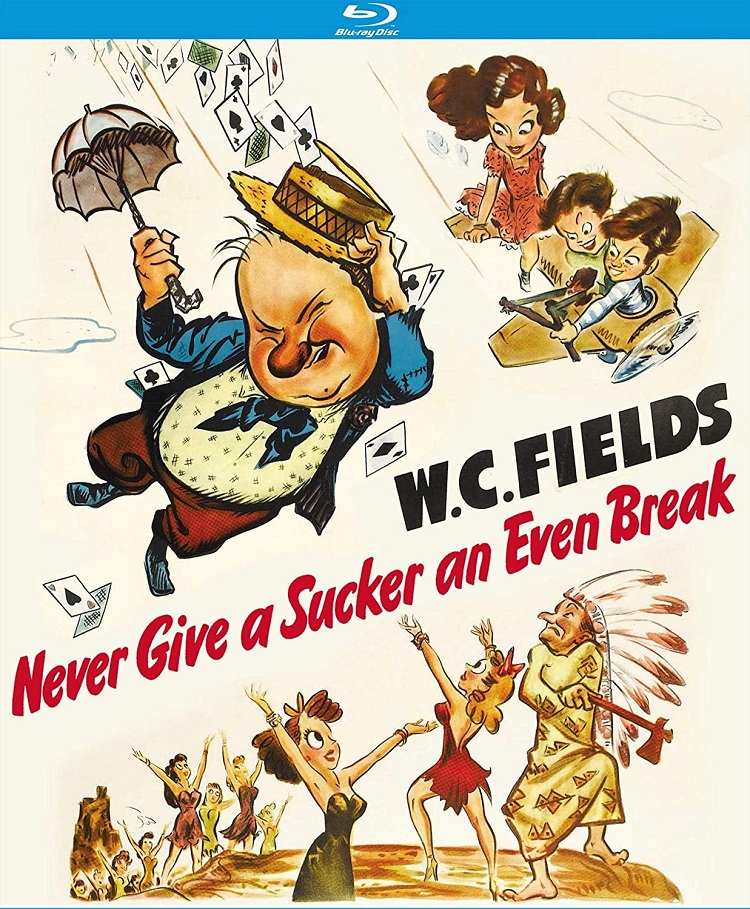 Never Give a Sucker an Even Break is W.C, Fields last outing as the star of a film. He also came up with its original story, credited to Otis Criblecoblis. Although it's a presentation of a series of sketches rather than a unified story being told, that doesn't make it any less funny. Kino Lorber Studio Classics presents it on Blu-ray. (Bear with me as this might get a little confusing)
Fields plays a fictional version of himself, referred to in the credits as the Great Man but no matter the name, his trademark cantankerous, put-upon persona is on display. He hopes to get his next film greenlit at Esoteric Pictures. At first, he is befuddled by the feisty waitress (Jody Gilbert) he trades barbs with at the commissary. Also at the studio is the Great Man's niece, actress/singer Gloria Jean (played by Gloria Jean, a young starlet Universal was hoping would be their next Deanna Durbin, according to the commentary track by film historian Eddy Von Muller). The niece is being screen tested, one of four a musical numbers in Never…. She has a wonderful singing voice, but these scenes reduce Field's screen time, so they are a slight disappointment.
The Great Man meets with the Producer (Franklin Pangborn) on his new script. Never shows viewers what this potential movie, starring the Great Man and Gloria Jean playing Bill Fields and his niece Gloria Jean (I did warn you it might be confusing), would look like. When the Producer grows exasperated at the silliness he is reading, it cuts back to him.
After several scenes on a plane interacting with passengers, Bill sits on a viewing deck and accidentally drops a bottle out of a plane's open-air, rear observation compartment. With no hesitation, he reveals how important the drink is to him and jumps out after it. As if in a cartoon, Bill safely lands on an outdoor bed on top of a mountain. There, he meets Ouliotta Delight Hemogloben (Susan Miller), a beautiful young woman who has never seen a man before. He tricks her into some kisses and runs off after meeting her unattractive mother, Mrs. Hemogloblin (Margaret Dumont). In the village, Bill tells of his recent visit. A few men decide to pursue Ouliotta and when Bills learn of the mother's fortune, he makes a play for her, but he has competition. As if things aren't strange enough, the Hemoglobins have a gorilla roaming free on the premises.
Frustrated by the script, Pangborn ends the meeting and kicks the Great Man out. The latter drowns his sorrows at a soda shop, breaking the fourth wall to inform the audience of his own frustration because the censor caused the original location to be changed. The film ends with an absolutely ridiculous driving sequence filled with camera tricks, stunts, and plenty of gags as he drives a woman to the maternity ward.
The video has been given a 1080p/MPEG-4 AVC displayed at an aspect ratio: 1.37:1. Blacks are inky and whites are bright, creating a strong contrast. Film grain is apparent. Depth and texture details are on display. There are numerous specks of black and white on display. Faint scratches are also noticeable. Some, like in the soda shop scene, run vertically through the entire frame. The high definition diminishes the illusion of the rear projection.
The audio is available as DTS-HD MA 2.0 mono. Dialogue is clear. The orchestra supporting Gloria Jean comes through with good fidelity. The track has a satisfying dynamic range, as evidenced in the scene on the soundstage where there is a loud cacophony of workers and then a soft rustle of paper. There's very little hiss and no sign of other defects.
The extras include the aforementioned audio commentary and Wayne and Shuster Take an Affectionate Look at W.C. Fields, which first aired on Canada's CBC in 1964. This vintage documentary shows clips of Field's work with the duo offering unnecessary commentary when it's quite clear from watching what made Fields such a comedic talent.
Fans of W.C. Fields should definitely add Never Give a Sucker an Even Break to their libraries, which at 71 minutes will leave one wanting more of him. Admittedly in need of a restoration, the video looks pleasing in spite of its flaws and the audio complements it. The inclusion of the two special features is a welcome bonus.