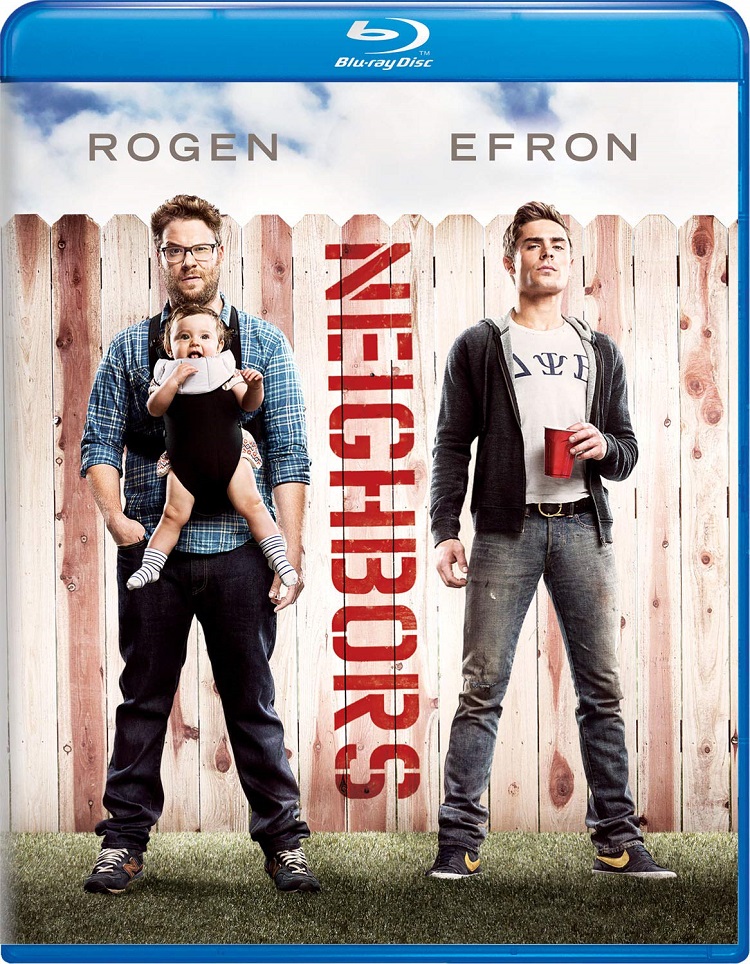 This summer's breakout comedy hit delivers on its deceptively simple concept via some fresh character development, largely avoiding what could have been a one-dimensional yawner. That concept, expertly conveyed by the poster, finds a nice young family facing off against a raucous fraternity that moves in directly next door to their home. Instead of leaning on hoary stereotypes for the two warring sides, the film switches up the formula by making them more similar and hence more sympathetic to each other's situation, in the process weaving in coming-of-age themes for the residents of both houses. Don't worry, it's far from a feel-good film, and there's plenty of comedic depravity about, but the core character development contributes to a far more effective production than initially indicated by the concept.
Our nice young family isn't all that nice, headed by dumpy pothead Mac Radner (Seth Rogen, not exactly a stretch), his attractive wife Kelly (Rose Byrne, with Aussie accent firmly in place for a change), and their needy baby. They're in the young-adult stage where they're not exactly ready to abandon their partying days, even if they're too tired from constant baby care to make a serious go of any nightlife. They still consider themselves young and hip, so when they first see the fraternity moving in next door they're convinced they can peacefully coexist if they can just convince the frat to "keep it down" a bit. Their first visit to the frat house is painfully funny, as their vain attempts at street lingo and keeping pace with the hard-partying frat brothers lead to hangovers for the Radners while barely registering on the frat's radar.
The frat house is headed by its president and role model, Teddy Sanders (Zac Efron), an academic failure but a completely dedicated leader. He's not just a stereotypical dumb jock though, as we see with his somewhat shrewd plans to keep his house off probation, his mostly genuine interactions with the Radners, and his attempted counseling of a pledge in place of expected hazing. He's aided by fellow sensitive man and vice president Pete (Dave Franco), a guy who realizes the frat is just a temporary fantasy world but is committed to play along until graduation. The rest of the frat bros are one-note set dressing, but the two heads make a pretty convincing case for a modern reinterpretation of frat leadership.
As the frat becomes more of a nuisance to the Radners, the war between the two sides heats up, with the Radners playing dirty to get their way and the frat responding with escalating partying. By the inevitable conclusion, both sides have learned a bit more about themselves, and matured in the process.
The film is consistently amusing throughout and doesn't get bogged down anywhere along the line. It never goes so far over the top as to become unbelievable, and that sense of realism helps to make the outrageous interactions even funnier. The biggest surprise in the acting is Efron, as he ends up being an inspired comedic foil for Rogen and sets himself up well for higher profile roles in the future.
The Blu-ray provides a top-notch viewing experience, with exceptional 1080p hi def picture and DTS-HD Master Audio 5.1 sound. Bonus features are fairly brief and run-of-the-mill, with a few bloopers, outtakes, and actor spotlights. Blu-ray exclusive bonus features are an alternate opening scene that's worth a watch, along with other deleted alternate scenes an additional behind-the-scenes featurette.