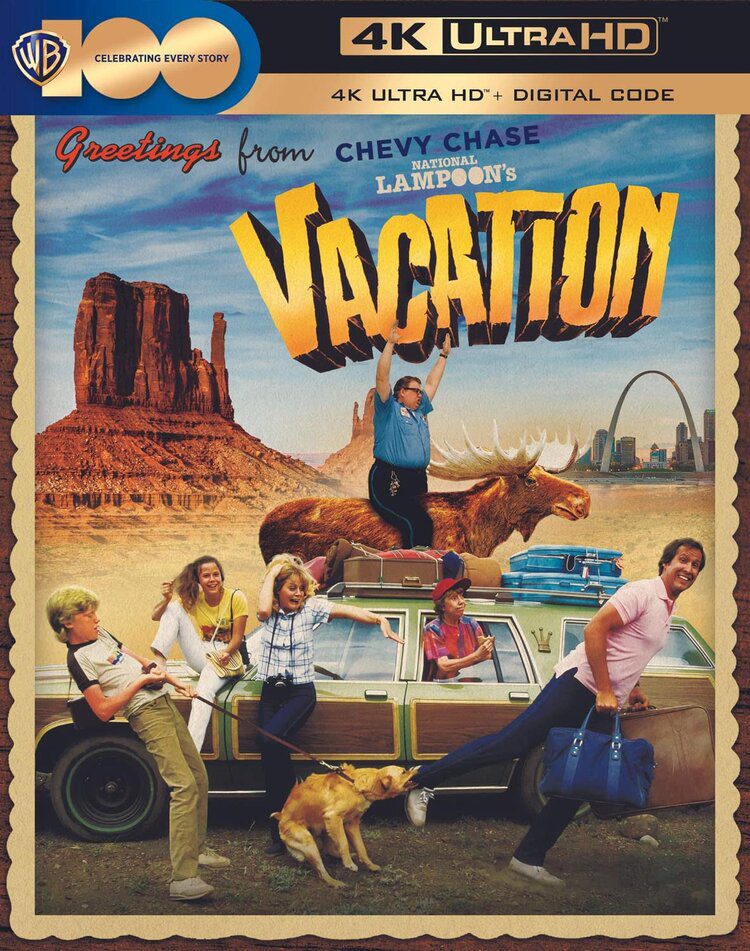 The basic idea behind National Lampoon's Vacation is easy to guess—the movie is a lampoon, a harsh satire, of the ultimate bad vacation. Almost nothing in the movie goes as planned, and every adventure is a hilarious misadventure.
Meet the ever-so-square Clark Griswold (Chevy Chase). Clark wants to take his Chicago family—wife Ellen (Beverly D'Angelo), son Rusty (Anthony Michael Hall), and daughter Audrey (Dana Barron)—on a cross-country road trip to Walley World (a disguised version of Disneyland). And come hell or high water, he'll do whatever it takes to make that happen.
Director Harold Ramis brings John Hughes's wicked, episodic, and quotable script (based on his National Lampoon short story, "Vacation '58," and with uncredited contributions by Ramis and Chase) to crude, cartoonish life.
The story is thin. It coasts along on a lightweight, but sharply observed, series of mishaps. All these years later, I still find Vacation funny. Ramis and Hughes capture something here—haven't we all experienced at least milder versions of some of the Griswolds' misery?
In fine fettle is a good supporting cast (Imogene Coca plays an aunt you love to hate, Randy Quaid plays a gross country cousin, John Candy plays a Walley World security guard who's not that good at security, and Christie Brinkley plays a model who drives a convertible and gets Clark to embarrass himself to an almost humiliating degree [which, of course, is not that hard]).
Honorable mention must go to Eddie Bracken as Roy Walley, James Keach as a simmering, distraught police officer, and Eugene Levy as a slimy car sales associate.
If anyone wins the movie, Chase does. I always appreciated Chase for his short-lived residency on Saturday Night Live, yet he has a smug quality that's kept me from warming to him as a lead. He does, however, make Clark a sympathetic guy. One of the running gags in the Vacation movies is Clark's sunny, good-natured endurance in the face of disaster, until he snaps during each film's climax. Chase conveys this all expertly. And, gifted physical comedian that he is, he delivers the pratfall goods.
Vacation's comedy can be darkest black. Cruel, even. The humor, these many decades later, surprised me. Most of the time, it lands. As a withering satire of what may have been the average American dream of a great family summer vacation—of what passed for leisure among an aspiring, upper-middle-class Anglo-Saxon family enslaved to consumerism in Reagan's America—it's not as biting as one might hope. As a screwball comedy, it's one of the best of the 1980s.
National Lampoon's Vacation also features a memorable pop soundtrack. Two original songs by Fleetwood Mac guitarist/magic man Lindsey Buckingham, "Holiday Road" and "Dancin' Across the USA," are earworms.
The new Warner Bros 4K UHD release celebrates the movie's 40th anniversary (gosh, I'm old) and the studio's 100th anniversary. The disc provides digital access to the movie. This release's one special feature is a pre-existing audio commentary by Chase, Quaid, producer Matty Simmons, Ramis, Hall, and Barron.