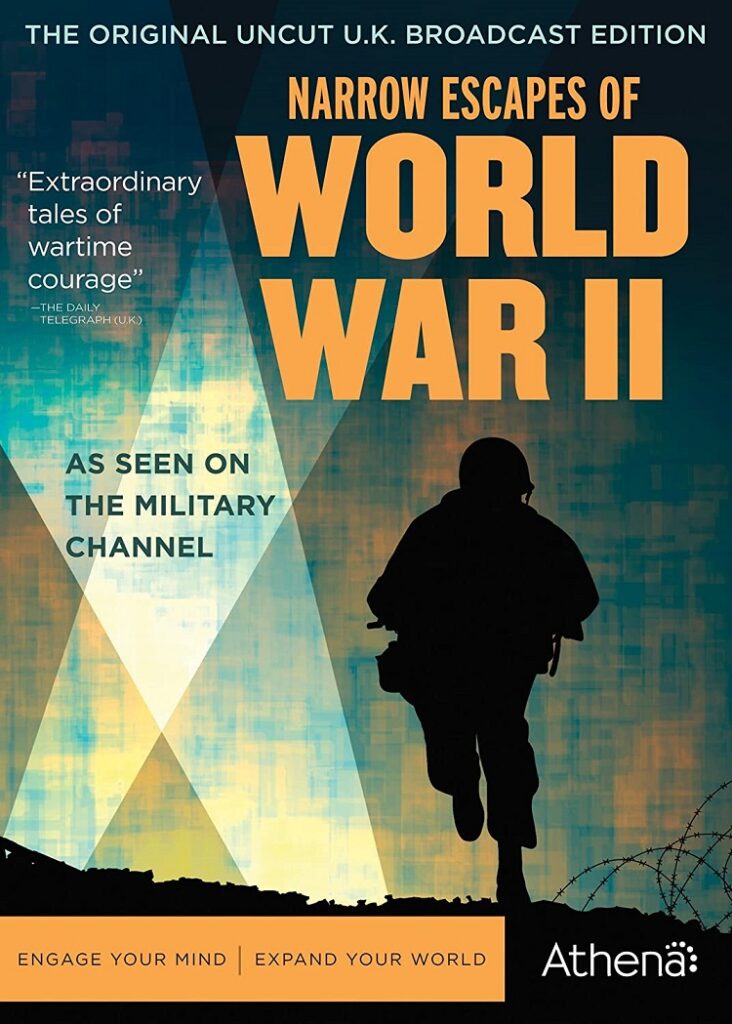 Written by Mike Bruno
What would you do? Surrounded by your enemy; back against the wall with no way out; low on ammunition, food, and water; and no sign of help in sight, could you hold out? Would you surrender or take as many of them down with you as you go? Narrow Escapes of World War II presents 13 incredible stories of luck, heroism, and sheer determination straight from the original uncut UK broadcast edition, which aired on The Military Channel in the U.S.
The big picture of war is made up of hundreds of thousands of small stories; some of them have been presented here. If you are a history fan like myself, the battles shown here are nothing new, though the stories from the historians and participants themselves give a deeper view into the horrors that were faced and overcome.
Examine Operation Loincloth, or better known in the history books as Orde Wingate and his band of Chindit fighters. These troops specially trained in "deep range penetration" warfare, (being deep behind enemy lines, harassing them while living off the land) had a mission that brought them into the treacherous landscape of Burma (now Myanmar) a mountainous jungle region where they were to blow up a vital train route that supplied the Japanese army fighting in the region. Being deep behind the lines means if someone gets wounded, they receive whatever medical help is available, with the hope that one heals, but if the wounds are too serious, you are left with two choices: leave your comrade there to die, or put him out of his misery yourself. This choice fell upon these men more times than can be imagined. Having to kill your own friends, men you fought along side and maybe have saved your neck a time or two. Think what this does to the morale of the whole team, all the while your are being hunted by the enemy and trying to stave off the disease hunger and exhaustion. This is what Narrow Escapes is all about. Be they German, Russian, British, Japanese, or American all of these stories leave one being thankful they never had to suffering of this extent, be very thankful.
Bill Smyly, a British Chindit solider, was completely separated from the rest of the unit; his body low on vitamin B, losing his eyesight, and only knowing that he was surrounded by the Japanese. He was stranded in the jungle long after his comrades had gotten back to base. Dizzy and sick, he fell down by the side of a river bank only to wake up and find he was covered in leeches. "Lucky for me, the leeches cured my eyes, so now I could see straight again" Smyly now laughs it off, but he said, "at the time, I was living day to day, just trying to survive."
Every story presented here, whether they were Axis or Allied troops, is an amazing tale in itself set against the backdrop of a war, which truly changed the world as we know it. With original black and white film from the war, interwoven with reenactments, Athena Productions tries to bring the horrors of war into a light. If any of us can really understand it, it may make us think twice before going off to war.
The bonus features they bring to the table also add to the stories. They select certain escapees and highlight their lives and actions, opening a window into the lives of ordinary men under extraordinary circumstances. There is also a 14-page booklet containing a map of the world at war, and a timeline marking each story and where it took place relevant to the big picture itself.
I would recommend this to any history buff or fan of WWII. It is a great series and can be used as a learning tool for the class room or just for personal knowledge like myself. Surviving a war is a feat in itself, and after viewing the warriors of these battles my respect has grown even greater. Thank you, all who serve us.