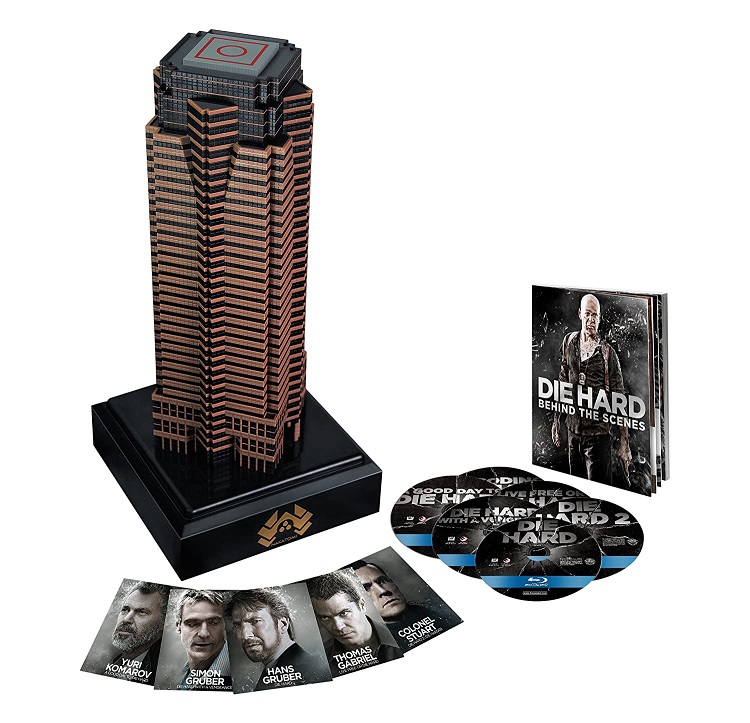 Forgive me if I begin this Pick of the Week with a bit of a rant. In all forms of media, the companies who make media have a tendency to double, triple, and even quadruple dip. What I mean is a company will release a movie onto a new format – we'll say Blu-ray since that's what I tend to talk about – and it will either come pretty bare bones, just the movie and a minimal of extras, or maybe they'll tack on some extras from some previous DVD edition. Then a few months later they'll come out with a new edition, maybe this one will have an upgraded transfer, but it will be missing all the extras from previous editions. Then later still, they'll come out with an anniversary edition, include a brand new documentary on the film, but have it come in the old transfer, or without any of the old extras. Then a year later they'll have yet another new edition that comes in a swanky cool box, has the new transfer and some of the old extras, plus a new one or two, but leaves out the anniversary documentary.
Etc., etc., ad nauseum. Add to this how studios tend to be vague on the details with their new releases, never letting you know what extras are included, or missing, etc. and you wind up with hardcore fans buying the same movie multiple times over. It's ridiculous, and very expensive. Smart fans on a budget have to spend a lot of time deciding if they should buy the movie now, or wait for a potential better release in the unknown future, and then decide what extras and transfers are worth laying their hard earned money for.
And with that rant I come to the actual pick of the week. The Die Hard movies have been released multiple times over in various formats. As far as I can tell, this new release doesn't include anything new in the extras department. Well, both Live Free or Die Hard and a Good Day to Die Hard come in Unrated Cuts which haven't been released in Blu-ray before, but other than that this seems like just another repackage. Yet even there, those unrated cuts are not coming out in single releases, which means if you are only interested in getting those two films in those versions you've got to buy the entire package.
It is, however, a really cool package. As you can see from the image it comes in a Nakatomi Plaza replica which would look really nice sitting in anybody's collection. And let's be honest, anybody still collecting physical copies at this point in history is looking for cool-looking packages. It also comes with a nice-looking book and some fun villain trading cards.
This is the point in the post where I remind readers once again that when I think about what I want to pick for the week I live in a magical mystery world in which I can have anything I want without any sort of real-world budgetary concerns. In real life will I be buying this set? No, I don't have that kind of cash, and I already own the Die Hard movies that I care to own in decent enough editions. But this column is all about wishful thinking and I'd sure love to display that iconic tower on my shelves.
Also out this week that looks interesting:
Edward Scissorhands (25th Anniversary Remastered Edition): Another double dip. I usually don't even bother talking about this sort of things as it gets really confusing really quickly on exactly what we're getting with each new release. However, I absolutely adore this film and it actually is getting a new HD remaster and includes some fun new extras including a collective cookie cutter, paper doll chain, air freshener, commentaries, and a featurette. I've got it on DVD all ready, but all that might be enough to make me upgrade.
Aladdin: Diamond Edition (Blu-ray): Disney is the king of double dips as they also do limited editions of everything making it that much more difficult to decide whether or not you need a particular edition or not. They pull their movies off the shelves all the time and give no indication on when they might put it back on. I actually never managed to grab Aladdin on DVD so I'll be sure to snatch this HD version as quickly as I can. As usual with their Diamond Editions, this one is loaded with special features including commentaries, outtakes, featurettes, and deleted songs.
Tomorrowland: This George-Clooney-goes-to-Epcot-Center (sorry, that's what Tomorrowland looks like in the trailers) family-friendly, science-fiction yarn got pummeled by both critics and audiences alike. Still, it looks beautiful and I'm a huge fan of both Clooney and director Brad Bird so I'm willing to give it a shot.
Mad Men: The Complete Collection: One of the questions any TV series fan has to ask is whether to buy the series one season at a time as they come out, or to wait until it's concluded and buy the inevitable boxed set. Mad Men finally finished its run recently and now we've got its big box. This one retains all the old extras, plus gives us some new commentaries, comes with a big book, and cool-looking tumblers and coasters. One thing I have noticed with these bundled boxed sets is they tend to squish the disks into tight little holders causing them to scratch over time. Which is why I usually just buy them in individual season sets.
Justified: The Complete Series: FX's crime drama wasn't revolutionary in any way, but it did what it did really, really well. This new box comes with a big book, and some new features. Plus a commemorative flask so you can get your drink on in style while you watch the show.
The Civil War 25th Anniversary Edition: I think what's happened is we're slipping past all the Halloween horror releases and gearing up for the Christmas season really early. Ken Burns' brilliant documentary has been remastered and given a new documentary about the documentary.
The Brood (Criterion Collection): One of David Cronenberg's early films gets the Criterion treatment. I've been randomly working my way through the director's oeuvre. I've not seen this one yet, and now I have all the more reason to grab it.
Bates Motel: Season 3: I keep meaning to watch this. Maybe after I finally finish with Hannibal.
A Special Day (Criterion Collection): Sophia Loren and Marcello Mastroianni star in this personal drama set on the day Mussolini rolled out the red carpet for Adolph Hitler.
Manos: The Hands of Fate: Ridiculous-looking horror film that some consider to be the worst ever made. We reviewed it in all its glory here.