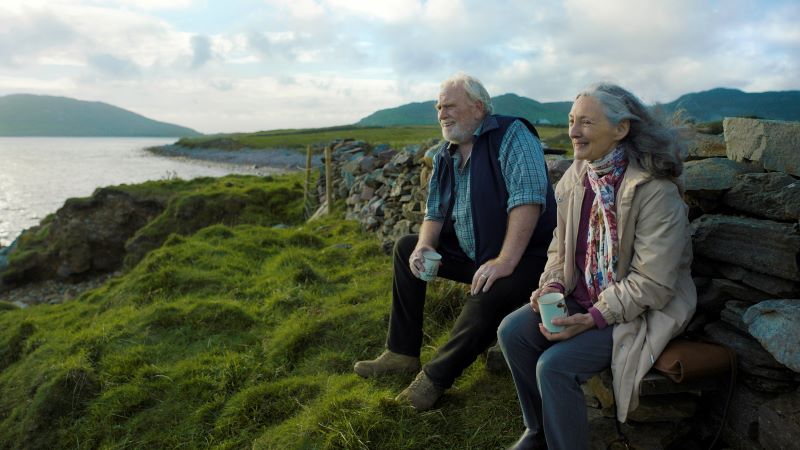 It may almost seem cliché to say that a movie filmed in Ireland is breathtaking to behold, but it's true nearly 100% of the time, and it's true here. My Sailor, My Love, the latest from Klaus Härö, was lensed by Robert Nordström, who captures the scenery exquisitely. From the first images of Achill Island, where the movie takes place, to the closing credits, the viewer easily gets swept away by the beauty of Ireland. It may seem like an easy feat, sure, but the way Nordström positions the camera each time shows that he's not going about it lackadaisically.
Veteran character actor James Cosmo (Braveheart, TV's Game of Thrones) has been in the industry since 1965, but it's a rare occasion for him to take center stage on a project. My Sailor, My Love allows Cosmo the opportunity to do so, and he excels as Howard, a retired sea captain who's lost in life. He's a widower, whose estranged daughter Grace (Catherine Walker) will periodically check in on him. But the check-ins have become more and more of a chore for Grace, who also has her own personal baggage to deal with – some of which we see in the film's opening shot during a therapy session that she clearly doesn't like attending.
Grace thinks it's best to hire a caretaker for her father, since it's becoming more and more difficult for her to keep up with all the tasks she must do. Enter Annie (Brid Brennan), whom Howard shortly dismisses after just a few sessions. But once he comes to his senses and realizes what he did was wrong, he tries to make it up to Annie. Lo and behold, the two soon fall for each other.
And if the movie just stopped right there at surface-level material, it would end up being like every other romance film about an old man whose life turns around after he meets someone. But Härö and screenwriters Jimmy Karlsson and Kirsi Vikman take an alternate and unexpected approach. This is where the movie sets itself slightly apart from others like it.
Once Grace catches word of her dad's newfound romance, she immediately tries to break it off by telling Annie all the supposed horrible things Howard did when she was growing up. Karlsson and Vikman could have easily turned Grace into the villain, and, in a sense, she does start off that way. But as we see in the events leading up to it, Grace is a person who is emotionally damaged. Her job situation is abhorrent, her own marriage is hanging on by a thread, and what seems to have set her off is the fact that her own father has suddenly found happiness again after years of solitude and sadness. One can't help but feel sorry for Grace, and yet we still wonder if what she's saying about her own father is true. Walker is magnificent in the portrayal of damaged woman, whose own life is in a tailspin.
Even with the drama that Grace brings, the script evenly balances between its darker and more serious moments and the blossoming romance between Howard and Annie. Cosmo and Brennan have infectious chemistry, and it's such a treat to watch them interact each time they are onscreen together. A scene at a wedding in which the two end up dancing together to Finbar Furey's "The Last Great Love Song" is an absolute delight. It's also special that Härö was able to bring in Furey himself to sing his song during this scene.
My Sailor, My Love may take a somewhat familiar approach to the story of two widowed people falling in love, but it's hard to resist the movie's charm. It wonderfully captures the highs and lows that can come along with a new romance, and the performances from all involved are what drive the film home.
My Sailor, My Love releases to theaters from Music Box Films on September 22.