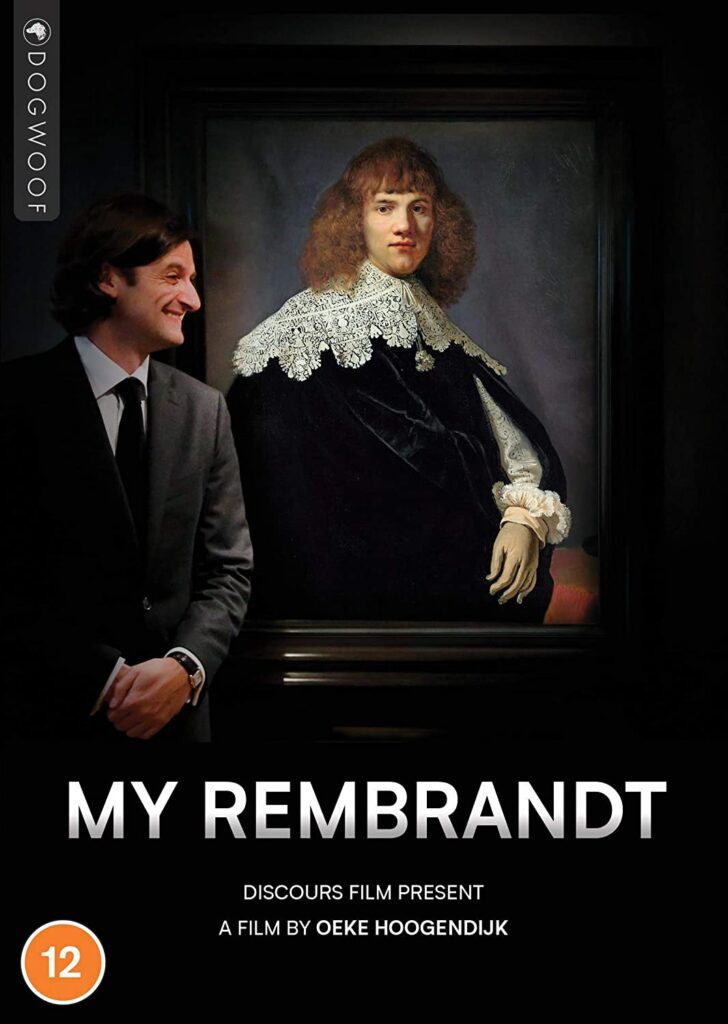 Strand Releasing has released the art world documentary My Rembrandt, which opened in theaters on January 22, 2021 and is now available for streaming in virtual cinemas and on demand. Directed and written by Dutch filmmaker Oeke Hoogendijk (The New Rijksmuseum), the film follows a collection of Rembrandt enthusiasts and their histories and obsessions with the artist.
Rembrandt van Rijn (1606-1669) is one of the most well-known and sought after of Old Master painters. He is considered by art world experts and fans as one of the greatest artists of all time. He was an accomplished draughtsman and printmaker (primarily etchings), but his paintings, especially portraits and self-portraits, are considered his greatest achievments. A newly discovered Rembrandt is a great find, and unusually rare.
Mirroring Rembrandt's oeuvre, the film presents portraits of a series of Rembrandt collectors and aficionados. Cinematographers Sander Snoep and Gregor Meerman capture the beauty of the paintings and their lush surroundings. The viewer is taken into the world of the ultra-rich – who else could own a Rembrandt? We meet first the Duke of Buccleuch, who rhapsodizes about his beloved painting, Old Woman Reading (1655), from his Scottish castle. He talks about the painting's subject as if she was a real person, "the most powerful presence in this house." She is a member, perhaps the most important, of his family, and we watch him move from room to room, all stuffed with antiques and gold-framed paintings and objets d'art, in search of the perfect spot for her, where they can quietly read a book together.
No less obssessed is Jan Six, an art dealer from Amsterdam, who arrives to his gallery on his bike with a painting wrapped in bubble wrap under his arm. He thinks he has discovered a "new" Rembrandt, obscured by some amateurish over-painting. He has an art restorer go to work to prove it, a job he thinks will take four years.
Six is particularly attuned to Rembrandt. He grew up with one of the most famous of Rembrandt paintings, Portrait of Jan Six (1654), his ancestor and namesake. He is not just an art historian but a sort of art detective, trying to not just to find Rembrandt paintings, but to prove that they are genuine. As the film progresses, Six's desire to confirm the authenticity of one of his Rembrandts takes on the quality of a mystery, as we are drawn into the possibilty of it becoming a world-wide sensation and what that would mean for Six and the art world. And who Six needs to push aside as he pursues his quest.
The Baron Eric de Rothschild also happens to be the proud owner of a pair of the master's portraits, but even a family like the Rothschilds runs out of money – time to sell the Rembrandts. Almost immediately on the scene are the Louvre and the Rijksmuseum, happy to take the paintings off his hands. But Rembrandts are unbelievably pricey. It is interesting watching the competition between the two museums, so desperate and jealous to acquire the paintings that they even consider teaming up.
Also featured is Thomas Kaplan, American billionaire art collector and recent acquirer of Rembrandts and Dutch masters: "Nothing is more lethal than passion and capital." He and his wife have an interesting approach to collecting. They don't live with their paintings, they make them available to museums. They seem to consider their collecting as a sort of civic duty – they take old masters from the private domain and share them with the public, exhibiting them in museums.
My Rembrandt is a fascinating story of fathers and sons and (very rich) families and art. It's a unique glimpse into a rarified world, where there might potentially, at any moment, be a new Rembrandt to discover. Just ask the super (almost too) smooth Jan Six. He thinks he's already found another one.
My Rembrandt has a running time of 97 Minutes. It is in Dutch, French, and English, with English Subtitles.