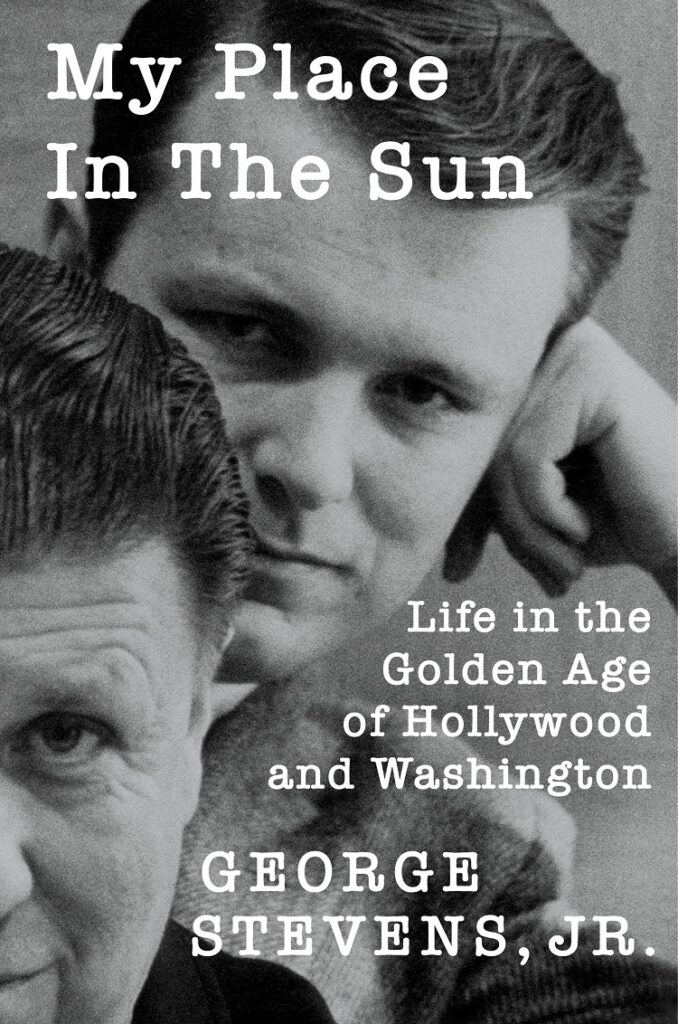 Cinema Sentries has teamed up with University Press of Kentucky to award one lucky reader My Place in the Sun: Life in the Golden Age of Hollywood and Washington by George Stevens, Jr., which will be released on May 17, 2022. For those wanting to learn more, read the synopsis below:
The son of a celebrated Hollywood director emerges from his father's shadow to claim his own place as a visionary force in American culture. George Stevens, Jr. tells an intimate and moving tale of his relationship with his Oscar-winning father and his own distinguished career in Hollywood and Washington. Fascinating people, priceless stories and a behind-the-scenes view of some of America's major cultural and political events grace this riveting memoir.

George Stevens, Jr. grew up in Hollywood and worked on film classics with his father and writes vividly of his experience on the sets of A Place in the Sun (1951), Shane (1953), Giant (1956) and The Diary of Anne Frank (1958). He explores how the magnitude of his father's talent and achievements left him questioning his own creative path. The younger Stevens began to forge his unique career when legendary broadcaster Edward R. Murrow recruited him to elevate the Motion Picture Service at the United States Information Agency in John F. Kennedy's Washington. Stevens' trailblazing efforts initiated what has been called the "golden era" of USIA filmmaking and a call to respect motion pictures as art. His appointment as founding director of the American Film Institute in 1967 placed him at the forefront of culture and politics, safeguarding thousands of endangered films and training a new generation of filmmakers. Stevens' commitment to America's cultural heritage led to envisioning the prestigious Kennedy Center Honors and propelled a creative life of award-winning films and television programs that heightened attention to social justice, artistic achievement, and the American experience.

Stevens provides a rare look at a pioneering American family spanning five generations in entertainment: from the San Francisco stage in the 19th century to silent screen comedies, Academy Award-winning films, Emmy Award-winning television programs and a Broadway play in the 21st century. He reveals the private side of the dazzling array of American presidents, first ladies, media moguls, and luminaries who cross his path, including Elizabeth Taylor, Sidney Poitier, the Kennedys, Yo-Yo Ma, Cary Grant, James Dean, Bruce Springsteen, Barack and Michelle Obama, and many more.

In My Place in the Sun, George Stevens, Jr. shares his lifelong passion for advancing the art of American film, enlightening audiences, and shining a spotlight on notable figures who inspire us. He provides an insightful look at Hollywood's Golden Age and an insider's account of Washington spanning six decades, bringing to life a sparkling era of American history and culture.
The contest is only open to residents of the continental U.S. Upon notification, recipients will need to provide their own valid address (within 48 hours of email notification); no P.O. Boxes. Failure to do so will forfeit prize and another winner will be randomly selected. Cinema Sentries does not enter into any contract or guarantee with prize participants or any visitors to our site.
a Rafflecopter giveaway