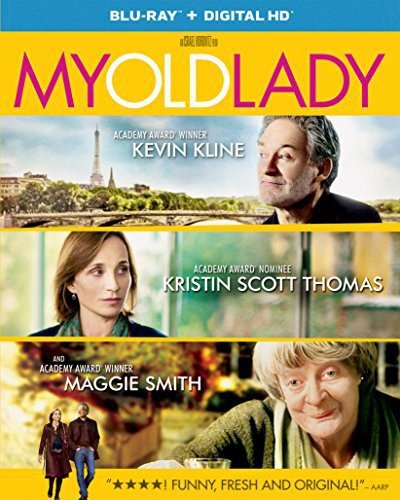 In this great big muddled world of ours, we seem to be divided into large groups of individuals. On the one side, you have picky people who will dispiritingly say that you cannot teach an old dog a brand new trick. And then there are those seemingly rare factions of folks who will encouragingly state that it is never too late to learn. My Old Lady, the indie feature from 2014 starring Kevin Kline, Kristin Scott Thomas, and Maggie Smith, seems to fall somewhere in the middle of that. For here, author/playwright Israel Horovitz (creator of both Author! Author! and Beastie Boy Adam "Ad-Rock" Horovitz) had not only made an impressive feature film directorial debut at the age of 74, but has also brought over a bit too much from the stage in the process.
But of course, that's forgivable, as are most of the venial actions the film's characters commit throughout this adaptation of Horovitz's own 2002 play. Set (and shot) in scenic Paris, the film finds the great Kevin Kline as Mathias "Jim" Gold: a man in his late '50s who has recently inherited a vintage apartment in the center of the classic romantic city. With an estimated value of 12-million Euros, the lofty pad – and its attached garden – seems like it could be the starting point for Jim's starting over. And when we soon learn about Jim's plain awful life up until that point – an absentee and emotionally abusive father, suicidal mother, three failed marriages, and recurring alcoholism – a nice chunk of change like that might be just what the doctor ordered.
What Jim doesn't count on, however, is that which nobody bothered to explain to him: the apartment not only comes with an aging tenant (Maggie Smith, in a role that almost seems like a long-distanced variation of Miss Jean Brodie) and her very angry daughter (Kristin Scott Thomas), but also with a monthly debt. Thanks to a relatively obscure French real estate law, Madame Girard (Smith) is what they call a "viager" – a life tenant whom the owner of said property must pay a monthly income to until the tenant dies. And while the corrupt American real estate market could greatly use a program such as this, it's the last thing the penniless, destitute Mr. Gold wants to hear. That goes double for her daughter Chloé (Thomas), who knows darn full well that Jim just wants to, as we Americans say, "cash and carry".
In-between Jim's sneaking around to irresponsibly sell Madame Girard's vintage furniture in an attempt to find a way out of his financially responsible situation, he engages in much clashing and arguing with Chloé, while uncovering pieces of an unknown puzzle that links the Girard family to that of his own. Thankfully, it's not as dull as the slightly similar (but ultimately much more forgettable) People Like Us (and it wouldn't surprise me one bit if the hack writers of that dud were "inspired" by Horovitz's play), but it is much, much heavier. While the marketing and artwork for the film may tend to convince you that it as a comedy, My Old Lady touches upon some very serious tones: depression, death, alcoholism, adultery, and the effects they have on those around us.
Don't expect Dave here, kids. But you can count on the film's three leads effortlessly delivering some truly dramatic, stage-worthy performances. And I phrased it that way intentionally, as – no matter how particularly good these actors are (most of them could win an award just for eating cold cereal), there is something stilted about their executions. Essentially, it comes off as being too little like a moving picture and too much like a play at times. But again, that's forgivable. Sadly, the entire film as a whole – while worth an initial watch, nonetheless – doesn't seem seem to really hold enough water to warrant repeated viewings. And that's where My Old Lady disappoints. It's good, yes. But also rather uneven – even for a film that features the great French character actor Dominique Pinon as a real estate agent.
Universal Studios Home Entertainment presents the indie drama My Old Lady to Blu-ray in a MPEG-4 AVC/1080p transfer that is quite lovely looking. The outdoor Parisian scenes are dazzling and crisp in this 2.40:1 aspect ratio, whisking you away to that legendary City of Lights where Harrison Ford once went Frantic looking for his kidnapped wife. Likewise, the indoor footage looks quite nice, even when smoke fills the room in once scene. An English 5.1 DTS-HD MA soundtrack is the one and only aural selection here, with some bits spoken in French by the cast. Sadly, there are no subtitles to assist us for either the brief French lines or the extended English ones, which is odd for a film that the AARP gave its highest recommendation to (!).
While I'm surprised that Universal included any bonus materials whatsoever for this little indie number, the sole special feature is an interview and Q&A with Kevin Kline and Israel Horovitz as conducted by 92nd Street Y's Annette Insdorf. Ms. Insdorf takes her time to introduce the guests, instead promoting the then-forthcoming Birdman: or (The Unexpected Virtue of Ignorance). It's something that could have easily been edited out but wasn't for some reason (probably because nobody cared), and there's a terrible humming sound during the first part of the session that will probably give you a headache (again, this could have been filtered out had someone cared). The disc doesn't even include the movie's own trailer, but there is a bonus Digital HD copy on-hand for those of you who enjoy such things.
In short, My Old Lady comes close to being a fine flick, but in the end, it seems that the good Mr. Horovitz still has a lot to learn about the filmmaking process. Of course, it's never too late for him to learn, as some of us might say, so we'll wait and see. In the meantime, I suggest you just stick to renting this one.