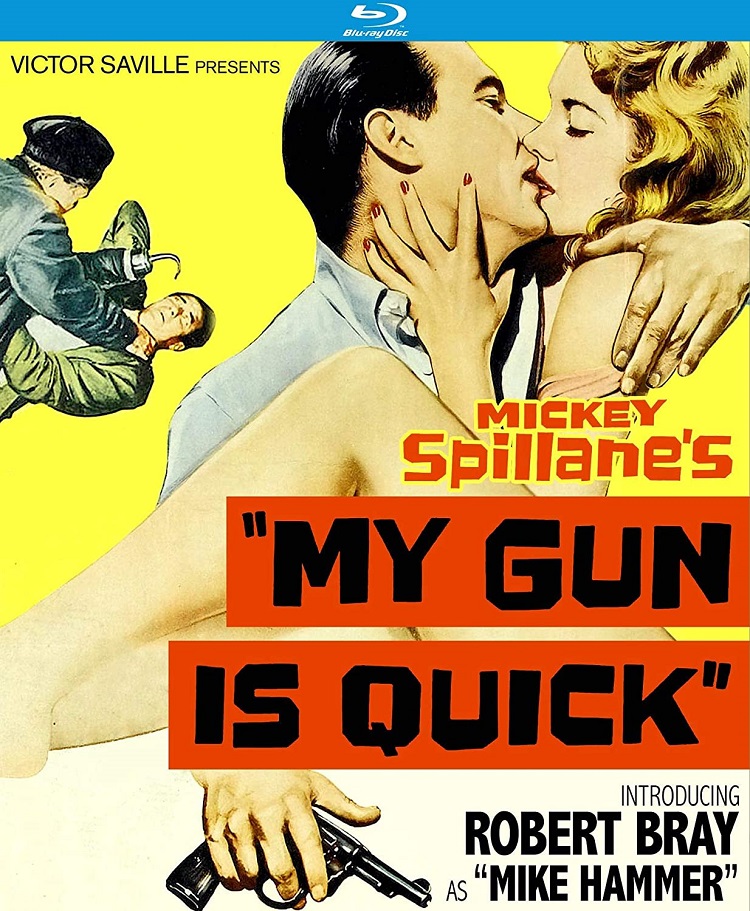 Produced and directed together by Victor Saville (credited as Phil Victor) and George White, My Gun Is Quick is the third film featuring Mickey Spillane's character Mike Hammer, played by a third actor, Robert Bray, and is adapted from the second Hammer novel of the same. It's a hard-boiled detective story, which might not stand out from the genre, but it traffics in the tropes well enough.
One night in a Los Angeles diner, Mike interferes in what appears to be a pimp roughing up a prostitute named Red (Jan Chaney), who is recently out from Nebraska. Mike gives the girl money to leave town and notices she is wearing an unusual ring. Because she had his phone number on her, Homicide Detective Pat Chambers (Booth Colman) informs his friend Mike that Red was killed in a car accident. Upon learning that her ring is missing, Mike thinks there's more to it and begins to investigate, against the wishes of Pat.
Mike, and viewers, learn that the ring is part of the Venacci Jewels, a collection that was stolen and smuggled out of France during the war before the Nazis could get it by Colonel Holloway, who served ten years in jail. The jewels had been held by a French mute for Holloway, who had given Red the ring. Mike had a meeting with the Frenchman, but he "committed suicide" jumping from a window. At the scene, Mike sees the pimp hanging about and follows him.
Turns out, his name is Louis (Richard Garland) and he working for Nancy Williams (Whitney Blake) as a butler, who quickly fires him after Mike informs him about the past 12 hours. However, Louis has an alibi for both deaths. Mike hires on to do some bodyguard work for Nancy, and he does more than guard it, which is a good thing as some Frenchman search for the jewels in her home, which Holloway had previously rented.
My Gun Is Quick is an enjoyable mystery. The plot keeps the viewer's interest as Mike searches for, and sometimes overlooks, clues in his pursuit of Red's killer while crossing paths with those pursuing the jewels. But it's not always his fault that he falls for the misdirection, but he makes it all clear for the viewer by the end.
Mike's righteousness makes him a compelling character. Driven by justice for Red, he charges ahead to find it, occasionally rushing in where angels fear to tread. He's saavy but doesn't always see the full picture. He talks or fights his way out of situations, depending on the other guy, though he doesn't always come out on top. The ladies fall for him and he gets together with plenty over the course of the case.
Created from a brand new 2k master, the video has been given a 1080p/MPEG-4 AVC encoded transfer displayed at its original aspect ratio of 1.85:1. The picture is clean with rare specks of black and white and mild grain. The blacks are inky but exterior night scenes can crush and the lights within them bloom. The audio is available in DTS-HD Master Audio 2.0. The dialogue is clear. The ambient effects blend well into the mix. Marlin Skiles's score has strong fidelity. There is a slight hiss.
Kino Lorber Studio Classics release of My Gun Is Quick is worth investigating for the film's story and the Blu-ray's high-def presentation. Unfortunately, the only bonus material are trailers for My Gun Is Quick, Deadline-U.S.A., 99 River Street, The Captive City, Shield for Murder, and I, The Jury (1982).