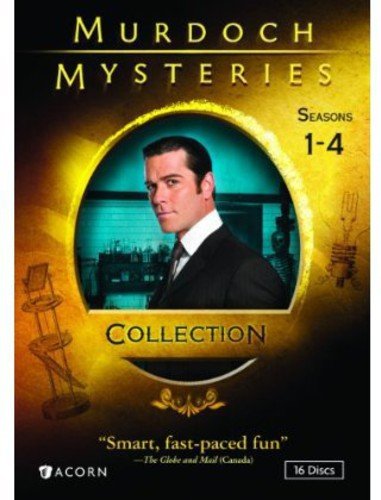 The first episode of Murdoch Mysteries offers a clear vision of exactly how the Gemini-nominated will work. Set in 1890s Toronto, the detective show opens with the Canadian city tinkering with the idea of switching to alternating current from direct current. The issue deepens when the newly-crowned Miss Toronto Electric and Light is murdered.
The show's protagonist, Detective William Murdoch (Yannick Bisson) is thrust into action to solve the case. And, to make things even more electrifying, one of the witnesses to the crime is none other than Nikola Tesla (Dmitry Chepovetsky).
This humble Canadian television series plays with historical figures in amusing fashion, as exemplified in its first episode, and has won its way into six seasons thus far. Thanks to the good people at Acorn Media Group, you can get caught up with the first four seasons in one box set. The 16-DVD set includes all 52 episodes as well as pilot commentary, some interviews and a few extra goodies.
Bisson's Murdoch is an iron-jawed detective working for the Toronto Constabulary. He uses "advanced" measures to solve cases, including the invention of wire-tapping and "finger marks." He is also somewhat bound by the attitudes of the time, remaining a steadfast Catholic.
Murdoch is not so devout that his views don't evolve over the course of the series, as illustrated in the "Till Death Do Us Part" episode. In this season one adventure, a man is found murdered in the church shortly before his wedding. The victim is a closeted homosexual, which draws to light the prejudices of many and the more flexible views of others.
These sorts of issues put meat on the bones of Murdoch Mysteries, splicing the fast-and-loose historical material with an evolving social framework. Other characters, including the pathologist Dr. Julia Ogden (Hélène Joy) and the eager Constable George Crabtree (Jonny Harris), flesh out the details and give the relatively straight Murdoch something to work with.
Along with Tesla, Murdoch Mysteries packs in a number of other historical characters. Arthur Conan Doyle (Geraint Wyn Davies) makes a couple of appearances, while Buffalo Bill Cody (Nicholas Campbell), Harry Houdini (Joe Dinicol), and Annie Oakley (Sarah Strange) also show up for some fun.
With all the history and social concepts, this show still feels tremendously modern. It toys with the CSI formula, using hyper-modern and stylish camera techniques to draw the viewer into the action. It creates a stimulating melange of style and substance, leading to a show with a very unique look and feel.
Murdoch Mysteries is an amusing, humble television program from the Great White North. The characters are charming, the mysteries are well-considered, and the melding of crime technology and history makes for satisfying TV. It lacks the grit, gravity and darkness of so many other crime dramas, instead choosing a well-lit and compelling route to entertainment.