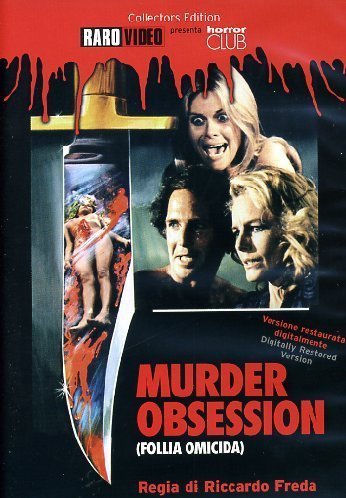 Michael Stanford (Stefano Patrizi) is a young actor who occasionally suffers from strange flashbacks concerning the death of his father, a noted orchestral conductor who everyone referred to as "the Maestro," and whom Michael murdered in order to protect his mother. After the nearly-disastrous last day of shooting on his new film — wherein Michael almost accidentally strangles a beautiful young actress to death, he makes an effort to get away from it all by doing just that: getting away from it all. And so, Michael's off to his mother's remote estate along with his whiny girlfriend, Deborah (Silvia Dionisio), his voyeuristic director, Hans (Henri Garcin), and cast/crewmembers Shirley (Martine Brochard) and Beryl (Laura Gemser) — the latter of whom was nearly Michael's victim.
At the estate, we meet Michael's mum, Glenda (giallo regular Anita Strindberg), and her creepy, sleepwalking servant, Oliver (John Richardson). We also encounter the strange sense of surrealism Murder Obsession has going for it as veteran Italian horror director Riccardo Freda (his last official feature) jumps from one scene to another, all the while attempting to weave the then-contemporary giallo (Italian murder mystery) genre with the gothic and supernatural horror films Freda and his mentor, Mario Bava, made decades earlier. It's a strange mixture of hallucinatory nightmares (complete with rubber bats and big phony spiders), boobies, Satanic rituals, boobies, blood and gore, more boobies, sinister music, a weird incest vibe, kooky psychic power, the required appearance of a bottle of J&B scotch, and an extreme lack of lucidity overall.
The legendary U.S. label Wizard Video originally released this one on VHS in the early '80s, under the simplistically generic title Fear. It was that version that I initially saw Murder Obsession under in the early '90, when I purchased the movie from a local video store that was downsizing its inventory. While my memory is a bit hazy on this one — much like Michael's recollection of his father's demise is — it's very possible that Murder Obsession was the very first giallo I ever watched (although Watch Me When I Kill and Deep Red are potential candidates for claiming my Italian murder mystery virginity, too), which makes it a rather sacred title for me. Well, that, and it was the first time I ever saw Laura Gemser nekkid.
Of course, looking at it again now after all these years (after adding dozens more gialli notches onto my bedpost) Murder Obsession doesn't quite hold up to most of its cinematic competitors. It's a weird and weak film that seems fairly uncertain of itself, throwing in everything from bleeding plastic skulls to a full frontal of Laura Gemser in order to get the most out of whatever the hell it's going for. And that's probably the reason I remember the film to this day: it's a wonderfully crazy journey, kids! Kudos to Raro Video USA Ltd. for bringing this cult classic out of the vaults once and for all in an uncut, fully restored 1.85:1 widescreen presentation, which features some excellent color and detail (for a Standard-Def release, that is) throughout.
Although the box says it's in Italian with English subtitles, Raro Video's presentation of Murder Obsession actually features the English-dubbed soundtrack, with removable English subtitles popping up for a couple of scenes that were never translated for the International export cut. The only special feature to be found here is a ten-minute interview with special effects guru Sergio Stivaletti, who discusses his career in Italian cinema, as well as his early work on Murder Obsession. The featurette is in Italian with English subtitles (perhaps that's what Raro meant to say on the box?). And, while it would have been nice to hear some recollections from surviving cast and crew or at least see a trailer or two, Raro Video's release of Murder Obsession is still a fine one.