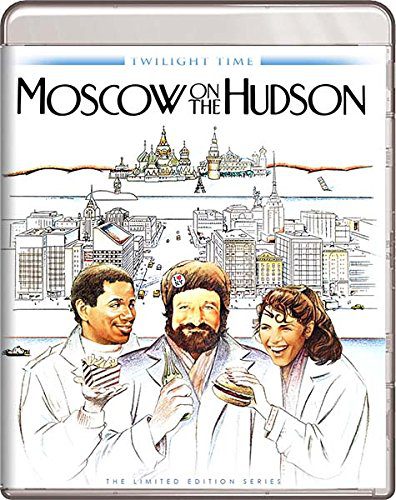 Immigration. Russians. No, it has nothing to do with current (controversial) topics, kids ‒ rather, said subjects are at the very heart of Paul Mazursky's Moscow on the Hudson. In fact, the word "heart" could not be any more appropriate in this particular instance, as the 1984 classic from Columbia Pictures ‒ recently added to the Twilight Time catalogue ‒ sets out to prove a point which many naysayers today seem to have missed: namely, the perfectly sound notion that them there foreigners are human beings, too. Here, the late great Robin Williams portrays Vladimir Ivanoff ‒ a circus saxophonist in Cold War-era Russia who, like so many of us do, yearns for a slightly different, less ordinary existence with a little more freedom at his disposal.
Despite the comfort of living with his extended family in a small Moscow flat, the grip of his communist state has started to suffocate more than just his dreams. This is evident by the extra pair of shoes he so wisely sacrifices to his circus troupe's assigned apparatchik, Boris (as played by Soviet cinema favorite, Savely Kramarov), after having to stand in line for hours in order to purchase them. Alas, such bribes are not entirely sufficient to turn away the suspicious eyes of his communist overseer. Now, as any good musician knows, nothing is as important as the uncontrollable element of timing, so when the circus takes a state-sponsored trip to that den of decadence in the corrupt capitalist west ‒ New York City ‒ Vladimir keeps his own orbs peeled for the perfect opportunity.
And thanks to Robin Williams' particular gift of timing ‒ not to mention a wonderful script by Paul Mazursky and Leon Capetanos ‒ said defection takes place during one of the most memorable trips to Bloomingdale's in the history of not only newsworthy moments set within overpriced department stores, but also film itself. Seeking refuge under the skirt of Lucia Lombardo (Maria Conchita Alonso), a beautiful Italian woman working at the perfume counter, Vladimir inadvertently makes a huge spectacle which garners the interests of another circus ‒ the media ‒ only to find himself soon living in a small NYC flat with the extended family of his new best friend, an African-American security guard from Bloomies, Lionel Witherspoon (Cleavant Derricks).
Perfectly encapsulating the debilitating sense of culture shock we quite often experience upon relocating to a new environment, Moscow on the Hudson also serves as a fetching reminder (which many people have sadly forgotten) of what it means to be an American ‒ in more than one sense. The beautifully sensitive performance by Robin Williams (as well as his many diverse co-stars, including Alejandro Rey, the always delightful Elya Baskin, and cameos by Yakov Smirnoff and Udo Kier!) Twilight Time's Limited Edition Blu-ray release is complimented by a stunning 1080p presentation which brings out the best of Donald M. McAlpine's cinematography (to say nothing of NYC in the pre-glitzy '80s and Maria Conchita Alonso's flawless figure!).
Accompanying the transfer here are five audio options, beginning with English DTS-HD MA 5.1 and 2.0 selections for the feature film, and three bonus offerings which consist of an archival audio commentary by the late Paul Mazursky (originally heard on the 2001 DVD from Columbia/Tri-Star), a new commentary by Twilight Time's Julie Kirgo and Nick Redman, and composer David McHugh's isolated score in DTS-HD MA 2.0. The Twilight Time offering ‒ which also includes a trailer and liner notes by the aforementioned Julie Kirgo ‒ is limited to 3,000 copies and comes Highly Recommended to both Ruskies and 'Muricans alike.