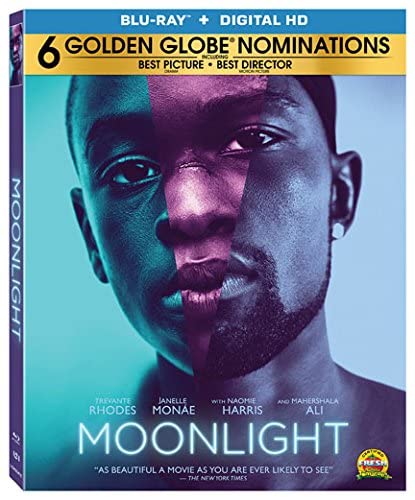 When it comes to films about sexuality, especially those from the LGBT point of view, you don't often see it mixed with race. It is usually about stereotypes, explicit imagery, and desperation to arouse the viewer just to get his or her reaction. Fortunately, director Barry Jenkins' stunning 2016 drama, Moonlight, breaks through those cliches to deliver a story as truthful and universal as one can and needs to get.
Based on the unfinished play, In Moonlight Black Boys Look Blue by Tarell Alvin McCraney (who wrote the story), the film centers on the character of Chiron in three parts (played by three actors), who is trying to find his light through the darkness, as he comes to terms with his sexuality while dealing with bullying and living with his drug-addicted mother in an impoverished neighborhood in Miami. With guidance from a stranger named Juan, his girlfriend Teresa, and his schoolmate Kevin, he learns about the harsh realities of life and eventually discovers his true, authentic self in the process.
When I watched this sublime work of art, I realized how realistic and relatable the film really is. You feel Chiron's pain and sorrow, along with the frustration he goes through. This is not a cookie-cutter film; this is about the American reality, especially where homosexuality is still meant with scorn, and even violence. This is more than evident in a horrifying scene where Chiron gets beat up by Kevin after their sudden sexual encounter. Kevin is corrupted by the kids around into confronting Chiron because he is gay, and they cannot tolerate that. It's a painfully realistic moment that is all-too-real, and one that I had experienced in my teenage years.
The ensemble has to arguably be the best cast in a film from last year. As I was talking about Chiron being played by three actors (Alex R. Hibbert, Ashton Sanders and Trevante Rhodes), they each bring their own remarkable presence and sheer magnetism to that character. There are moments of silence from all of three of these actors, where everything is communicated on their faces. They each have very expressive faces, especially when being seen in close-ups. This is almost similar to Richard Linklater's 2015 film, Boyhood, but the character of Mason is played by the same actor in each stage of his life.
While Mahershala Ali is only in the first chapter of the film, he gives an extremely moving, and incredible performance as Juan, the stranger who gives Chiron a genuine father figure, although he is a drug dealer. Although Juan is gone before the second chapter starts, you still feel his presence throughout the film. Naomie Harris is a revelation as Paula, Chiron's mother, who lets drugs take over her life, but redeems herself through the realization of her mistakes. She always been an actress to watch, from 28 Days Later to Skyfall, but Moonlight is where she really bares her soul and gives it her all. It's just an amazing performance. Music star Janelle Monae, in her first film performance, is really an incredible beginning, as she gives her character Teresa a powerful mother figure for Chiron when Paula is too consumed by drugs. This and Hidden Figures (another great film of 2016), should be start of a great acting career for her. And Andre Holland provides a moving supporting role as the grown up Kevin who reunites with Chiron, or "Black" (his nickname for him) near the end of the film in a standout moment in a diner that feels intimate and so naturalistic.
The special features include a very informative and relaxed audio commentary with Jenkins, as he talks about the story, the film, the performances from his cast, and his upbringing. There are also three great featurettes- Ensemble of Emotion: The Making of Moonlight; Poetry Through Collaboration: The Music of Moonlight; and Cruel Beauty: Filming In Miami. There are also trailers of La La Land, American Honey, and Manchester by the Sea.
This may not be the best review for this very important and soul-bruising experience, but I had to express how much I loved this film. It's a game-changing, harshly beautiful, and groundbreaking cinematic masterpiece that should and will take its place alongside the greatest films ever made.