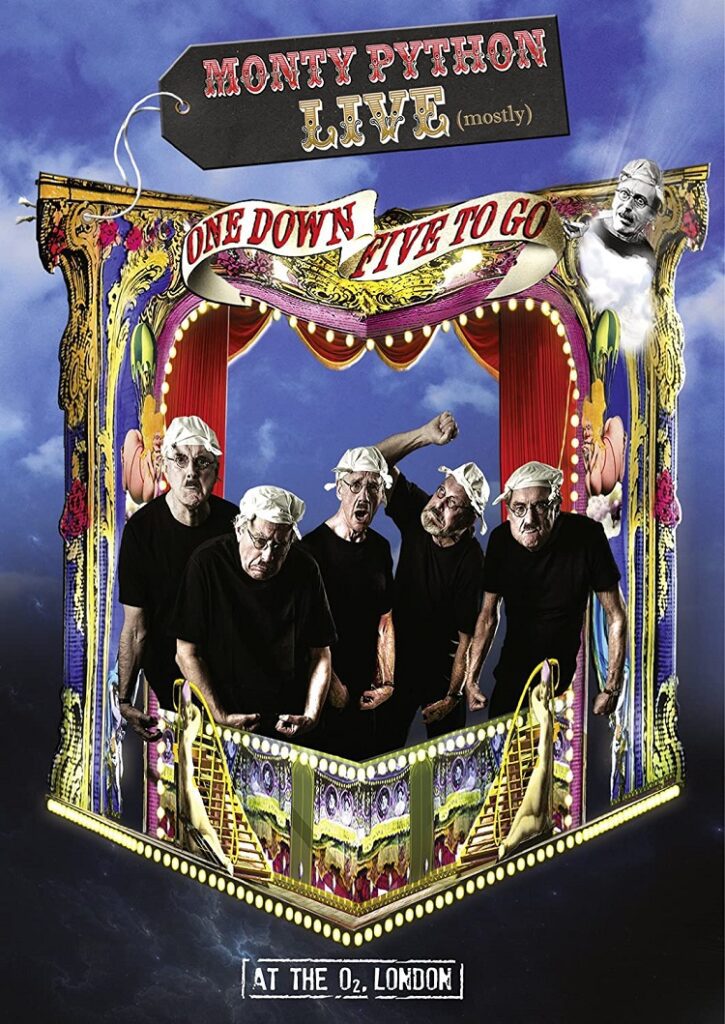 After previously working together in various configurations at university and on such television shows like The Frost Report and Do Not Adjust Your Set, (the late) Graham Chapman, John Cleese, Terry Gilliam, Eric Idle, Terry Jones, and Michael Palin formed what is arguably the funniest and most influential comedy troupe ever. Known as Monty Python, they came together to create the legendary TV series Monty Python's Flying Circus, which debuted October 5, 1969 on the BBC. Their humor was a great mix of high brow and low brow, typified in the "Summarize Proust Competition" where each of three finalists are given 15 seconds to sum up A La Recherche du Temps Perdu, but when no one "succeeded in encapsulating the intricacies of Proust's masterwork, [the MC declares the winner] the girl with the biggest tits."
The Pythons played with the viewers' expectations of a sketch show and even television as characters might give up on sketches and walk off or find a 16-ton weight dropped on them, and opening and closing credits ran at various times throughout the episode. They brought this sensibility to all mediums: theater, films, albums, books, and computer games. In 1983, Monty Python's The Meaning of Life would be their last project as a sextet, and Chapman died six years later. The remaining members have worked together in various configurations but only reunited as Monty Python for tributes and retrospectives.
Then in 2013, Mark Forstater, the film producer of Monty Python and the Holy Grail, sued for royalties owed from the Tony Award-winning musical Spamalot, leaving the troupe owing £800,000 to him and lawyers. This, in addition to the personal financial issues of some members, led to the reunion many fans believed would never happen. After the initial show at London's O2 Arena, which seats approximately 20,000, sold out in 40-odd seconds, they ended up putting on an even 10 shows in July 2014. The final night, July 20, was broadcast around the world, and is now available on DVD and Blu-ray titled Monty Python Live (mostly): One Down, Five to Go.
The show presents the Pythons performing classic material. Opening with the weird "Llamas" sketch where Cleese inaccurately described them in Spanish. They then do "The Four Yorkshireman," a pre-Python bit written by Chapman, Cleese, Tim Brooke-Taylor, and Marty Feldman from At Last the 1948 Show. It's wonderfully ridiculous and very funny as four old guys talk about who had a harder upbringing. To help create time for set and costume changes, film clips of Gilliam's animation and the Fish-Slapping Dance from the series are shown.
"Not The Noël Coward Song" is turned into an enormous dance number and updated with lyrics about the vagina and butt. It left this viewer wondering why it's a part of the show and seems more like something they would have spoofed. Unfortunately, they chose to do this repeatedly, creating elaborate routines for "I Like Chinese" and "Sit On My Face," cutting into time with the fellas live and on film, both of which would have been more desirable.
It was interesting to watch them combine sketches as Jones plays a man interested in buying an albatross for a snack before walking into a bar and getting nudge-nudged by Idle. The same goes for Cleese complaining about his dead parrot before inquiring what cheese Palin might have for sale. The quality of the material stands up, and one example of this is when the Pythons change roles. From the Meaning of Life, Idle sings "Every Sperm is Sacred" in place of Palin, followed by Palin and Jones as "The Protestants", originally played by Chapman and Idle. They also make fun of each other, teasing about Palin's boring travel shows and Cleese's many divorces. The live aspect allows for great fun and uniqueness as Gilliam goes up during "Crunchy Frog", causing Cleese to laugh and lose his place. Cleese and Palin get some digs in at the man who reviewed the show for the Daily Mail, but it has been shortened from the live show.
During the "Bruces" sketch, Eddie Izzard makes a guest appearance. and Mike Myers does the same during "Blackmail". Unfortunately, Myers doesn't stick with the bit and raves about Python's greatness, which seems to throw Palin off. Also appearing are Professors Brian Cox and Stephen Hawking with the latter getting one of the biggest laughs of the show.
The Blu-ray has been given a 1080i/MPEG-4 AVC encoded transfer displayed at an aspect ratio of 1.78:1. The colors come through well enough and good details can be seen in the sets and costumes. The audio is available in DTS-HD Master Audio 5.1 and LPCM 2.0. The dialogue, which is clear throughout, can be heard in the front with some music and audience ambiance in the rears.
The extras offered for a production this historically significant are disappointing. Six segments spread over 23 minutes present mostly uneventful rehearsal and behind-the-scenes moments. Not sure why we got a two-minute edit of the press conference announcement instead of the whole thing. "Green Screen" shows the Pythons sans Idle recording video bits seen in the show dressed as the Pepperpots and Gumbys.
While it would be easy to knock the show for its unwanted dance segments, not including a favorite bit like "Déjà Vu" or more of the series' absurd sensibility, or the performances of the now 70-something Pythons who could have done something like this years ago when their skills were sharper, none of that compares to the joy of celebrating the work and talent that has delighted fans, some for over almost 50 years. Something is better than nothing and since they have gone on record saying they won't be doing this again, it's great to add this final chapter to the collection.