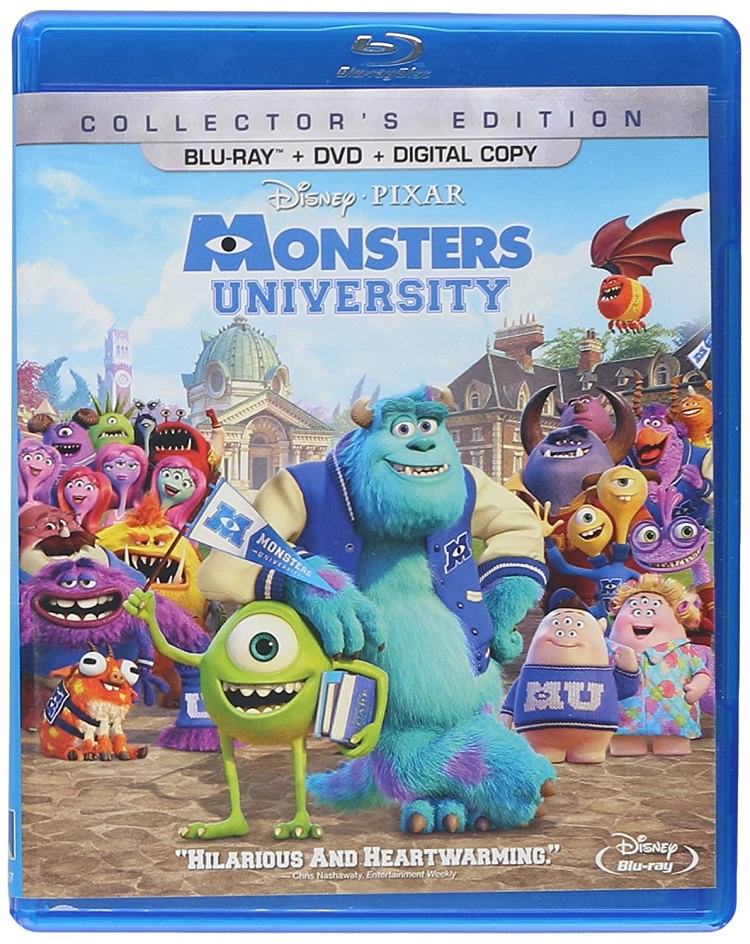 Pixar. Its name is associated with quality. The company almost single-handedly ushered in a new era of brilliant animation that is both kid friendly and cherished by adults. In 18 years they have made 14 feature films and almost every one of them have been golden. For most of that time, you could go to a film with Pixar's name attached to it and know nothing else about it and know that you were getting a quality picture.
Then with Cars 2, their first non-Toy Story sequel things began to slide. That film was a critical bomb and when announcements came for Monsters Inc. and Finding Nemo sequels, the Internet became a-buzz with talks about how the once mighty studio had fallen. Most pointed to the new-ish deal Pixar had made with Disney as the problem. Speculation ran quickly to the all-powerful Disney making Pixar equalize all their films in order to cash in. Suddenly, the studio that had built a reputation on putting story first was now selling out to The Mouse.
Brave didn't help things much. It wasn't a sequel, but it didn't have quite the same sparkle of inventiveness that Pixar's best films did. Its plot ran a little to close to the standard Disney tale, and while it is a very enjoyable film, it didn't really have that Pixar magic.
And here we are now at Monsters University. There was a time when I made an effort to see every Pixar film in the theaters. That time is now three films past. The poor reviews have kept me from seeing Cars 2 in any format, and I didn't watch Brave until it came to Blu-ray. I am very much a fan of Monsters Inc. and while I was never hoping for a sequel I did allow myself some hope that they could pull it off as they had the Toy Story sequels.
Reviews haven't been glowing, but they've been decent with many folks finding it quite wonderful. Truth be told, I would have liked to have seen it in the theatre, but it is a rare thing that I am able to get to the movies anymore, and with Pixar's poor performance of late and the mixed reviews I simply didn't push myself like I would have in the past.
But now it's out on home video and I can rent it or buy it or whatever, and I'm very much looking forward to doing so. This is certainly not my most glowing Pick ever. Monsters University doesn't get me as excited as a great many Picks have in the past. But I'm hopeful that even though Pixar seems to be moving towards a more Disney-like studio, they can still must some of the old magic.
Also out this week that looks interesting:
R.I.P.D.: This Jeff Bridges/Ryan Reynolds sci-fi vehicle got written off as a Men In Black knock-off, but the trailers make it look like a lot of fun to me.
La Notte (Criterion Blu-ray): Michelangelo Antonioni directed the great Marcello Mastroianni and Jeanne Moreau in this psychologically striking modernist film. I've not seen enough Antonioni films to know if I like him or not, but he gets high praise from just about everywhere, which is enough to get me interested. Add in the Criterion treatment and I'm all in. Read Mark Buckingham's review.
Damages: The Complete Series: This critically acclaimed drama starring Glenn Close almost got me hooked. I started watching it on Netflix just before we wound up moving – to the country, with limited internet – and I've not been able to pick it back up. What little I did see I liked. A lot.
Springsteen & I: A documentary about The Boss made by his biggest fans with full support from the artist. I'm late on the Springsteen train, but after catching his concert a few years back, I'm completely on board.
Move Me Brightly: Celebrating Jerry Garcia's 70th Birthday: Speaking of rock and rollers I'm totally on board with. I've been a Deadhead for ages and not a year goes by that I don't miss old Jer. This documentary/concert video celebrates what would have been Garcia's 70th birthday with the surviving members of the band jamming with a collection of artists including Carlos Santanta and members of the Black Crowes, Phish, Vampire Weekend, and many more. Interspersed are interviews with family members, band mates, and friends.
Family Tree: The Complete First Season: Chris O'Dowd seems to be everywhere these days from starring movie roles to guest appearances on various television shows. But he'll always be the lazy, sarcastic Roy from the IT Crowd to me. Here he stars in the Christopher Guest-created series about a 30-year-old man with little purpose in life, who develops a passion in his own family lineage. Reviews have been very good and I'm a big fan of Guest and O'Dowd so I'm looking forward to sitting down with this.
Agatha Christie's Poirot: Series 9: The Belgian detective has been newly remastered and restored to its original broadcast order.
The Johan Falk Trilogy: I'm in the middle of the second movie of this Swedish detective series and so far it's been very enjoyable. A tad predictable in its typical story lines, but worth watching for the strong performance of its lead.
Spiral: Season 2: I'm also in the middle of watching this French detective series. It's much grittier and darker than Falk, with a storyline that is moving over the entire season. Look for a full review from me soon.