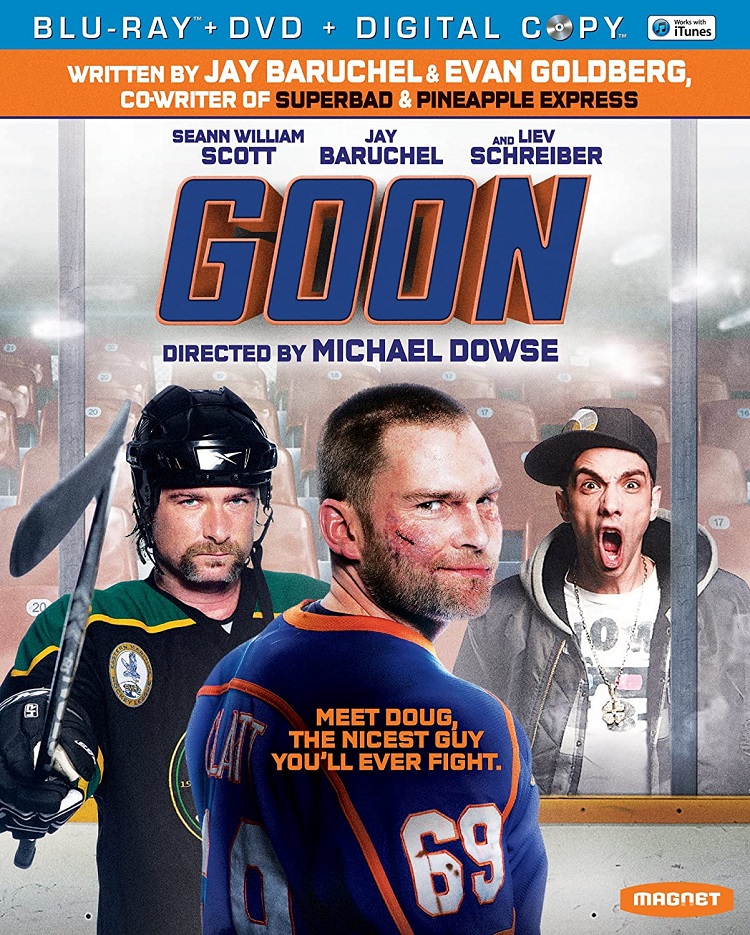 Sometimes, you just never know what movie you want to pick out to watch. Artwork and taglines deceptively lure you in with promise of instant crowd-pleasing classics, only to deliver epic turds instead. Other times, those films that actually warrant a viewing are given such lurid presentations, that you pass 'em by completely — assuming they're just more fodder for the never-ending direct-to-video hell we've brought upon ourselves. So, in a vain effort to spare you the extreme pain of some of the downright dreadful movies out there, and hopefully clue you in as to the existence of a few good ones, I give you this chapter of Mondo Bastardo: The Good, the Bad, and the Downright Dreadful.
Included herein kids are peeks at Jonah Hill's take on 21 Jump Street (2012), the lost color version of the Roy Rogers vehicle Springtime in the Sierras, Willem Dafoe's The Hunter (2011), the comical stylings of Tim & Eric's Billion Dollar Movie, Goon (2011) with Seann William Scott, and the teen horror flick Playback (2012). Which ones deserve your attention? Which ones don't? Read on, boys and girls.
Naturally, the best film out of the lot here happens to have been made in another country altogether. Straight from Australia, The Hunter is a captivating flick that owes much of its greatness to star Willem Dafoe. Here, Dafoe is cast as a mercenary hunter who is given the peculiar task of tracking down the thought-to-be-extinct Tasmanian Tiger by a military biotech outfit (yeah, I don't like the sound of that at all, either). Traveling to the land of inarticulate swirling animated devils in question, our anti-hero is forced to reside with the family of a man who disappeared in the wilderness a few months back. As the loner begins to develop some sense of liking towards the family, he finds himself pit against a group of ornery, homicidal loggers who believe him to be one of the many tree-hugging hippies they've waged war upon — and who know more about the family's missing patriarch than they admit to. Sam Neill and France O'Connor co-star in this gripping adventure/mystery filmed entirely in Tasmania.
Goon (2011) (Magnolia Home Entertainment)
Look, I'm as surprised as you are that a Seann William Scott made it so high on this list. Filmed prior to his joining hands once more with his American Pie cast for American Reunion, Mr. Scott had seemed to have hit a snag in his career — mostly doing voiceover work for the many, many Ice Age movies and their offshoots. Goon finds him cast as a bouncer-turned-hockey star, whose ability to both take and administer a good ass-whoopin' overrides the fact that he has no experience playing the game itself. As he grows in popularity, he begins to finally earn that respect he's been looking for from so many all this time, including his own father (Eugene Levy, taking a break from playing Jason Biggs' dad for once — which is nice to see). Liev Schreiber plays a rival hockey thug in this entertaining comedy from the co-writers of Superbad and Pineapple Express, which also stars Jay Baruchel, Alison Pill, and Kim Coates.
Springtime in the Sierras (Film Chest/American Pop Classics)
While a good 90% of the vintage b-westerns made in the first half of the last century will probably never be viewed as being good by most moviegoers today (or even then), there has always been something irrefutably charming about the low-budget antics of singing cowboys — especially ones like Roy Rogers. Regrettably, all of the guilty pleasure gems from the star's Trucolor days at Republic Studios wound up being re-edited for television when the at-home media became popular, and black-and-white 16mm prints were just about all that survived. Fortunately, Film Chest has managed to dig up an uncut version of Springtime in the Sierras in its original Trucolor form. The tale here finds our singin' hero clashing with a group of poachers who kill his animal-doctor pal. Andy Devine has the usual comic relief role, Jane Frazee is the good girl, Stephanie Bachelor is the bad one. The Sons of the Pioneers are on-hand to sing and help save the day. This delight from Film Chest also contains a black-and-white kinescope presentation of an episode of The Chevy Show from 1961 with Roy and Dale Evans, who is — strangely enough — absent from the feature film itself.
Playback (2012) (Magnolia Home Entertainment)
One part The Ring, seventeen parts crap, Playback is a less-than-clever teeny-bopper horror flick starring the less-than-stellar talents of several young stars and starlets who are undoubtedly destined for greatness in the annals of either direct-to-videodom or sales at a local Radio Shack. The tale here opens in the mid '90s, with a crazed young lad attempting to massacre his entire family, videotaping the whole grisly ordeal. Flash-forwarding to modern times, we find a group of high-school students diving into the bloody past for a project. Sadly for them, the creepy kid one of them has hired gets possessed by the evil spirit of the videocassettes (or some such nonsense) and starts seizing the wills of the kids and killing them. True to z-grade moving picture fun, Christian Slater is the film's "A" list actor, and plays the part of a sleazy cop who likes to masturbate to locker room footage of the girls perfectly. Special props go to actor Mark Metcalf for his delivery of the line "How did you know about the baby?," which comes off like David Strathairn being possessed by Emo Philips.
21 Jump Street (2012) (Sony Pictures Home Entertainment)
Yes, no matter how stupid the former entry may be (and it is, rest assured), it doesn't hold a candle to the latest unwanted Jonah Hill project, a sequel/remake of the classic Fox television series with Johnny Depp and Peter DeLuise. Chockfull of the usual childish jokes we've all come to expect from Hill (whom the studio apparently asked for help when developing the title!), the cliché story here finds two schmucks — booksmart Hill and beefy-but-dumb Channing Tatum — joining the police force only to wind up working undercover for the recently re-opened 21 Jump Street division. Sent back to their old school, they attempt to expose the identity of a synthetic drug developer. The only saving grace to this insult of a movie are uncredited cameos from several of the original show's performers, including Depp and DeLuise (who return to reprise the roles that made one of the famous). Sadly, Hill and co-writer Michael Bacall can't even treat them with a shred of decency. Additional salt to the wound appears in the guise of Ice Cube as the boys' boss.
Tim & Eric's Billion Dollar Movie (Magnolia Home Entertainment)
And, finally, we have what very well may be one of the worst motion pictures ever manufactured, this atrocity finds Tim Heidecker and Eric Wareheim — two alleged funnymen whose inept brand of alternative comedy have inspired me to pummel them repeatedly should I ever meet them face to face — starring as themselves as two douchebags (oh, how appropriate!) who squander a billion-dollar budget to make a movie, and who then try to resurrect a dying shopping mall in order to make the money back. William Atherton and Robert Loggia prove money is more important than taste by co-starring in this calamitous cinematic abortion. Zach Galifianakis, Will Forte, John C. Reilly, and Will Ferrell — four of the most overrated names in comedy today — make extended uncredited cameos in an attempt to give this dud some power. Alas, as anyone who paid attention in second grade science class could tell you: two negatives paired with four more negatives still result in a negative charge. One for the rubbish bin if I ever saw it.