It's time to let our fingers wander through the shelves as I introduce you to a new feature, Mondo Bastardo (kudos to George White for the name). For this preliminary article, I bring you a peek at several recent Blu-ray releases that are guaranteed to either delight or degrade. Included here are the double feature releases of The Grand Duel and Keoma as well as The Stranger and Kansas City Confidential, and single releases of D.O.A. (1988), 42nd Street Forever: Blu-ray Edition, Midsomer Murders: Set 19, and The Red House (1947). Enjoy.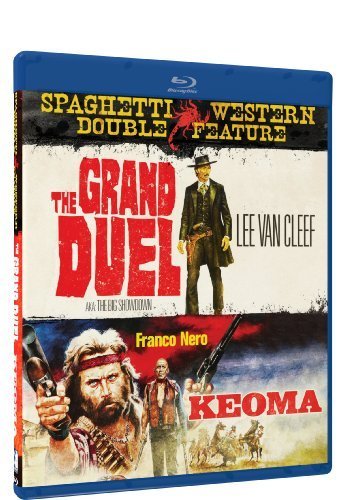 Spaghetti Western Double Feature: The Grand Duel / Keoma (Mill Creek Entertainment)
Picking up where they left off in 2011, Mill Creek Entertainment brings us another Spaghetti Western Double Feature, this time with the far more interesting combination of The Grand Duel (aka The Big Showdown) with Lee Van Cleef and Enzo G. Castellari's Keoma with Franco Nero. The first film (from 1972) finds Lee saving a young man who has had a bounty placed on his head by a corrupt, powerful family. While it isn't the best '70s Spaghetti Western (there really weren't very many of note from that decade), this is probably the first time we've seen it in widescreen — and with a great-looking transfer to boot. The latter flick, cult favorite Keoma, doesn't look as grand, but still deserves a viewing — especially since the retail on this release is less than ten bucks.
42nd Street Forever: The Blu-ray Edition (Synapse Films)
The folks at Synapse have earned themselves an outstanding reputation for their wide-ranging releases as it is, but their line-up of 42nd Street Forever titles are amongst the most popular with collectors as well as vintage exploitation enthusiasts. Once again, they have brought us another collection of hits and misses from the legendary days of grindhouse cinema with this special Blu-ray Edition release, which takes most of the wacky previews seen in the first two DVD volumes and combines them with some new hand-picked selections. From gore films to skin flicks, this amazing set features nearly four hours of oft-obscene movie trailers, and there's even an audio commentary with avmaniacs.com's Edwin Samuelson, Fangoria's Michael Gingold, and Temple of Schlock's Chris Poggiali just in case the thought of seeing 89 scratched-up 35mm gems remastered in 1080p HD isn't enough to whet your appetite. Highly recommended.
Midsomer Murders: Set 19 (Acorn Media)
And now we take a trip across The Pond for some contemporary British mysteries from television. But these aren't your run-of-the-mill Agatha Christie-inspired thrillers we all know and love (and I do): these are the stories of the heinous crimes committed in the vast, fictional Midsomer County in England — a land that has had so many killings, that you begin to wonder how there are even still people living there at all. Set 19 of Midsomer Murders once again finds CID Chief Inspector Tom Barnaby (John Nettles) and his loyal sidekick Detective Sergeant Ben Jones (Jason Hughes) up to their waists in corpses. While most of the four offerings in this two-disc set aren't the best the series has had to offer in my opinion, "The Sword of Guillaume" is a high-point, as it introduces us to Brighton CID DCI John Barnaby (Neil Dudgeon) who replaces Nettles later in the long-running series.
D.O.A. (1988) (Mill Creek Entertainment)
As a kid, I had already discovered my still-alive-and-a-burning-to-this-day passion for film noir — a fire that ignited the first time I sat down to watch the original 1958 D.O.A. (which, sadly, had been colorized, but of course, as we all know: grade-schoolers can't be choosers). A couple years later, Touchstone Pictures released a remake of the classic b-movie, with the immortal pairing of Dennis Quaid and Meg Ryan starring. Portraying a heavy drinker as he usually does, Quaid plays a college professor who unwittingly finds himself in a strange web of conspiracy and murder — with himself being one of the victims when he finds out he has but 24 hours to live thanks to an incurable poison. Meg Ryan is the young coed who loves him (naturally), while Daniel Stern, Charlotte Rampling, and Brion James also star in this very '80s neo noir flick, which gets a decent (though not entirely wonderful) HD release with a Standard-Def trailer accompanying.
The Stranger / Kansas City Confidential (Film Chest/HD Cinema Classics)
Returning to the noir genre once more, we finds ourselves with the Twin Pack release of The Stranger and Kansas City Confidential, which had both been released separately before in 2011 by Film Chest/HD Cinema Classics. The great Orson Welles directs and stars in the 1946 thriller The Stranger, which finds top-billed Edward G. Robinson as a Nazi hunter on the trail of WWII war criminal Welles in a small Connecticut community. Bearing a new name and identity, Welles tries to bury his past by taking a bride (Loretta Young), though he finds he's unable to bury his past. The equally wonderful Kansas City Confidential finds John Payne cast with the intimidating trio of Neville Brand (from the original D.O.A.) and future Spaghetti Western favorites Lee Van Cleef and Jack Elam in a tale of framing, crossing, and double-crossing. Preston S. Foster and Coleen Gray also star in this wonderful 1952 thriller.
The Red House (1947) (Film Chest/HD Cinema Classics)
Though not your average noir feature, 1947's The Red House takes the genre and fuses it with a fine layer of an almost supernatural element. Here, Edward G. Robinson plays Pete, an old farmer out in the middle of a rural wilderness — a strange man with a similarly unique wife (Judith Anderson) and a young ward named Meg (Allene Roberts), whom they have raised as their own. After Meg brings home fellow high school student (Lon McCallister) to help around the farm, the two begin to receive warnings from elder Edward: stay out of the woods. Their curiosity piqued almost instantly, the kids (along with other friends) begin to wander out into the trees — not only bringing about the frustration and anger of Robinson, but putting themselves at risk of whatever danger might be out there as they start to feel those darned familiar teenage feelings. Young Julie London and Rory Calhoun co-star in this strange but enjoyable thriller.