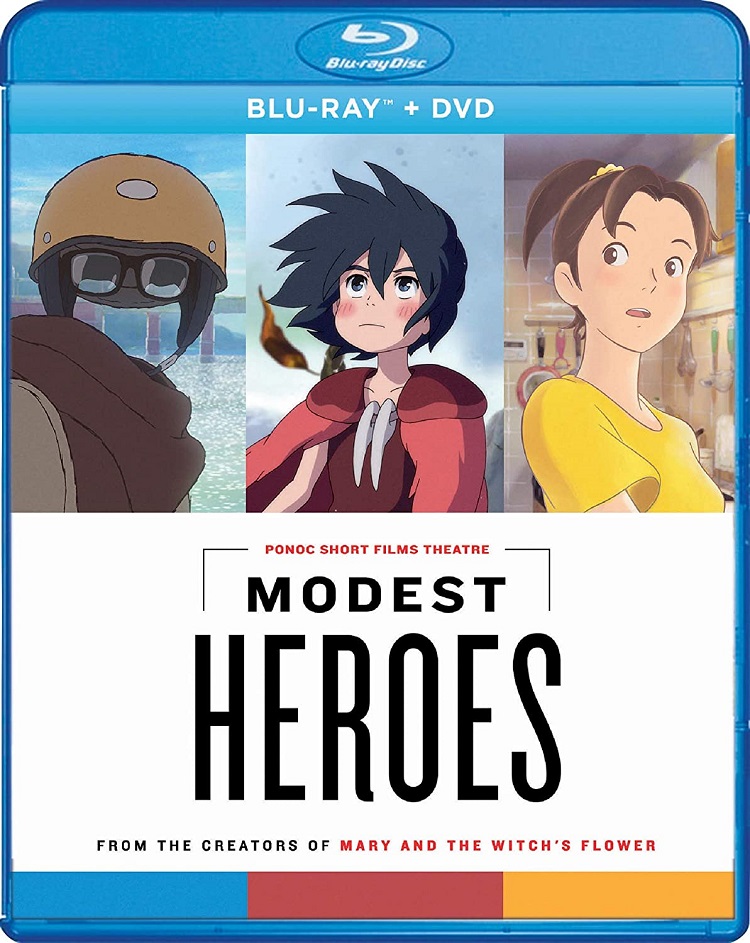 When Hayao Miyazaki announced his retirement in 2013, producer Yoshiaki Nishimura grabbed as many animators from the famed studio as he could and created his own animated film company, Studio Ponoc, Last year, they released their first feature film, Mary and the Witch's Flower, which followed closely to the Ghibli format of vividly animated, fantastical films with a lot of heart. It didn't surpass Ghibli at its best but it definitely felt like a successful follower.
Now, Studio Ponoc has released Modest Heroes, a collection of three short films from their large roster of excellent animators. There were supposed to be four films all with the theme of "life" but unfortunately, the fourth animator died in preproduction, and what we are left with is three films and a run time of just over 50 minutes in total. Each focuses on people of no real significance who nevertheless find great courage. Thus, "Modest Heroes."
The first film, "Kanini & Kanino," was directed by Hiromasa Yonebayashi, who also helmed Mary and the Witch's Flower. It follows two pint-sized anthropomorphic crab-like siblings who must learn to survive after their mother disappears to give birth and their father is swept away in a storm. The animation is a fascinating mix of almost photorealistic water and back drops on which the more traditionally hand-animated characters appear. Together, it creates some really interesting textures.
Much like he did in The Secret World of Arriety, Yonebayashi has a lot of fun depicting the very big world of very small people. Small fish become threatening predators, and a light storm creates tragedy. Unfortunately, the story doesn't really do much. The characters rarely speak and when they do, it is in a monosyllabic made-up language. While the animation is really expressive, it could have used a bit more narration or at least a few more minutes of run time to make us actually care about the pitfalls the characters are going through.
"Life Ain't Gonna Lose" was directed by Yoshiyuki Momose, who was the key animator on Porco Rosso and Whisper of the Heart. It tells the story of Shun, a young boy who has a deadly allergy to eggs, and his mother, who is desperately trying to create a normal life for him. It is filled with simple, everyday moments such as grocery shopping, visiting a street market, and going to school that can have deadly consequences for someone like Shun. It is animated in what looks like pastel chalks, giving it a flighty, magical style. The story is all heart with the very real fear parents and children with food allergies go through every single day of their life. It is really interesting to seen an animated film, especially one so short, tackle such a heavy issue realistically.
The third and final film in this anthology is "Invisible," which was directed by Ahihiko Hamashita, who was animation director on Howl's Moving Castle, and From up on Poppy Hill amongst others. It centers on a man who is completely invisible to everyone he meets. Though he wears clothes, a hat and glasses that would seemingly make him visible to passerbys, he is completely ignored by each person he comes across. He is so light that when he lets go of the heavy canister he carries with him he simply floats away. Perhaps an allegory to depression, the man wanders the streets with his head down afraid to hardly speak or bother with anyone. But in the film's breathtaking finale he chases after a baby in a stroller that had slipped into a street while a speeding truck barrels toward it. The animation is more straightforward in this story, but nevertheless quite wonderful. When it rains, we see drops run down his face, and there is a fascinating sequence in which he eats a snack (proffered to him by a blind man who seems to be able to "see" him) and we watch the food disappear into an invisible mouth.
Animated shorts have had something of a resurgence over the last decade or so. Pixar continues to create imaginative, funny, and moving shorts in front of their main features and other studios have followed suit. It is a curious choice for Studio Ponoc to release a collection of short films after only producing one full-length film. These three films show off their deep field of animators and their abilities to create different styles of animation. The stories are all very serious, and it should be noted that my eight-year-old found them to be rather too intense and sad. They aren't perfect films and it would have been nice to see the lighter side of the studio, but Modest Heroes is still a valiant effort and I continue to look forward to what they'll do next.
Shout Factory! and GKids brings Modest Heroes to Blu-ray on June 18 with a few extras including a short feature on Studio Ponoc plus a press conference, interviews with the Japanese voice cast, art galleries, and trailers.