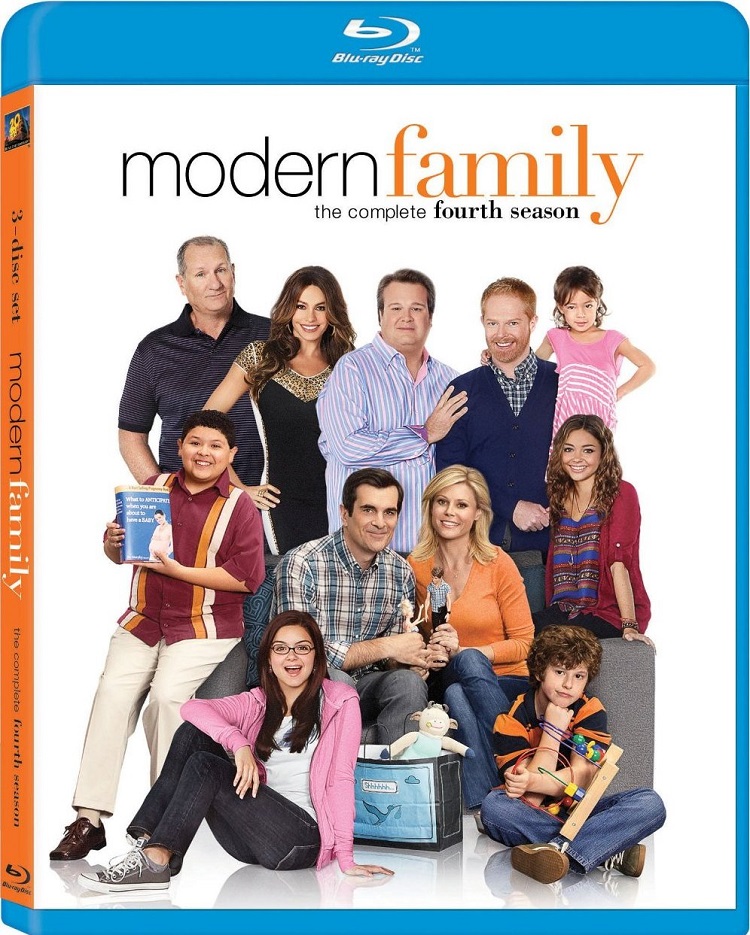 Were the average individual to take the time to peruse the annals of sitcoms from both the past and present, they would likely discover that the addition of a new family member often results in the untimely departure of the show's run on television. Who could ever forget the stupefying deathblow administered to Diff'rent Strokes when Danny Cooksey came aboard? Or what happened to The Cosby Show when sagging ratings spawned several latter-day additions to the cast? But again, these instances of the final nails being gently pounded into the proverbial coffin came to pass because – as I previously mentioned – ratings were poor.
In the case of ABC's Modern Family, a new addition to the show's clan has been added whilst the series is at its peak of popularity. And, frankly, the birth of a baby to any of the households in Modern Family can come and go with the greatest of ease – and never really warrant any menace to the other, more important characters. The infant in this instance is born unto elder Jay Pritchett (Ed O'Neill) and his younger Columbian bride, Gloria (Sofia Vergara), whose odd, hopeless romantic of a son, Manny (Rico Rodriguez) hits the big 1-4 in this season – and also develops an unhealthy obsession on the new nanny.
Meanwhile, at the Dunphy home, Claire and Phil (Julie Bowen and Ty Burrell, respectively) struggle with sending their oldest, least-prudent offspring Haley (Sarah Hyland) to college – only to welcome her back several episodes later after she completely bogs it up, landing her younger sister Alex (Ariel Winter) right back in the middle spot again. Phil feels like a disheartened father when son Luke (Nolan Gould) announces he no longer wishes to do magic, gives a heartwarming homage to The Godfather, and finally hears some heartrending news from his own father (the great Fred Willard) at the very end of the season.
As for Cameron (Eric Stonestreet) and Mitchell (Jesse Tyler Ferguson), life raising their adopted Vietnamese daughter Lily (Aubrey Anderson-Emmons, who has to be the funniest child actress out there) is just as awkward as ever – as Lily picks up one bad habit as soon as they break her of another. Cam finally goes back to work in this season, picking up a gig as music teacher at Manny and Luke's school – which results in a lavish production of The Phantom of the Opera – while Mitch again contends with dealing with his father during a golf game in an episode that features recurring guest-star Nathan Lane as Pepper.
Lane's Producers co-star Matthew Broderick also shows up in this season in a hilarious bit as a lad from Phil's alma mater. Additional and recurring guest stars in Modern Family: The Complete Fourth Season include Reid Ewing, Chazz Palminteri, Ernie Hudson, Shelley Long, Billy Dee Williams (as himself), Jason Mantzoukas, Elizabeth Peña, John Kapelos, David Faustino, Elizabeth Banks, Justine Bateman, Richard Riehle, Benjamin Bratt, Paget Brewster, Anders Holm, Ira Glass (as himself), and Rob Riggle. Former child star Fred Savage – about the only former child star to have emerged into adulthood with his dignity and reputation intact – guest directs an episode here.
Fox Home Entertainment brings us the latest full season of this excellent sitcom to Blu-ray in a three-disc set that presents all 24-episodes in their original 1.78:1 aspect ratio in a 1080p transfer. The quality here is superb – like the previous season sets have been – and, in addition to the English DTS-HD Master Audio 5.1 soundtrack, optional subtitles have been included in English (SDH), French, and Spanish. Special features are once more aplenty here, and consist of a behind-the-scenes/making-of featurettes/interviews, deleted scenes, a gag reel, and an extended cut of the season finale. As with the previous season, this release has a Play All option that enables viewers to watch every episode consecutively even after swapping discs.
Recommended.