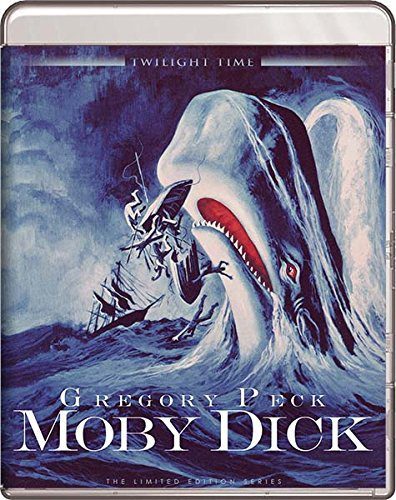 Obsession seems to abound every aspect of Herman Melville's Moby-Dick, from its initial published parable right down to its most famous film adaptation, right down to John Huston's 1956 cinematic version, wherein most of the obsession was to be found on the other side of the camera. With as feverish of a desire to capture the legendary white whale as was Melville's main antagonist, Mr. Huston tried (unsuccessfully) to acquire financial backing for his little pet project over the course of several years before finally finding a source of salvation in Pink Panther producer Walter Mirisch and his brothers. Thus, the most acclaimed, expensive, and still rather controversial ‒ motion picture incarnation of Moby-Dick sailed in.
As the production lingered in developmental hell for several years, Huston's famous father, Walter ‒ whom John had always hoped would portray Captain Ahab ‒ passed, leaving the casting of the iconic villain in the hands of fate. It was there that fate decided to be a bit of a Dick: assigning the part of fiction's grumpiest seadog to a handsome and young feller named Gregory Peck. This opened the door to a great deal of criticism, much of which hailed from the late Mr. Peck himself, who never felt comfortable with his own role! Of course, when you compare Peck's Ahab to John Barrymore's manic-depressive take in the beautifully bastardized 1930 version (recently released by the Warner Archive Collection), it seems like a fair trade-off.
Now, in case you have missed even the most rudimentary literally references over the course of the last 100 years or so, Moby Dick tells the tale of a young adventure-seeking Ishmael (portrayed by a 42-year-old Richard Basehart, which really makes you wonder if the casting director from the 1930 version was still in the business in 1956), who joins the whaling vessel Pequod only to discover he has signed up for a fine kettle of fish indeed, since the ship's commander, a one-legged madman with an unfettering personal vendetta against a big sea mammal, seems determined to (as well as content with) killing everyone else aboard in a very vain effort to spite the white whale who absconded with his missing appendage years before.
Also appearing in this aquatic masterpiece (which infamously went way over-budget) are Leo Genn, Harry Andrews, at least two different actors Huston decided to dub over personally, and another man who would be remembered for obsessive filmmaking, Orson Welles ‒ the latter of whom shows up under about 50 pounds of makeup appliances in a glorified cameo (something he would do nearly twenty years later in Bert I. Gordon's Necromancy as part of an obsessive attempt to complete funding for film projects no one wanted to back). Acclaimed fantasy writer Ray Bradbury co-wrote the screenplay along with John Huston, which would lead to a number of stories from the late author depicting what a pain the entire writing process was like.
Previously seen on home video primarily via open matte transfers which were devoid of Huston's desaturated look and feel, but true fans of the film should rejoice, as Twilight Time's High-Definition presentation of Moby Dick finally presents us with what is quite possibly the closest to the original theatrical presentation as we are ever likely to see. This is thanks to a painstaking restoration process highlighted in a supplemental piece (A Bleached Whale: Recreating the Unique Color of Moby Dick) which is a fine addition here, especially to people who don't realize the distinction between how a movie actually did look upon first release as opposed to how John Badham wanted his 1979 version of Dracula to look. (We're still waiting for a redux on that one, by the way, Universal. But whatever!)
Twilight Time's eagerly awaited Blu-ray release of Moby Dick arrives in a fine 1.66:1 widescreen transfer accompanied by a 1.0 DTS-HD MA audio track and English (SDH) subtitles. In addition to the restoration featurette, this Region Free Blu-ray sports two extra audio options. The first is an isolated score, presented in 2.0 DTS-HD MA. The second, an audio commentary recorded for this release, gathers historians Paul Seydor, Julie Kirgo, and Nick Redman. Also onboard here is an original theatrical trailer of the film, a gallery of media artwork and production stills ‒ the sight of which caused me to do a double-take as Twilight Time releases generally do not include extras such as this ‒ and finally, liner notes by the aforementioned Ms. Kirgo. This Limited Edition of Moby Dick is restricted to 3,000 copies and is available while supplies last.
Happy whalin', kids.