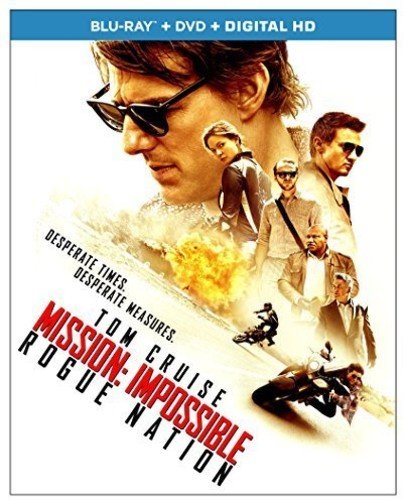 Tom Cruise and the Impossible team, both in front of and behind the camera, have done the seemingly impossible by making the fifth Mission: Impossible film the best of the series, although to be fair, I didn't think much of the first three.
Teased at the end of Ghost Protocol, Rogue Nation finds Ethan Hunt pursuing the mysterious, international organization known as the Syndicate, a group of highly trained agents from around the globe that are working to destabilize civilization. When Congress cuts off funding and support, at the request of CIA Director Alan Hunley (Alec Baldwin), Ethan becomes a rogue agent in his pursuit of former British spy Solomon Lane (Sean Harris), the man he believes is the Syndicate's leader.
Solomon is pursuing Ethan as well and captures him, but before Ethan can be tortured for information he escapes, thanks to the assistance of Ilsa Faust (Rebecca Ferguson), a Syndicate agent. Ethan tracks Solomon to Vienna and calls in tech genius Benji (Simon Pegg) to assist him in foiling a plot to kill a European head of state. On the scene is Ilsa, whose allegiance to the Syndicate is not as it appears, at least that's what she tells Ethan.
In typical spy-film fashion, the motives and actions by non-IMF members are not what they seem. The screenplay by director Christopher McQuarrie makes the twists and turns as believable as they can be for the genre. It's still more the fantasy of James Bond than the realism of George Smiley. The script also contains a good amount of laughs to break the tension. While Pegg is funny, at times it's hard to believe his character is an IMF agent. He gets rattled too easily.
As with the four previous M:I films, the action set pieces are the highlights and they are very impressive. Thankfully, the stunning sequence of Cruise holding onto the side of the plane, shown repeatedly in the promotion, happened at the start of the film. Many exciting scenes followed featuring acrobatic fights and racing with cars and motorcycles through the streets and highways of Casablanca. There is a scene that is literally breath-taking as Ethan spends a long time underwater. The stunt team, led by stunt coordinator Wade Eastwood, does outstanding work that is only overshadowed this summer by Fury Road.
I think it impossible for Rogue Nation not to be a hit at the box office.