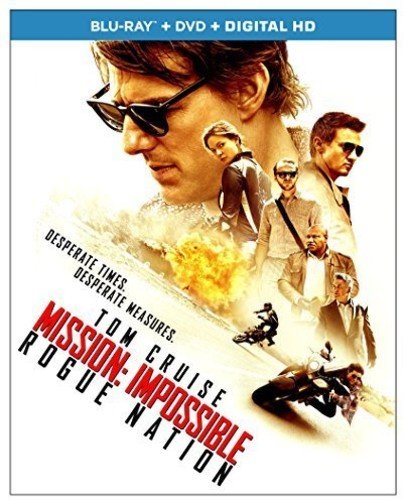 It's easy to get cynical and annoyed with all the remakes, reimaginings, rehashes, and sequels that seem to come out every other day. Most of them really are terrible and it's difficult not to think that Hollywood has lost its imagination.
At the same time, there are some remakes and sequels worth paying attention to. Almost two decades ago, Tom Cruise dusted off the old Mission: Impossible television series and has made a long lasting, continually interesting film franchise out of it. The secret has been its use of very different directors. Through five films, the series has hired out big name A-list directors, all with a distinctive style to come in and make something fresh.
I've not yet seen this latest one (though Gordon S. Miller has and you can read his review here) and I'd not heard of the director before I looked him up moments ago. But looking at his resume I'm pretty impressed. More so with him as a writer than a director (he wrote The Usual Suspects, Valkyrie and Edge of Tomorrow, and directed Jack Reacher and The Way of the Gun). But it's still a nice filmography and I'm ready to accept him in the company of Brian De Palma, John Woo, J.J. Abrams, and Brad Bird.
This is the sort of film I wish I'd caught in the theatre with a big screen and surround sound, but I'm still excited to see it at home and more than happy to make it my pick of the week.
Also out this week that looks interesting:
What Have You Done To Solange? A classic giallo filled with sex, violence, and sexualized violence gets the royal treatment from Arrow Video. Read my full review here.
Lizard in a Woman's Skin: More Italian horror, this time from Lucio Fulci. The plot description includes the words "bisexual nympho," "LSD orgies," and "outlandish dream sequences." That's more than enough to get me on board.
Marco Polo: Season One: Netflix's super-expensive experiment didn't quite make the viral splash they wanted it to, but it still sounds interesting. It's been in my queue for ages, but maybe now that it's available via other means I'll actually sit down and watch it.
Burroughs: The Movie (Criterion Collection): The only feature-length documentary to be made with and about the controversial writer. I've not read much of his work, but he's still fascinates me.
Classic Hitchcock (The Man Who Knew Too Much, The 39 Steps, The Lady Vanishes, Foreign Correspondent) (Criterion Collection): A nice bundle of early Hitchcock for those who haven't bought the films separately.
Fantastic Four / Maze Runner: The Scorch Trials / Ted 2: I have zero interest in either of these films, but they were big enough to be worth a mention.