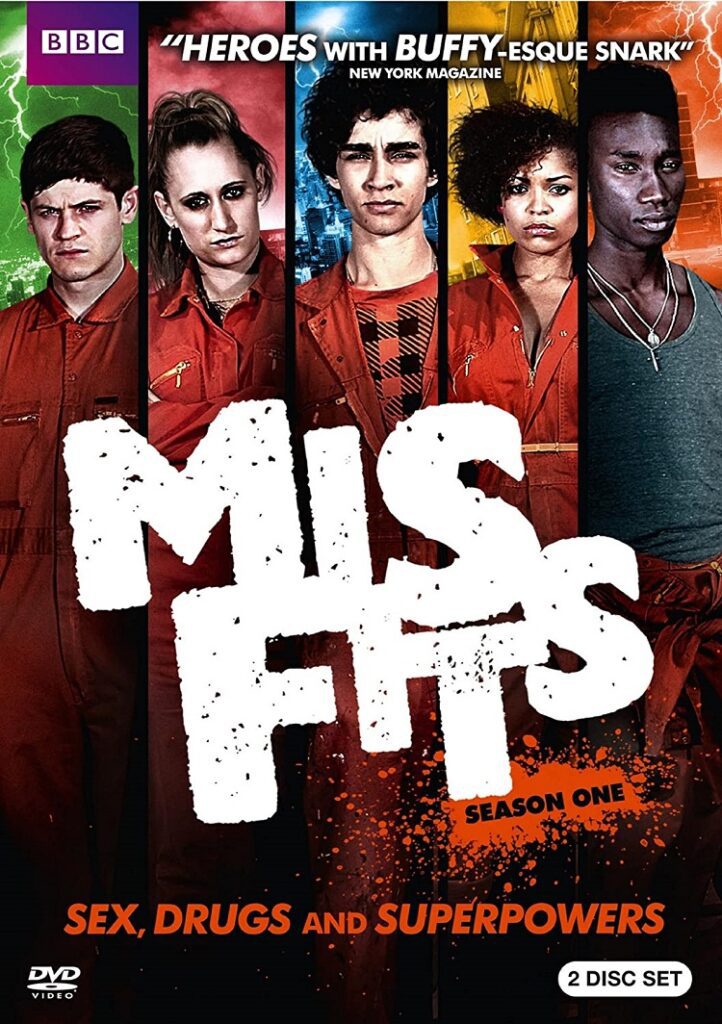 Oh, Misfits, so much to answer for. And "Buffy-esque snark," as New York Magazine calls it, is a monumentally misleading description of a show that makes the U.K. version of Skins seem fit for American network television. Focus instead on the tagline at the bottom of the DVD case, which reads "Sex, drugs, and superpowers," because that is precisely what Misfits serves. And we musn't forget loads of choice profanity, violence, and some gore. It's the kind of show parents would be horrified if their mostly good teens viewed with great enthusiasm (and they do), and at the same time a show that adults embrace for its no-holds-barred quality—then go to bed feeling a little perverted for having gotten a kick out of it. All that said, if you've got the makeup of a Misfits devotee, you'll find that this BAFTA-award-winning series is an extremely well written and fantastic trip.
Now in its fourth season, which will run exclusively in the United States on Hulu and Hulu Plus this fall, Misfits: Season One starts off with six eye-rolling, foul-mouthed British teenagers sentenced to "community payback" at the local community center getting an earful from Tony, their probation worker. As they trudge off to pick up litter and repaint benches around town, a storm of all storms descends upon them, not only doing the normal torrential downpour business, but dropping chunks of ice that obliterate everything at ground level. After the worst subsides, most characters realize they've developed a superpower unique to them.
Kelly (Lauren Socha), the resident chav hailing from the Midlands, gets the power of telepathy, suitable for a girl who's quick to call anyone and everyone on talking smack. Curtis (Nathan Stewart-Jarrett), an Olympic-worthy track star whose career is squelched after getting caught with drugs, can rewind and fast-forward time, if he feels regretful enough about something. Sassy vixen Alisha (Antonia Thomas) can send men and women alike into a sexual frenzy merely by touch. And very appropriately, the introverted, Ian Curtis-esque Simon (played by Iwan Rheon, part-time musician and soon-to-be Game of Thrones cast member) is able to make himself invisible after willing his body into a minor convulsion. Poor Nathan (played by Killing Bono's Robert Sheehan), who manages to take the gold for most repugnant and most irresistible character on the show, spends most of the season trying to figure out why he's the only member of the group who didn't get a power. Unlike Gary, who wasn't outside when the storm hit, he has no excuse. (Spoiler: After the first episode, you won't see Gary again until the third season.)
Of course, these Misfits weren't the only people to get idiosyncratic powers—the plot point that provides momentum for the rest of the season, as well as subsequent seasons. They'll use their powers against other equally challenging forces, mostly for self-preservation, but in some cases for the good of teenagers the world over. They start by working together to off their probation worker, who mutated into a frightfully strong killing machine set on ridding society of lowlifes like his charges. This raises suspicions in Sally, Tony's fiancée, who takes over his position in order to get to the bottom of his death. At the end of the season, in Episode Six, the Misfits take on the cult Virtue, led by Downton Abbey's Jessica Brown Findlay, who attempts to use her power of suggestion to turn all drinking and drugging teenagers into straightedge kids in dowdy clothes. At the climax, Nathan addresses a mind-warped audience, delivering some of his best lines of the season, including, "Charles Darwin said you can't make an omelet without breaking a few eggs…" and "It breaks my heart…you're wearing cardigans!"
Only after you finish watching the entirety of Season One should you delve into the entertaining special features. Making of Misfits details the special effects and stunts that went into Episode One's ice storm and Episode Six's rooftop action. The short "Finding Our Misfits" offers character profiles and actor backgrounds, and goes one on one with each actor to find out which superpower he/she would choose. In the next special feature you'll find interviews with directors Tom Green and Tom Harper, executive producer Petra Fried, production designer Tom Bowyer, as well as candid outtakes featuring the cast interspersed with crew commentary. Lastly, Simon's Films features some extra footage shot by the quiet, phone camera-toting delinquent.
Misfits: Season One, with its fabulous soundtrack, is out now. If you're a massive fan after getting through the two-disc set, note the offer for a free Misfits T-shirt with redemption code—bright orange, just like one of the gang.