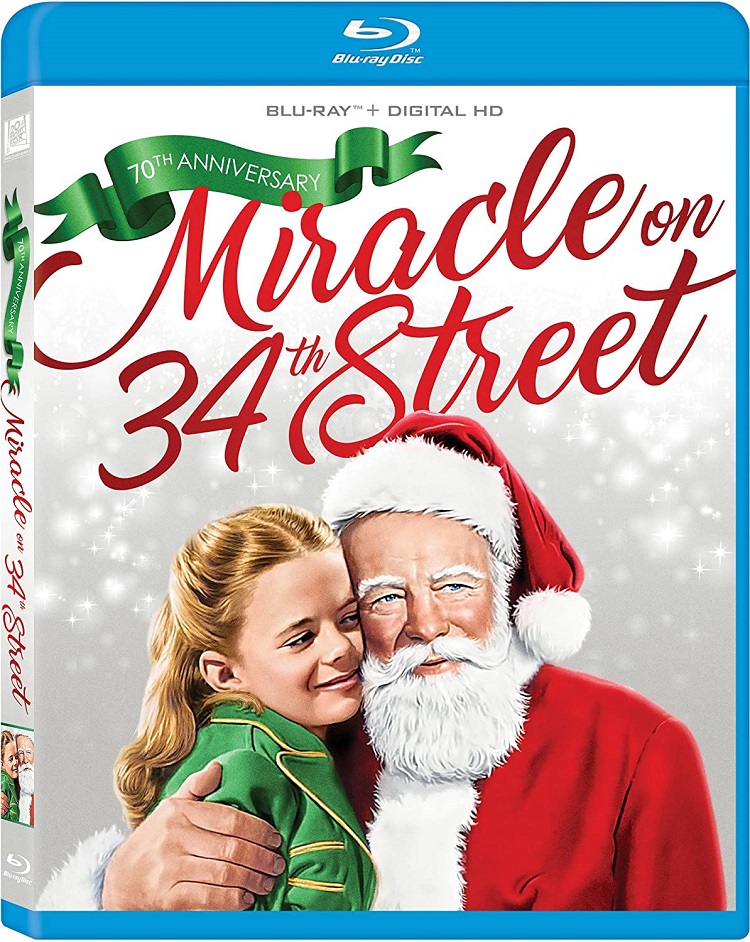 The miracle I most appreciate in Miracle on 34th Street is how the Oscar-winning story pits realism versus idealism and allows both ideas to flourish without taking a side.
A man (Edmund Gwenn), who goes by the name Kris Kringle and claims to be Santa, replaces a drunk in the Macy's Thanksgiving Day parade. He does the job so well he gets hired to be the in-store Santa. The store manager tries to get him to push toys they are overstocked on, but Kris only wants what's best for the children, so he sends them to other stores. Word makes its way to Mr. Macy, who loves the idea after learning the overwhelming positive response from costumers. Gimbel enacts the same policy, not wanting to turn off shoppers. They are both motivated by the benefits to themselves not because helping out someone else is right thing to do.
Kris wants to make believers out of Doris Walker (Maureen O'Hara), the woman who runs the parade, and her daughter Susan (Natalie Wood). Doris got divorced when Susan was a baby, so she doesn't tell the child fairy tales like Santa Claus, but Doris is really avoiding what she sees is the myth of love, thinking her failed marriage revealed a great truth. Fred Gailey (John Payne) is Doris' neighbor. He wants to challenge her notion of love and has no qualms about using Susan to get in with Doris.
Kris lives at Brooks' Memorial Home for the Aged in Great Neck. His doctor thinks his Santa Claus delusion is harmless. Granville Sawyer (Porter Hall), who conducts psychological tests on employees, disagrees and thinks Kris could become a menace. When Kris confronts Sawyer over the treatment of a young janitor, Sawyer exaggerates the incident and gets Kris sent to Bellevue Mental Hospital.
Kris is given a competency hearing to determine if he should be committed, and Fred decides their defense is to prove he is Santa Claus. Cynical political handler Charlie Halloran (William Frawley in an amusing performance) warns Judge Henry X. Harper (Gene Lockhart) about future prospects if he rules Santa Claus is insane or doesn't exist. The judge gets the first hint of this when his grandchildren snub him. District Attorney Thomas Mara (Jerome Cowan) has a job to do but is not happy about the strife the case causes in his home either. The trial is decided by a combination of the selfless idealism of children and the selfish realism of post-office workers, so even when Doris becomes a convert and starts to believe in fairy tales again, her transition is undercut by the complete story of what's going on.
Miracle on 34th Street is a very believable story, and even the most ardent realist needs some idealism in their lives and vice versa, that goes for both the characters to the viewers. Gwenn, who won an Academy Award for his performance, is marvelous as Kris. There's no doubt the character believes he is Santa Claus and it doesn't matter that the answer is never revealed, so there is no wrong one. The entire cast shines and all come across as authentic.
Likely the same disc as the 2009 Blu-ray release, the video has been given a 1080p/MPEG-4 AVC encoded transfer displayed at an aspect ratio of 1.37. While the picture has appealing range grays throughout and bright whites, the blacks are a touch light at times and not always inky. The focus on objects in the background and sides of the frame isn't always sharp. The print looks clean and shows film grain. The audio is available in DTS-HD Master Audio 5.1 and Dolby Digital 2.0. During the former, Cyril J. Mockridge's score fills the surrounds is loud and ambiance is noticeable but slight. Dialogue is clear throughout.
The Special Features are the same as the 2009 as well and all is SD. The audio commentary is by O'Hara, who is charming, but doesn't talk throughout. AMC Hollywood Backstories: Miracle on 34th Street (22 min) is an interesting documentary about the making of the film. Fox Movietonews: Hollywood Spotlight (2 min) is about the Oscars that year and Gwenn is shown winning. Promotional Short (5 min) is funny as executives talk about making a trailer. Macy's Thanksgiving Day Parade: Floating in History (16 min) is about shooting the parade for the film and the scenes with Santa in the store. There is also a poster gallery.
Miracle on 34th Street is a delightful film and it's easy to see how it has become a holiday classic no matter where one sits on the Idealist-Realist spectrum. While it could use a restoration to better celebrate its anniversary, this latest Fox Blu-ray offers an adequate high-def experience for a film of its age.