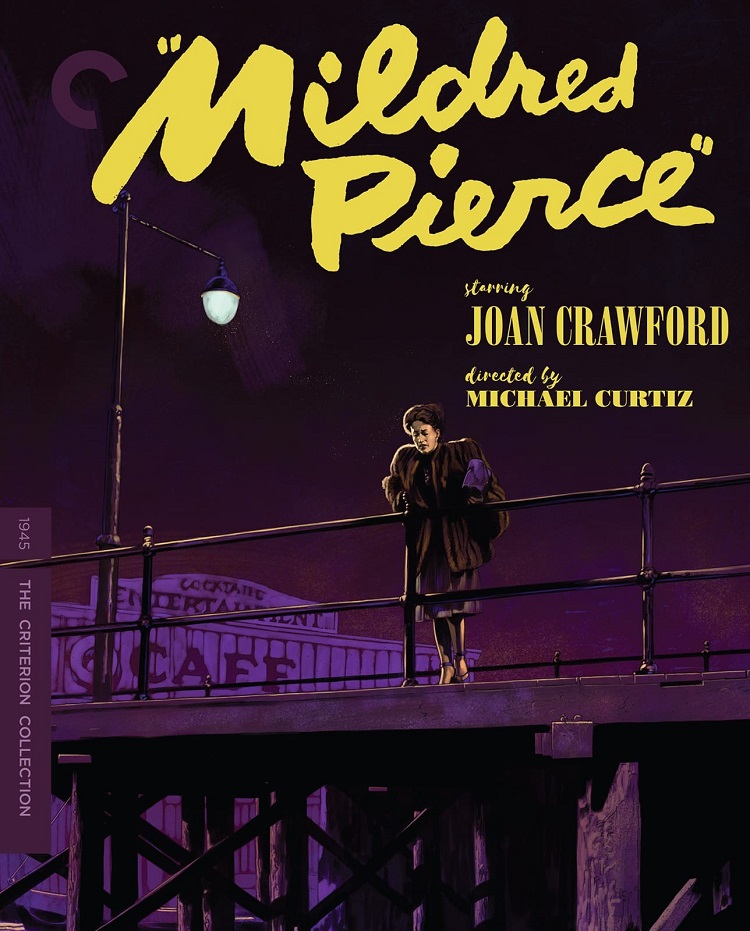 Seeing Mildred Pierce, legendary director Michael Curtiz's celebrated 1945 adaptation of the James M. Cain novel and owning my own copy of the Criterion Blu-ray, I still get bowled over by the many pieces of its complex puzzle. It's a solid murder mystery; a portrait of feminist ambition; and a sordid tale of weird parental devotion that makes it one of the all-time classics of Classic Hollywood cinema.
The legendary (for better or worse) Joan Crawford had a definite comeback, won the Best Actress Oscar, and gave perhaps the most signature performance of her storied career as the title character, a woman who yearns for independence and success, while wanting to give ultra-bratty daughter Veda (a never better Ann Blyth) all the finer things in life that she never had. The murder of Mildred's husband Monte Beragon (Zachary Scott) fuels the story, which is told in flashbacks.
After youngest daughter Kay (Jo Ann Marlowe) dies from pneumonia, Mildred is driven to become something more and transforms from irritated housewife to powerhouse businesswoman of several restaurant chains. However, the bigger the success, the greedier the closet to her (especially Veda) gets.
The resolution and reveal of the killer are hardly surprising, and the story isn't exactly as original as it seems, but the film operates just fine due to the performances. Obviously, Crawford dominates the entire enterprise, but she is also elevated by terrific backup: Blyth as nasty Veda (who more than earned a Best Supporting Oscar nomination for her work), Eve Arden (who continues her scene-stealing streak as Ida, Mildred's best friend and working mate), Scott as Monte, Richard Bennett as Mildred's ex-husband Bert, and Jack Carson makes a sneaky impression as womanizing Wally Fay (Bert's business partner, who tries and fails to get Mildred).
No matter how many times I see this searing but classy soap opera, I continue to be entertained by it, even if some of the twists and turns are obvious. It remains a classic nonetheless.
Released on 4K UHD for the first time ever by Criterion, the supplements are vintage, but still worthwhile. They include a conversation between critics Molly Haskell and Robert Polito; Joan Crawford: The Ultimate Movie Star documentary; excerpt from The David Frost Show of Crawford discussing her work in Mildred Pierce and collaboration with Curtiz; archival Q&A with Blyth after the film's screening at San Francisco's Castro Theatre; archival interview with author Cain, conducted by Hugh Downs for the Today show; and trailer. There's also the same great essay by critic Imogen Sara Smith.
If you love the classic film and Joan Crawford in general, and are curious about how it looks in 4K, then this release is obviously for you.
Other releases:
The House That Screamed (Arrow): A classic European horror about repressed and wayward girls at a strict boarding school in France that vanish without a single trace of evidence.
Women Talking: Sarah Polley's compelling, fact-based film about a group of women in an isolated religious community as they struggle with faith after being victims of sexual assaults by the community's men.
Fill 'er Up with Super (Radiance): a charming and vulgar dramedy about four different men bonding and revealing their personal selves during an unexpected road trip through France.
I'll Cry Tomorrow (Warner Archive): Susan Hayward gives a searing performance as real-life Broadway legend Lillian Roth, whose addiction to the bottle threatens her career and her life.
Camille (Warner Archive): The always luminous Greta Garbo plays a Parisian courtesan who has to choose between a man who loves her and a cruel baron who wants her, even as her own health begins to deteriorate.