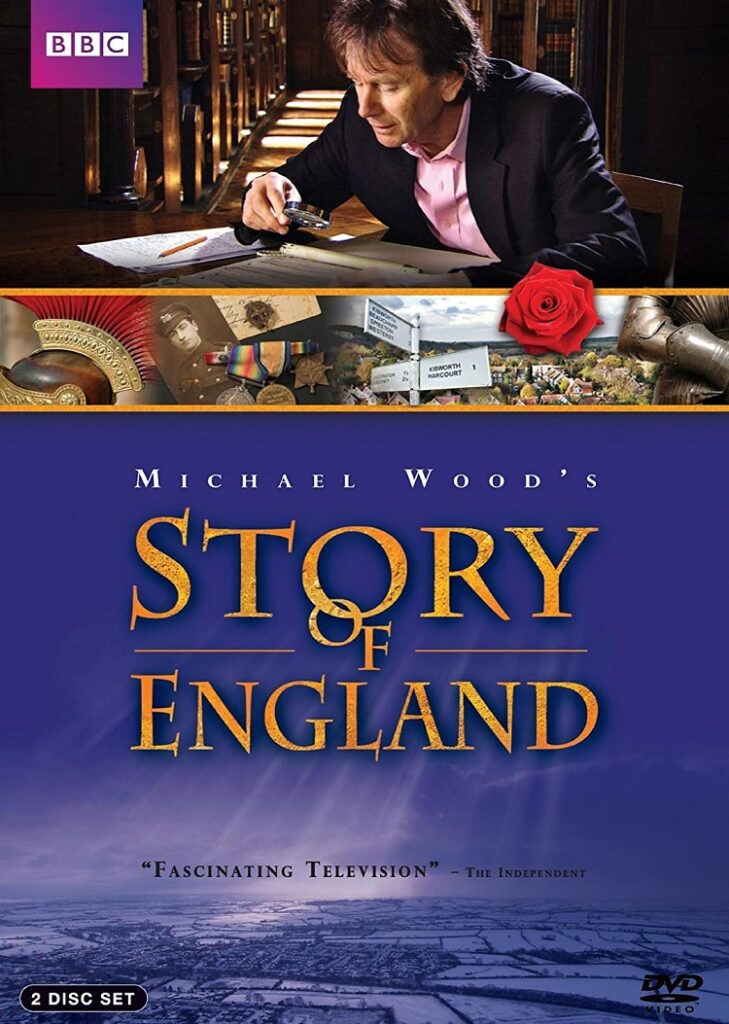 Michael Wood's Story of England, a six-part documentary originally aired on BBC Four in the fall of 2010, may lead viewers to believe that Wood has attempted to summarize the whole of English history in just shy of six hours. In a sense, he has—but he does so by examining England's compelling and often turbulent past, from the Roman era to the present day, through the lens of village life in Kibworth. As viewers watch the history of this otherwise ordinary spot in the heart of England unfurl, the hope is that they also gain insight into how other English communities evolved into their current state, as well as how foreigners, dissenters and those who were considered mere peasants impacted England's story and the English national character that exists today.
Located in the Harborough district of Leicestershire, England, Kibworth comprises the villages of Harcourt, Beauchamp and Smeeton Westerby. Wood, who studied history and English at Oriel College, Oxford, and opted to forego the completion of his DPhil there to take a job as a journalist with ITV, has said that the initial draw to Kibworth was the abundance of primary documents—750 years worth of court rolls to surveys—kept in the archive of Merton College, Oxford, landlord of Kibworth since the late 13th century. However, as it isn't the most picturesque place to film, Wood and his team sought out other locales, only to end up where they began. In Kibworth Harcourt, peasant families could be traced for generations, while the growth of industry in England could be explored in Kibworth Beauchamp. Along with Smeeton Westerby, this trio of distinct villages clearly demonstrated the bustle and change that the rest of the country was also experiencing.
The 353-minute DVD version of Story of England contains two discs with three episodes apiece, including "Romans to Normans," "Domesday to Magna Carta," "The Great Famine and the Black Death," "Peasants' Revolt to Tudors," "Henry VIII to the Industrial Revolution," and "Victoria to the Present Day." There is a bit of omission here, as was the complaint about Wood's tome of the same name. After the Tudors, we race through the chronology, forget the interwar period all together, and really only give a mention to the present day at the close of the documentary, save for a few references meant to draw thought-provoking parallels between then and now. That said, with such a vast array of sources, Wood could have spent six hours of airtime covering any one of the aforementioned periods. He may have been overly ambitious, but especially for the layman, the documentary isn't any less captivating because of it.
The sources and their presentation are by far the strongest part of Wood's narrative. In the Merton College, Oxford, archive there are rent books, maps, court documents, and letter upon letter detailing a day in the life of Kibworth. There are tax lists beginning in the 12th century housed in the Leicestershire Record Office, as well as 15th-century wills; and the National Archive in Kew holds Poll taxes dating to the 14th century, as well as Poor Law records. All this on top of artifacts collected during the Big Dig of July 2009, for which archaeologists, more than 150 volunteers (including small children) and Wood dug 55 test pits in the gardens of Kibworth residents. It's heartening to watch the convivial Wood woo over every find, the oldest of which was a small piece of bone comb dating to the Dark Ages.
Almost more profound than witnessing Wood carefully finger through sources and effortlessly read Latin is watching the residents of Kibworth perform living history, but with a slight twist. Rather than dress in period clothing (although reenactments are part of the documentary), Kibworth people, young and old, assume the roles of their ancestors by reading passages from diaries and wills in plain clothes. Surprisingly, this creates a powerful connection between past and present, far more so than a reenactment would. These are people who have taken DNA tests to trace their roots, some of whom found they are descended from Vikings. As they speak, so does their history—with considerable resonance.
As with any project relying on historical research, critics have found holes and gray areas in Wood's presentation. But with any hope, the result is that interested viewers will undertake their own research into English history, just as the residents of Kibworth did. This isn't the history of the monarchy; it's the people's history and how they helped forge it. Just a warning: this is in no way a history of the British Isles, nor is it an account of multicultural England in the present context. Regardless, the documentary provides a valuable section of England's ongoing story and does so in a way that everyone can understand.